Digicams; Integral Lens And "Point-And-Shoot" Digital Cameras Page 3
The FinePix 30 also includes a high-tech flash feature known as "i-Flash." In addition to adjusting ISO as required, this camera can modify flash intensity to produce images with "natural foreground illumination...without a washed-out look often associated with flash...with balanced exposure in the background." The system considers a variety of factors, including subject position in the frame, subject size, ambient light, and backlight intensity. So, even if the subject is off-center and standing under a streetlight, i-Flash should provide a pleasing exposure.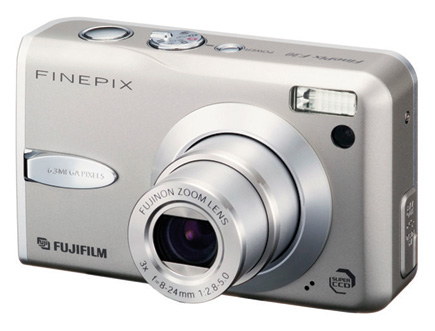 As you may have noticed, some form of the term "stabilizer" is often used to label features that employ electronic methods. In addition to those mentioned, the new Samsung Digimax S500, S600, and S800--well equipped 5-, 6-, and 8-megapixel cameras with 35-105mm zooms--provide a digital "Movies Stabilizer" function that corrects for camera movement when shooting in MPEG-4 mode. (List prices are $179, $229, and $299, respectively.) And the Olympus Stylus 710 and 810 allow you to select "Image Stabilization Edit." The latter uses a gyro sensor to determine the extent of camera shake; the processor then applies anti-blur sharpening. Such features can be useful but should not be confused with stabilizer systems that actually shift optical elements.
Other High-Tech Features
Let's take a look at other sophisticated technology that's becoming more common. Nikon first announced cameras with Face-Priority autofocus (developed in conjunction with Identix) last year, and the very latest Coolpix S5, S6, P4, and P3 cameras employ an improved version of this system. When selected (in Portrait Program mode) this feature uses advanced biometric recognition to focus on a face automatically; exposure is also optimized for that part of the scene. The focused area is delineated with a rectangle superimposed on the LCD monitor image; focus is maintained even if the subject's location changes. In preliminary testing, I found the new system to be more reliable than its predecessor.

The new 6-megapixel waterproof Optio W10 is the first Pentax camera to include a new Face Recognition function. Available in the Portrait, Self-Portrait, and Natural Skin Tone program modes, this feature will detect and focus on a person's face anywhere in the frame. The technology is particularly effective at preventing "dropout" photos, where the camera focuses on the background instead of the intended subject. And because exposure is optimized for the person, pleasing images should be possible even in strong backlighting.
In camera enhancing software--available in Playback mode--is not new but it's becoming available in an increasing number of digicams. All seven of the latest Nikon Coolpix cameras include Red-Eye Fix and D-Lighting to lighten underexposed images while leaving correctly exposed areas unaffected. Kodak offers similar software features in the new EasyShare Z612, including automatic redeye reduction plus Perfect Touch technology that can correct flare and brighten dark shadow areas.
Hewlett-Packard includes in camera software with the new 8-megapixel Photosmart R927 (price not yet set) and the 6-megapixel Photosmart R727 (price not yet set) as well as some earlier models. The Real Life in camera software options include Adaptive Lighting (shadow detail recovery) redeye removal plus a cool new "slimming" feature for more flattering pictures of people. If you prefer an Olympus camera, you'll find that the Stylus 810 and 710 include redeye fix and brightness adjustment in Playback mode.
Hewlett-Packard Photosmart R927
Casio believes that many digicam owners take photos of old pictures in a family album. If you do you'll like the Revive Shot feature that digitally restores faded colors and "Angle Correction" that automatically corrects perspective in photos that were taken from an angle, which is what most folks do rather than use a copy stand. This feature is available with cameras such as the new 8-megapixel EXILIM Zoom EX-Z850 ($399, street) and the 6-megapixel EXILIM Zoom EX-Z60 ($249, street). These are full-featured models with 38-114mm zooms, nine-point AF sensors, and many automatic and advanced capabilities.

Finally, if you like to share slide shows on a camera's LCD monitor, you'll appreciate the new Pictmotion function of the Nikon Coolpix S5 and S6. This feature allows you to select favorite images, movie files, and music files to create fun slide shows. You can save the program to the memory card and show it again, at anytime.
Kodak EasyShare printer dock
New Communication Capabilities
Available in many of the high-end Canon and Nikon professional digital SLRs, Wi-Fi (for Wireless Fidelity) is starting to become common in compact digicams as well. Some previous Kodak, Canon, and Nikon models already included this
feature, but it's being expanded by Nikon, at least. The company has added Wi-Fi compatibility to two new cameras. The (6-megapixel) Coolpix S6 ($449, list) and the (8-megapixel) Coolpix P3 ($449, list) provide IEEE 802.11b/g support, and cost about $50 more than equivalent models without that feature.

Wi-Fi is a cool buzzword, but how does it work and why would you want it? Without getting into a lot of complexity, let's just say that it allows users to send images wirelessly to a computer as soon as they are taken or later, as a batch of images from the camera's memory card. Cable-free data transfer can be extended to printing, too. Buy a Wireless Printer Adapter PD-10 ($49, street) and you can transfer images from the compatible Coolpix cameras to any PictBridge-compliant printer for printing without turning on a computer. Frankly, I don't consider wireless connectivity to be necessary because it's so easy to hook a camera up to a computer or printer. But if you want the latest technology, you'll love the Wi-Fi-enabled cameras.

Hewlett-Packard also offers cable-free transmission for owners of the new 8-megapixel Photosmart R927 and 6-megapixel R727 (and some other HP cameras). Buy an optional Photosmart 6222 Wireless Dock Base (price not yet set) for use with the Photosmart 6221 dock if you want to share your photos using a wireless home network.

While it's not specifically part of the "wireless" category, the new ImageLink system is worth discussing here. If you buy a compatible digicam, you'll be able to print directly from a Kodak EasyShare dock without USB cable connection. Current ImageLink system-enabled digicams include the Nikon Coolpix S5 and S6, the Pentax Optio M10, and certain Olympus cameras, including the FE-130 and FE-140. These digicams are packaged with a special "dock insert" accessory that allows the camera to fit perfectly into the Kodak EasyShare Printer Dock Plus Series 3 ($179, list). In the past, you needed a Kodak camera or a PictBridge-compliant camera (and a USB cable) for direct printing from the EasyShare docks. Now, you can do so without cable connectivity; we expect to see other brands and models of compatible cameras and Kodak printers in the future.

For more information on these products please visit the manufacturers' websites.

Manufacturers/Distributors' addresses can be found on page 174.