Digicams; Integral Lens And "Point-And-Shoot" Digital Cameras
As Canon's media spokesman Chuck Westfall predicted a few months earlier, "In compact cameras, the megapixel race is pretty much over." Well, that race may never be over but there is a lull in the action, at least for the moment. The majority of the latest digicams fall into the 5- to 6-megapixel category. Granted, I found some new 8-megapixel models at PMA 2006, including the Samsung Digimax L85, a well equipped camera with a 38-190mm zoom ($449, list price). As with all cameras discussed, I'm quoting the 35mm equivalent in terms of lens focal length. Only two digicams with 10-megapixel sensors were introduced, however. Both are from Vivitar: the ViviCam X60 with 6x optical zoom ($449, street) and the X30 with 3x zoom ($339). These days, most manufacturers seem to be emphasizing better quality instead of more pixels, particularly at high ISO levels.
And there's more good news: digicam prices have continued dropping, by 13 percent over the previous year, according to PMA Research. The current low-price leader is Cobra Digital, a company that made headlines with their new 7-megapixel DC7550Z with 3x optical zoom and 2.4" LCD, selling for $169. Cameras of other brands are not this affordable, but all offer greater value than in the past.
What else is new? Frankly, there's nothing major at the moment, although Kodak's new EasyShare V570 ($399, list)--with a 23mm lens plus a 39-117mm zoom--may be indicative of an entirely new trend. Each of the two lenses employs its own 5-megapixel sensor with automatic switching at the touch of a button. But the revolutionary stuff is still a long way down the road, including hydrogen fuel cell batteries, built-in GPS units, liquid lenses, and futuristic sensor technology. Instead, some valuable amenities--previously available in a few cameras--are becoming more widespread.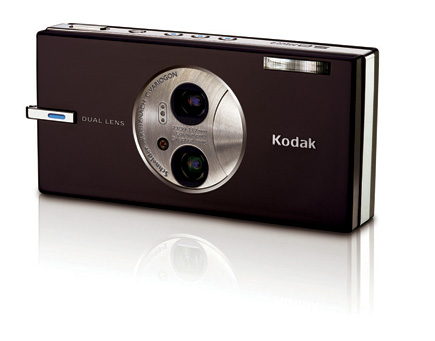 Superior LCD Monitors
During PMA 2003, Kodak announced a camera (LS633) with an entirely new type of color monitor, the Organic Light Emitting Diode (OLED) that employs organic materials that glow when they receive an electronic charge. Compared to an LCD, the OLED panel is thinner, lighter, and more energy efficient; it also produces brighter, more vibrant colors. That feature was soon discontinued because of the cost, manufacturing difficulties, and the relatively short life (10,000 hours) of the organic screen. In the future, we may see a more viable version, but in the meantime, the camera manufacturers are working with LCD technology.

Larger monitors are becoming the norm in the mid- to higher-priced category, particularly important with cameras that do not include any type of viewfinder. Indeed, viewfinders are increasingly missing from digicams today, because nearly all users prefer to compose with the LCD monitor. Some of the screens are better than average, with higher resolution, greater brightness, and/or a wider viewing angle. The latter makes these screens easier to view from the side, ideal for anyone who uses a camera for image sharing with a group of friends or family. And that type of sharing is common because over 90 percent of digital images are never printed.

I love using a 3" screen such as the (230,000 pixel) LCD available on the Nikon Coolpix S6 ($449, list), a beautiful, ultra-slim (0.8") camera with non-protruding 35-105mm ED zoom and lots of high-tech features. One of Canon's three new Digital ELPHs, the full-featured 6-megapixel PowerShot SD630 with 35-105mm zoom ($399, list) also boasts a 3" LCD (with 173,000 pixel resolution) with a wide viewing angle. A new feature simultaneously displays a photo plus a magnified section of the image; that's great for quickly checking details. All of the new 6-megapixel Digital ELPHs include two other features: an ISO 800 option as well as a 16:9 shooting mode in 4-megapixel capture, for widescreen TV viewing or for printing with a SELPHY CP printer.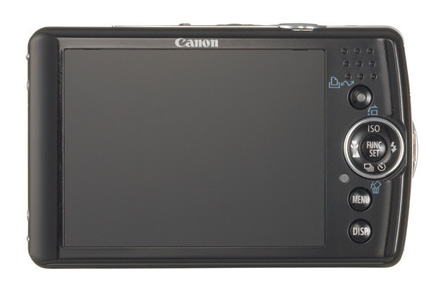 The most impressive LCD monitor (230,000 pixels) is available on the Pentax Optio T10 ($229, street). This wide-field 3" screen features a touch-display control system. That allows you to select and confirm functions by directly touching an icon on the LCD screen, reducing the need for hunting and pecking through a long list of menu items. As a bonus, the Optio T10 includes a Drawing mode. Using the included stylus pen, you can draw or write onto the image shown on the monitor or add a stored illustration with the Stamp function. But this 6-megapixel Pentax camera with 37.5-112.5mm zoom is desirable for other reasons, including an incredibly slim (0.8") and lightweight (4.8 oz) aluminum body, 10 Program modes for simplicity plus the essential overrides.
Some LCD monitors are much brighter than average, great for previewing a scene in low light or on very bright sunny days. For example, the Casio EXILIM EX-Z600 offers a 2.7" (153,600 pixel) Super Bright screen that is three times brighter than the LCD on the previous EX-Z500. There's no need to search for an LCD brightness control in the menu, because the screen automatically adjusts to suit the ambient light level. This is a very slim (0.81"), stylish 6-megapixel camera ($299, street) with a 38-114mm zoom that is easy to use with any of the 32 Scene modes, but includes the essential overrides.
Several other companies offer a "gain up" feature that electronically brightens the view on the LCD monitor in dark conditions. This works well in cameras such as the high-end 6-megapixel Fujifilm FinePix F650 Zoom ($349, street), with 36-180mm zoom and large (230,000 pixel) 3" LCD screen. While the preview image is "grainy" when gain up is active, it's certainly more visible. The most complex brightening technology is offered by Olympus in their 8-megapixel Stylus 810 ($429, list) and the 7-megapixel Stylus 710 ($349, list), versatile, weatherproof cameras with 3x optical zoom and a wide range of capabilities. Bright Capture Technology employs software to compress numerous pixels into one "super pixel" that's relayed to the 2.5" display, providing a four times brighter view.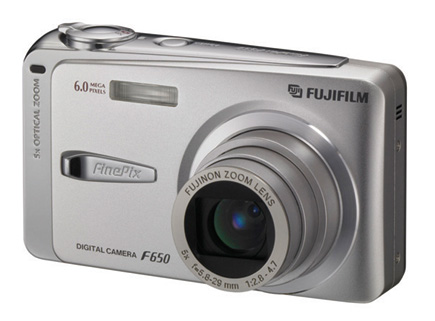 Fujifilm FinePix F650 Zoom
Panasonic employs a "pixel-mixed read-out method" that automatically brightens the live preview display on their (207,000 pixel) 2.5" LCD screens. This feature is available with the 5-megapixel Lumix DMC-TZ1 (price not yet set) and the 6-megapixel Lumix DMC-FX01, discussed in detail later (price not yet set). There's also a Power LCD function, which automatically boosts the backlighting of the LCD by 40 percent in very bright conditions.

LATEST VIDEO