Corporate Event Photography; The Market And The Marketing
Specialty Imaging International (www.specialty-imaging.com) was founded by Ben Crosby in 1999 after selling Sports Imaging, a photo business specializing in amateur sports youth league team and individual photos. Crosby started Specialty Imaging International in Salt Lake City with a focus on the corporate event industry and the Olympic Games sponsors coming to Salt Lake City for the 2002 Winter Games. Specialty Imaging International was also one of the first companies to use digital imaging for the National Collegiate Athletic Association (NCAA) and the first company to offer totally digital imaging and photographic services to the Olympic Games sponsors for their individual corporate programs. During the 2002 Olympic Winter Games, Specialty Imaging International provided a variety of services for AT&T, Visa, Coca-Cola, NBC, the US Secret Service, and other companies hosting special guests in the Salt Lake City area.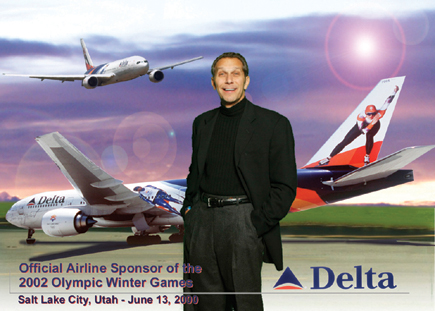 All Photos © Specialty Imaging International
Marc Grauer joined Specialty Imaging International after 21 years with The Coca-Cola Company in Atlanta, where he was responsible for managing many of the company's global events. His background includes over 30 years of hospitality industry and corporate event management. Grauer came into the business as an advanced amateur photographer and he always had his camera at corporate events. When he met Crosby at the Winter Olympics and saw how well on site digital photography worked for Coca-Cola, Grauer decided to retire early and partner with Crosby to work in the field of digital event photography.

Shutterbug: How do you market differently for consumer (people) vs. commercial (business) digital event photography?

Marc Grauer: We have operated retail consumer programs but find our services are generally too extensive for the consumer market. We recognize the consumer event services offered within theme parks and attractions as different and as less demanding than the corporate events we manage for our clients. Theme parks and attractions offer photographs and products in a set environment. We are totally focused on the corporate event market and these include programs such as corporate events, trade shows, incentive travel programs, social events, and consumer marketing initiatives where companies and company brands are showcased.
© Specialty Imaging International
SB: How do your photos connect the corporation to their brand?

MG: The majority of the images have the corporate logo or marketing message as part of the digital prints delivered on site. In addition, we incorporate text or copy and deliver other products: green screen backgrounds for prints, custom-designed magazine covers or magazine-format promos, event badges, bobble heads, lapel pins. You can see examples on our web page at www.specialty-imaging.com/customers.html.
SB: Who is the audience for these products?

MG: People attending the events--employees, customers of the company, and special guests of the company.
SB: In your marketing, you say, "We provide design, creative, and a variety of services to our clients during their programs." What does this involve?

MG: We work with clients from four months to two weeks ahead to create custom imagery for each corporate event--no stock borders or backgrounds, credentials and badges formats. Everything on our website is an example of a custom design for a particular corporate event. With this type of customization, a corporation can increase the value and equity of the money spent on event photography. Also, by using products that are a follow-up on the event, the corporation can increase their photography return on investment.



FEATURED VIDEO