Contemporary Landscape Photography; Carl Heilman's Complete Course Page 2
The dynamic range in foggy conditions can also be a challenge, as it can range from a very small, compressed tonal range in heavy fog, to a quite extreme dynamic range when the fog is breaking up and sun is highlighting open areas. Bracket your exposures to capture the full dynamic range in the more extreme conditions, and use HDR techniques to create a subtle result that exploits the full tonal range of the sequence. It can be good to experiment with graduated neutral density filters also.

Finally, whenever you are photographing near, or in the fog, keep checking around you in all directions. Look for misty light shafts filtering through tree branches, unique highlights, and possible fogbows that can occur at the edge of a fogbank when the sun is behind you. Moonlit fog offers additional photographic options, but night or day, morning and evening, or after a storm or rain, fog and mist can produce opportunities for unique and moody compositions.
City Shot

A long exposure emphasizes the city lights, and reveals the motion of cars. Albany, NY. (Exposure: f/11 at 1 second at ISO 100.)
Dawn & Twilight: At The Edge Of Night
Twice each day there is a period when the light becomes scattered and diffuse—a time that offers many creative opportunities. Between the wonderful glow of sunlight on the clouds and the total lack of color that comes from the darkness of night, there is a soft, transitional light with varying hues and textures. Stars might be visible overhead, lights are on in villages and cities, and colors will range from the red glow of sunset to an intense blue sky.

Morning mist, frost, and dew can add a wonderful mood to the dawn landscape, while the clearing of an afternoon storm is conducive for layers of fog and mist to form during twilight. During this time of reflected light, tonal variations often shift from one of high contrast, to one where the entire landscape comes into tonal balance. This offers a wonderful opportunity to do some lunar photography, and to capture detail in both the lunar and Earth landscape at the same time.
Lighthouse
The light reflected by the thin mist makes it possible to see the lighthouse's beam. Cape Hatteras Lighthouse, Cape Hatteras National Seashore, NC. (Exposure: f/4 at 1⁄2 sec at ISO 400.)
At the edge of night, the landscape takes on the hues of whatever light is falling on it, and the natural light tends to be bluer at this time of day. This is true whether you are working in cloudy or clear weather conditions.

It's great to play and experiment in this light, when exposure times can be up to several minutes long, but it's important to understand that the intensity of the light can change considerably during an exposure. In the case of a long exposure of a minute or more at dawn, you should underexpose slightly to compensate for the increasing light as the sun rises. In evening twilight you will need to overexpose slightly, to compensate for the decreasing light while the shutter is open.
Boreas River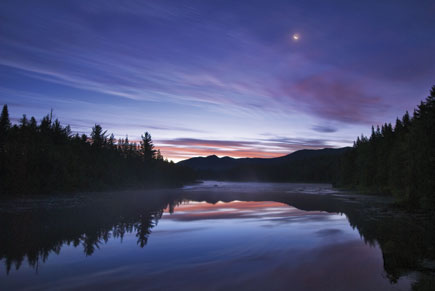 Before the sun rises over the Boreas River, its influence is already clear in the sky above, with the clouds in the distance lit from below. Boreas River, Adirondack Park, NY. (Exposure: f/4.8 at 28 seconds at ISO 100.)
To help capture the entire range of light and detail, bracketing is especially important, but remember that long exposures made with noise reduction turned on will take the camera as long to process as to actually take the shot. This can limit the number of images that can be taken in quick succession, as well as the variety of photographs that can be composed.
Twilight Shooting Tips
• Bracket widely for potential HDR work.
• Use low ISO settings for the best clarity (least noise) and color saturation.
• Long exposures offer creative possibilities like the blurred movement of clouds, cars, water, or people.
• Look for reflections of lights in rivers and lakes.
• High contrast objects can become nice silhouettes.

About The Book
Contemporary Landscape Photography: Professional Techniques for Capturing Spectacular Settings (ISBN: 978-0-817439-68-2) is available online and wherever fine photography books are sold.
About The Author
For the past 35 years, master photographer Carl Heilman II has been photographing the American landscape, seeking to record its beauty and grandeur. His work has been published in numerous magazines such as National Parks, Outside, and Adirondack Life, as well as more than a dozen books. His inspirational AV programs can be viewed in regional Adirondack museums and on PBS. He leads nature photography workshops across the US. His website is www.carlheilman.com.

LATEST VIDEO

SPONSORED VIDEO