Commercial Photography Today; An Interview With Nick Vedros Page 2
SB: As for marketing, what works for you these days?

NV: I actually do a little bit of everything which creates a lot of marketing and I have a uniform branding that goes all the way from my e-mail messages to my business cards to my website. First of all, I establish my value for high quality with award credentials. I do that by still entering competitions like Communications Arts or Archive and when I get images published in these award annuals and books, then that's a testimonial given by some of the preeminent people in the industry. I've entered the Archive International Top 200 Photographers in the World and gotten in twice; when you get artwork published in this way, then you have the credibility to disseminate your message better.

Then, we do direct mail pieces and I go to really top people in the industry who know how to design a piece that will not be thrown away. I don't do a normal postcard and send that out trying to saturate the market. I create real specialty items like an incredibly cool set of coasters in a little tin or a portfolio that the client can flip through and that they'll want to keep. Clients will keep it—for years hopefully—before they decide to trash it. And some people never trash them, they decide to give them to their kids or give them as a gift, and I've come up with two new ones that will be pretty phenomenal. We do pay for lists by a subscription fee and the lists are updated to find out where art directors are working.

Now we do a certain amount of e-mail blasts to try to get out a quick word when we've broken new ground on a project or we're updating our brand message. If I just did an amazing shoot in Los Angeles and I want to make sure somebody sees it and not wait a year for a sourcebook ad, e-mail blasts are good for that. That's a pretty current and pertinent marketing tool. If you could get 10 percent of them opened you're doing well. We seem to get 14 percent of them opened because it's usually something that's entertaining and a lot of people know it. They'll say, "Oh, let's see what that Vedros is doing," and click on it.
We have been advertising in industry sourcebooks every year since 1980. We just switched this year because of costs and we went with FoundFolios sourcebook. Sourcebooks are another credibility factor because when clients see you published in a book with other great photographers then you have some instant credential. I still keep portfolios ready to send out for those clients who want a print portfolio case delivered so they can look at in a conference room. It probably happens four or five times a year. Finally, a website is another thing that can always be updated, we put new images up frequently.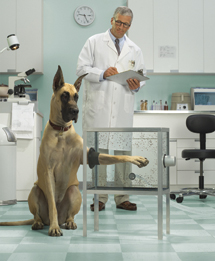 SB: How does your website work with your other marketing? Do you get queries off the site?

NV: Yes, people will go to the website, but what the website does nine times out of 10 is keep us from having to send the print portfolio out via FedEx. Now I can tell clients to go the "Business" section of the website and look at the first image up. I can say, "Is this the kind of image you are talking about?" From there they can say yes or no. So, as well as reinforcing the branding, the website is one of the most important tools for photographers these days.

SB: How important is it for commercial photographers to hire professional graphic designers?

NV: Photographers who are going for the commercial or advertising clients are dealing with the most critical people on the planet. Get the best designer in your city for all aspects of your branding. They best know the advertising art director's values in terms of design, type, and printing.

SB: So the art director client is going to critique everything?

NV: Yes, and if they think you have an "uncool" card, they'll think deep down you don't have faith in your work. That may not be true but that's the impression that you're giving off. You are broadcasting when you are creating marketing materials and your identity should be a consistent broadcast of your ideals and values. When I hand out my card, I'm handing them a piece of Nick Vedros. I did not design the card. When I moved and updated my marketing, I got a 24-year-old who's a killer designer to spruce up my image and tweak my branding message.

SB: So you felt that after all these years in business your brand had to be updated?

NV: Absolutely! The VEDROS name is the only thing that stayed the same. We went with a design to help symbolize that I've stepped into the digital realm and that we solve our problems sequentially because the design creates a building block foundation. The design even stretches to the architectural design of the new studio, which is very cubist. There are a lot of tie-ins with the architecture and the branding. It is a strong style and the style is based on a philosophy that less is more. The new space is a very beautiful house design based on cubism and then the business card and logo help echo that.

SB: Last question, what do you recommend for photographers who want to succeed in commercial photography today?

NV: To really make it in the commercial and advertising business your work needs to differentiate you from the rest. It has to be something that's pertinent in the marketplace. It has to be something that clients are going to buy. It needs to be a style and hopefully a trend that you can modify throughout your career. Here, I've taken and run with the humor thing with lots of postproduction and digital work for more than 25 years. There are a lot of photographers who say their specialty is food photography but they pick a style that everybody is doing. So it's really hard to get a client to fly into your city to work with you when the client knows that they can get the same thing in Chicago or Cincinnati or Springfield. The key to working nationally is coming up with that specialty that will be your national style and getting it to the markets that will hire you in a consistent fashion.

To work locally, you need to look in your own cities. What industries are there that will need consistent work? Or even occasional work? And then you go from there because it has to be based on making it where you are living.

I think young photographers need to figure out what their commercial specialty is and if they even want to go after a national market. If you are happy making a decent living in your own city, great! It's all about balance and being happy. If you can get enough local work to make a living and really enjoy yourself, that's a lot more success than someone trying to go national and being stressed all the time. I think it's where you put your values and how you evaluate success that is most important.

LATEST VIDEO