Chen Changfen Photographs The Great Wall Of China; One Subject, Ever Changing
The photographs of Chen Changfen speak of tranquility and mysticism. Winter snow melting into the sea beneath a cold blue sky; miles of sand and rock as well as mountain landscapes have created a poetic background for the Great Wall of China over the years. For the past 30 years Changfen has trudged the steep paths to photograph the rough, hidden beauty of the Wall in a variety of magical and atmospheric surroundings.

"I have seen many photographers who have photographed The Great Wall," Anne Wilkes Tucker, curator of photography at the Museum of Fine Arts, Houston, says, "but none of their photographs have the poetry of Chen Changfen's. A lot of it has to do with his Taoist philosophy. The heart of it is that in nature there is never anything stationary. It is constant flux, like when winter is becoming summer. There is no dominance.
Beijingjie, Beijing, 1999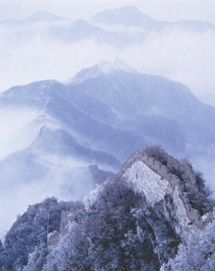 Inkjet photograph on rice paper. Collection of the Artist.
All Photos © 2007, Chen Changfen, All Rights Reserved
"Being Western and having this dialectical approach I kept saying to Chen things like the Wall and nature were at war with each other and he would smile and say, `It's not either--it's a cycle...'"

Built over 2000 years ago, the Wall itself gives the impression of always changing as it disappears into the distance. Built of tamped mud and willow branch then stone and finally brick, there is a variety of textures and environments, created by different dynasties and built on various borders at different times. The Ming Wall remains the most familiar since it was the last dynasty and is only an hour outside of Beijing, from where it is most easily accessible. Changfen is documenting the transformations as the Wall is deteriorating or being restored, winding his way upward in extreme heat or bitter cold in an explicit pursuit to get his pictures. "Chen is fascinated," Tucker says, "and he is using the Wall in the way Ansel used Yosemite and Stieglitz used Lake George, a subject to go back to and to embody with his own life philosophy."
Jiayuguan, Gansu Province, 1986
Inkjet photograph on rice paper. Collection of the Artist.
Born in 1941 in Central China's Hunan Province, Changfen became a professional photographer at the age of 18 during the Cultural Revolution that created such a huge turmoil in China until '76. Over the past 30 years that he has explored and photographed the Wall it has been Changfen's feeling and need to do something he feels good about and can concentrate his energies on. "It has become a commitment, a dedication to an idea as well as a preservation of history," Tucker says.

Changfen's work not only has an engaging sense of beauty; he sees the Wall artistically. Many images are black and white. Others are photographed in color. For Changfen it is a different way to express what he sees, often using the black and white when he is photographing the Wall and its structure and using color to portray the natural elements, the seasons, or
the weather.
Anbian, Shanxi Province, 1998
Inkjet photograph on rice paper. Collection of the Artist.
Changfen has been described as "not a scholarly man but rather a thoughtful one." He is without a doubt a true artist who cares deeply about the rough beauty of his subject, both as a symbol of something wonderful that has been accomplished and with sadness that China is destroying it with highways cutting through and allowing the tremendous amount of tourism that takes its toll on the environment.

FEATURED VIDEO