Canon PowerShot G3 X Compact Camera Review
When I first heard about the Canon PowerShot G3 X ($999), I fully expected that I was going to hate it. Could there really be a good reason for someone to buy a compact camera stuffed with a 25x (24-600mm equivalent) zoom lens? After all, how often does the average photographer go from wide angle to superzoom to warrant the size and weight that a lens like that requires?
On a business trip a few months ago to Paris (a great location for a multipurpose camera like the Canon G3 X) I also brought along an interchangeable lens camera system that was both heavier and more cumbersome, out of concern the G3 X might be too awkward for regular use. With a protruding lens, the G3 X just didn't feel "stealthy" enough for me.
But a defective battery in my other camera prompted me to use the G3 X more extensively on the trip and my photographs were the better for it.
I've reviewed many "compact" cameras with massive zoom lenses that simply felt ungainly and excessive, i.e., a solution in search of a product. Indeed, when fully extended to the 600mm equivalent focal length, the G3 X also feels as awkward and front-heavy as does any other large-zoom compact camera.
But unlike many of the systems I've used, when the lens for the G3 X is in the 24mm position, it's not unsightly or awkward at all and, in fact, is quite nicely balanced. As a result, the G3 X functions like a traditional all-in-one camera with a modest lens, which happens to have the ability to reach across extreme distances when necessary.
Turns out, the Canon PowerShot G3 X is a great companion for the traveling photographer, and a good all-around compact as well. Let's take a closer look.
Build And Features
The Canon G3 X is built around a 20.2-megapixel CMOS sensor controlled by Canon's latest DIGIC 6 image processor. The high-powered processor allows the G3 X to function with a level of performance that's surprisingly fast for a compact, with a 5.9 frames per second continuous shooting mode and no buffer fill (when capturing JPEGs) that allows photographers to keep snapping photos until their card fills.
The camera's 31-point autofocus system felt speedy and accurate, both hallmarks of shooting with Canon's G-series compact cameras. And the G3 X's one-inch sensor, which I didn't expect to be particularly great for shooting in low light (it has an ISO range of 125 to 12,800), excelled in bright sunlight and was great for capturing outdoor daytime scenes. But it also truly surprised me with the great results I had when shooting at twilight and dusk.
With a variable aperture of f/2.8-5.6 the G3 X's lens doesn't suffer from much light loss at the long end, as is the case with some other mega-zoom cameras, and the f/2.8 aperture at the widest setting was good enough for portraits with nice background blur, even though the one-inch sensor doesn't provide as much as an APS-C or full-frame camera would at the same aperture setting.
The G3 X took up as much room in my bag as a mirrorless camera system might, albeit with only one lens. That lens, however, was incredibly versatile.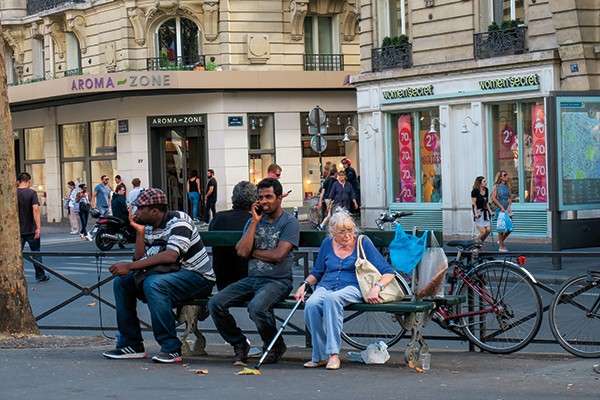 While the camera has a bright, clear 3.2-inch touchscreen LCD, it's missing the electronic viewfinder found on similarly sized compact cameras, such as the Sony RX10 II. There's an optional EVF for the camera, but that wasn't provided for testing, and it really felt like the one operational "miss" with this system.
Due to the weight and bulk of this camera—especially with the lens fully extended—I kept instinctively bringing the body up to my eye for a more solid shooting position, only to find my eye planted against a rear LCD screen.
One other odd choice was the inclusion of a USB 2.0 connector instead of USB 3.0. The body is large enough to sport a full-sized HDMI cable, so it feels like it should have been able to put the faster USB connection in the camera.
While the battery is only rated at 300 shots, I shot around 400 without having to recharge, which was a welcome surprise.
Performance
Any concerns I had with the ergonomics of the Canon G3 X disappeared the second I started to shoot with the camera.
While Paris is a notoriously photogenic city, the G3 X helped bring out the best of it. That's because the versatility of the lens allows the traveling photographer to reach out and frame a scene any way possible, from a wide-angle to hyper-tight detail.
Take the photos from the banks of the Seine on page 44, for example. In one photo, the G3 X is a mild-mannered landscape, complete with water and Parisian architecture. But with the touch of a dial, it's able to zoom in on a couple enjoying the warm summer afternoon.
The G3 X's long lens allowed me to get close to architectural details, such as the carvings on the Notre-Dame Cathedral from hundreds of yards away.
At times the G3 X could make me feel almost creepy—I was able to get really, really close-up on my subjects without them knowing it—but generally I used the camera to grab architectural details, frame the landscapes, and even (when back in the U.S.) to shoot a blue moon from a unique perspective.
When shooting "street photography" style, the variability of the lens allowed me to observe a scene without interrupting it, often capturing little slices of Parisian life without having to walk close enough to the subjects to change their behavior.
Image Quality
The image quality and color rendition of the Canon G3 X was excellent, bringing out the details in the architecture of Paris in a way that a cell phone or other small-sensor travel camera just can't come close to. I soon fell in love with the way the G3 X rendered buildings against the sky—yet still pulled out small details, like the texture on bricks or reflections on windows.
Generally as the light dips, the performance of a one-inch sensor camera dips as well, but I found that the G3 X performed admirably in low light at higher ISOs, and at night. As the sun sets on Paris, the Eiffel Tower lights up, a tough scene for many cameras, due to the wide dynamic range. The G3 X shots were better than I expected, and the long lens allowed me to capture different details of the famous tower.
The G3 X also allowed for a level of versatility I would likely have not enjoyed with an interchangeable lens system. While shooting long-lens landscapes of the Eiffel Tower, I spotted a pair of street performers who used the long red lights on a boulevard to busk for money in front of motorists waiting for the light to change.
With an interchangeable lens system I'd have needed to quickly change lenses while approaching the performers, but with the G3 X I simply zoomed out as I approached them, getting into the walkway behind them in time to frame a few shots with the Eiffel Tower, changing the zoom a bit more to get the shot I wanted.
Competition
There are a number of excellent one-inch sensor cameras on the market, most of which are lighter and smaller than the Canon G3 X. A traveling photographer, for example, could easily pocket a Sony RX100 IV—with its new Sony-designed stacked CMOS sensor—for the same money and have a much lighter travel camera. But the RX100 IV has a 24-70mm lens, which is pretty limiting for travel work.
In the superzoom range there's also the Panasonic Lumix DMC-FZ300, with a street price just under $600. The Lumix uses a much smaller sensor, albeit one with a technology called Backside Illumination, which makes a sensor perform better in low light without having to increase its size. But the larger one-inch sensor in the G3 X trumps them all in all lighting conditions, mainly by virtue of its size, which allows for larger pixels that absorb more light.
There's also the Nikon Coolpix P900, with a staggering 24-2000mm equivalent lens. (That isn't a typo, it's really an 83x zoom lens.) But again, with the same small-size sensor that's in the Lumix, it's limited in variable lighting conditions.
For the photographer looking for the best possible image quality out of a superzoom camera, the Canon G3 X is it, thanks to the (relatively) large one-inch sensor. The quality of the images—especially those when the light got low—was better than anything I've seen in its class.
Conclusion
While not every photographer is going to need the focal length versatility of the Canon PowerShot G3 X, it's a great option for travel shooters, those capturing sports from the bleachers, wildlife photographers, and anyone looking for a single, lightweight camera that can handle most scenes thrown at it. It also makes a great backup camera for when you don't want to haul around your DSLR or mirrorless camera system.
There are lighter compact cameras out there, there are smaller compact cameras, there are compact cameras with better image quality, and there are other superzoom cameras. What there aren't though is a camera like the G3 X, which combines all of these models into one body that's useful from the soccer field to the streets of Paris.

FEATURED VIDEO