Canon & The National Parks; Yellowstone Workshop Showcases Company's Involvement
Recently we had an opportunity to witness first hand Canon's involvement with the US National Parks, the occasion being the 90th anniversary of the founding of the National Park Service and the opening of the new Canyon Visitor Education Center in Yellowstone. As we sat through the opening ceremonies, addressed by Secretary of the Interior Dirk Kempthorne, we learned how Canon has aided the parks through research grants, technology and equipment grants, and a campaign for general awareness of the need to protect and preserve these amazing places. After the ceremonies we talked briefly with Canon's Bill Reed, Senior Vice President/General Manager, Canon U.S.A. Corporate Communications.

"When people in the 19th century first pressed for protective status for this area, one of the chief ways they convinced others was through images--paintings and photographs. Those who had not visited the area simply couldn't believe its wonders without those images. We at Canon feel the same way now, that the need to protect and preserve the beauty of the earth and wonderful places like Yellowstone can still be communicated best through images, and activities that stem from how those images move people."
Lewis Kemper, a Canon Explorer of Light, leads one of the workshop groups at Yellowstone. With two sessions a day for three days, many park visitors got to loan out Canon gear and get the lowdown on making great images from leaders like Kemper.
All Photos © 2006, George Schaub, All Rights Reserved
Canon's involvement with the National Parks can be as straightforward as their recent National Park Photo Contest to environmental and research projects that do not grab as many headlines. Tom Porter, of the Yellowstone Park Foundation, said, "Canon has been so helpful in many projects, such as providing equipment for monitoring the activity of the recently reintroduced wolves to scanners and expertise for making available the archival material we have in Gardiner, Montana, to a wide variety of people. This is also an incredible resource for historians and future generations about the park and the people who explored it."

We also attended another aspect of Canon's activities in the park, a weekend series of free workshops for park visitors, based at the Old Faithful Inn. Organized by the American Park Network, a group that publishes guides for many of our nation's parks, with free loaner equipment from Canon and teachers, including photographers from Canon's Explorers of Light group, the workshops drew enthusiastic visitors who just had to sign up at the Canon/American Park Network table in the lobby of the inn.

Two groups each day explored the geyser fields surrounding the old inn, led by Lewis Kemper and Adam Jones, renowned nature photographers and Canon Explorers of Light as well as photo educators and naturalists Rob and Ann Simpson and local Yellowstone photographer Mark Miller. Park visitors first loaned a wide range of Canon digital SLRs and lenses from the American Park Network crew and then broke up into self-assigned beginner, intermediate, and advanced shooter groups and were led by the photographers around the amazing geyser areas.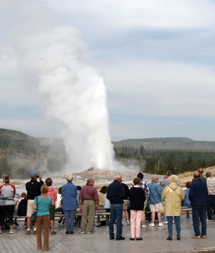 The workshops were headquartered at the Old Faithful Inn, and groups always got a chance to photograph the grand old geyser itself.
Each attendee was also invited to an evening lecture by Kemper, after which they were free to use various Canon printers to make 4x6 and 8x10 prints from their images, as well as were given a free CD from the memory card they had turned into the American Park Network crew after their shooting session during the day. Not bad for a bonus on their trip, seeing that the sign-ups were free and unexpected, although advanced publicity in the park publications helped bring attendees into the sessions as well.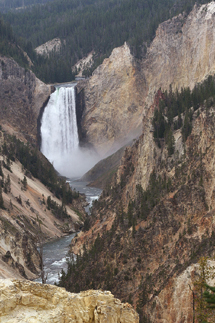 Photography and the National Parks go hand in hand, as witnessed by great locales such as the aptly named Artist's Point.
Robert Altman, of Canon's Marketing Department, said, "This type of activity is one of the ways in which we promote photography, raise awareness about our National Parks, and show people the creative advantages of working with a digital SLR camera. We have done two of these programs this year, the one in Yellowstone and another in the Great Smoky Mountain National Park. Our goal is to provide a great experience for the park visitor, plus get some of our cameras in their hands and to show them, through our evening event, just how easy it is to get great prints as well. These programs are free, and we understand that the attendees are on vacation, so we try to make every moment count." From what we saw they did just that.

Canon is formulating plans for similar programs next year, and we'll keep you posted as they announce them.