Canon Launches 50.6MP EOS 5DS and 5DS R: World's Highest Resolution Full Frame DSLRs
Yes, the rumors were true. Canon just launched two new full frame digital SLRs with the highest resolution yet: the 50.6-megapixel Canon EOS 5DS and 5DS R. Both DSLRs feature 35mm-sized CMOS sensors and Dual DIGIC 6 image processors.
The Canon EOS 5DS and 5DS R are designed to be smaller, less expensive alternatives to medium format digital cameras and are aimed at serious photographers looking for high resolution but in a more portable size and at a lower cost.
"We're actually competing against the medium format camera backs but in the 35mm format this is much smaller, more compact and with a greater access to lenses," Canon USA's Chuck Westfall told Shutterbug in an interview before tonight's launch of the 5DS and 5DS R.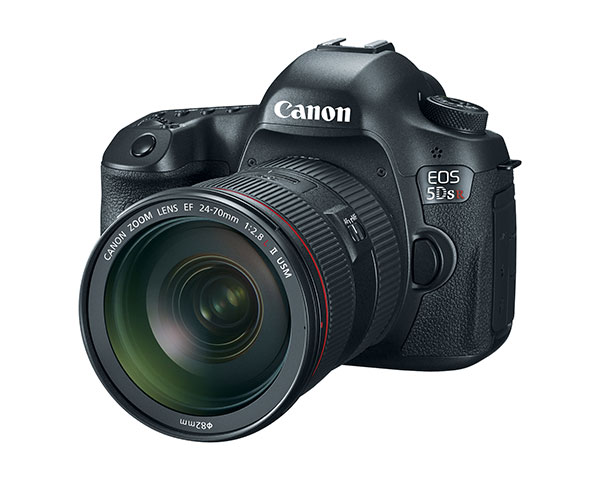 The difference between the two new cameras is that the 5DS R model features a cancelled low-pass filter effect to help shoot images with greater resolution and more dynamic range but at the expense of, potentially, more moiré in images with converging lines.
Westfall said Canon decided to go with a cancelled low pass filter effect on the 5DS R rather than simply eliminating the low pass filter because the company "wanted to match the optical length on both cameras."
"We would've needed to mechanically re-design the camera body to meet the difference," Westfall explained about the decision not to remove the low pass filter in the 5DS R.
Westfall stressed that "[The new cameras] are not prioritized towards low light shooting or to video" even though there are video features in both models. (Both the 5DS and 5DS R can shoot full 1080p HD at up to 30p or 720p HD video up to 60p.)
The pixel pitch (aka "size") for the Canon 5DS and 5DS R is 4.14 microns, compared to the larger, 6.2 pixel pitch in the Canon 5D Mark III, which performs well in low light at high ISOs. "The pixel pitch [in the new cameras] is similar to what's in the Canon 7D Mark II," Westfall said. "And the new cameras have fairly similar noise levels to the 7D Mark II."
Despite some rumors to the contrary, Westfall said the 50.6MP CMOS sensors in the 5DS and 5DS R are developed and produced by Canon. When asked whether they were created in collaboration with Sony as some rumors indicated, Westfall responded by saying: "Absolutely not. The sensors were developed completely in-house, by Canon."
Here's a rundown of the other key features on the Canon 5DS and 5DS R:
• Dual DIGIC 6 Image Processors
• 61-Point High Density Reticular AF array including up to 41 cross-type AF points and EOS iTR AF for high precision autofocus
• 5 frames per second continuous shooting at full 50.6MP resolution
• EOS Scene Detection system featuring a 150,000-pixel RGB+IR 252-zone metering sensor that provides enhanced precision and performance.
• Reinforced chassis, baseplate and tripod lug to improve rigidity and minimize camera shake and improve stability
• In addition to the standard setting (press the shutter button once to lock the mirror, then again to release the shutter), the EOS 5DS and EOS 5DS R cameras offer new setting intervals of 1/8, 1/4, 1/2, one and two seconds, releasing the shutter after the selected preset delay, allowing potential camera vibration to dissipate before shutter release.
• A new Picture Style called "Fine Detail" has been added to enhance the sharpness of JPEGs and EOS Movies with three new settings: Strength, Fineness and Threshold.
• With the extra sensor resolution, both models also provide two cropped shooting modes, while still delivering high-resolution images 30.5 megapixels for the 1.3x mode and 19.6 megapixels for the 1.6x mode.
• Available crop options are visible as a mask or an outline in the viewfinder; so shooters can know exactly where to frame their subject.
• Like the EOS 7D Mark II, the EOS 5DS and EOS 5DS R cameras feature an advanced AE system that can detect and compensate for flickering light sources such as sodium vapor lamps that are often used in gymnasiums and natatoriums.
• Built-in intervalometer and bulb timer to enable the capture of time-lapse images and long-exposure images, such as for recording fireworks, star trails, sunrises and more.
• Intelligent Viewfinder II is designed to provide approximately 100 percent field of view, while adding the ability to display cropped shooting frames and superimpose a customizable selection of camera settings and data such as dual-mode electronic level display and grid, as well as exposure, white balance, metering, drive, image quality and AF modes.
• A new Customizable Quick Control Screen, another first for EOS cameras, allows photographers to quickly change frequently used camera settings and functions.
• Ability to shoot in 1080p Full HD up to 30p or 720p HD video up to 60p. Creative Time Lapse Movie function takes a continuous series of still photographs and automatically combines them in camera into a Full HD movie file.
• Dual card slots for CF and SD memory cards, including Ultra High Speed (UHS-1) SD cards. Built to last, the cameras also feature a shutter durability rating up to 150,000 cycles, the same as the EOS 5D Mark III.
• The EOS 5DS and EOS 5DS R will go on sale in June 2015 for $3,699 and $3,899 (body only), respectively.

FEATURED VIDEO