Canon's PowerShot G11; The G Series Evolves
Note From The Editor
Our criteria for doing a test on an integral lens camera is whether or not we think it would be a camera that a seasoned photographer could appreciate and use as a second body to back up a D-SLR, or even as the sole camera on a trip where a D-SLR would be cumbersome or burdensome. The camera in question should have many of—but not all—the creative options of a D-SLR. It should certainly not be "point-and-shoot" or, on the other hand, so tricked out that it only could appeal to amateurs. And of course image quality should be excellent, given reasonable expectations from a smaller sized sensor. Actually, our aim is to find the ideal camera to fill this bill, and this report is part of that quest.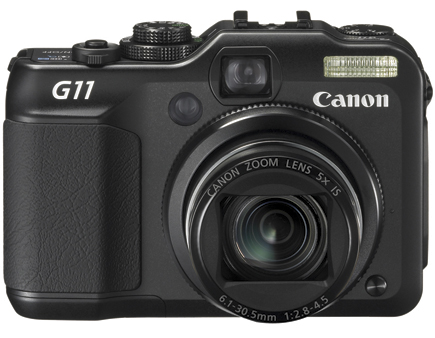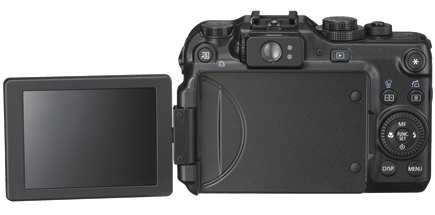 Digital cameras today are hybrids of pro and amateur models, often taking image-processing sophistication from the pro side (as in the DIGIC 4 processor in this camera) and clever algorithms from the amateur side (such as the extension of face detection here where the "Face Self-Timer" actually awaits the photographer's arrival into the frame in group shots to snap the shutter). Some of these items are fun, some are true enhancements, and some are superfluous goodies included to cast as wide a sales net as possible.

The new Canon PowerShot G11 ($499 list) has its share of all of the above with certain advantages further gleaned from the pedigree, including some that have been brought back from generations past. The 10-megapixel G11 is certainly larger than many integral lens cameras (4.4x3x1.9", WxHxD) and heavier (about 12.5 oz), which means it is not shirt-pocketable, although it is not as much a room hog as some integral lens long zoom models. Part of that bulk is thanks to a welcome (return) addition to the G line, an articulating monitor. Folded away, the 2.8" monitor protects the LCD screen from the usual misfortunes that make many fixed monitors look like they were cleaned with corundum and certainly old before their time. This means you can carry the G11 around in your pocket or bag without fear of scratching the LCD viewing surface.
The Auto White Balance (WB) in the G11 is uncanny. Here's an interior photographed using Daylight WB to show the horrid green tinge (left) while the Auto cleaned it right up (right). Fluorescent lighting is tough under any circumstances, but you needn't use Custom in tough lighting, you can rely on Auto.
All Photos © 2009, George Schaub, All Rights Reserved
Being flexible, it encourages shooting from many angles of view that would be awkward or impossible with fixed monitors, such as overhead without the framing being a Hail Mary. The screen is bright and vivid, with easily readable settings to boot. Another advantage of a flexible monitor is that you can shade it more easily in bright sun, which I found enhanced viewing for composing and review much better than when working with the monitor fixed.

One common complaint about integral lens cameras these days is that there is no viewfinder for when viewing is tough using the LCD monitor. There is a porthole-like viewfinder on the G11, but don't get all excited because it only covers (Canon's figure) 77 percent of the frame and shows absolutely no info. This pinched view is, I guess, better than nothing, but seems a gratuitous gesture that hurts the overall appeal.
As of this writing Camera Raw would not read the G11's CR2 files, though I'm sure when we go to press this will not be the case. In any event you can use Canon's supplied Digital Photo Professional (DPP) software to convert the Raw files and process them, and even save them out as 16-bit TIFFs. Here's the work palette.
The 10-megapixel sensor is quite a sane choice for this camera (1/1.7" CCD). I say "sane" because I have seen too many integral lens camera makers seduced by the megapixel race. Their products fell by the wayside due to noise and too-aggressive processing to make up for the packing of too many pixels on a tiny piece of chip real estate. The images produced by this camera make for very nice 10x14" images on 13x19" paper, my choice for enlargements from 8- to 12-megapixel cameras. The ISO range is from 80 to 3200, the upper realms producing satisfactory images with some to-be-expected noise. Keep it reasonable and image quality will not disappoint. This camera is a great street camera at ISO 400, with ISO 800 being quite good. If you are always shooting at or above ISO 800 get yourself a larger sensor camera.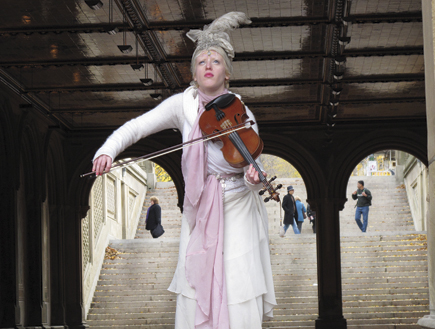 (Top): The articulating monitor allows you to make images that would be guesses at best with a standard viewfinder or fixed LCD camera. This shot at the New York City Marathon was made with the camera held high above my head and the monitor pointed down so I could see it from below. (At ISO 100, f/4.5 at 1⁄80 sec.) (Bottom): This street performer in New York's Central Park was photographed with the G11 held at ground level with the monitor parallel to the ground, a next to impossible angle for conventional finder cameras. (At ISO 400, f/4.5 at 1⁄180 sec.)
The G11 offers three metering patterns, including evaluative, center-weighted averaging, and spot. Center-weighted is generally my pattern of choice, and when used with the handy exposure lock button and "live" monitor that emulates, to a certain degree, exposure, you can pretty much nail exposure each time. You can work with a live histogram prior to exposure, but it is quite tiny on the screen; I wish someone would come up with a "live" overexposure warning prior to exposure as well. On playback you get the overexposure warning by toggling through the DISP (display) button, but again only as a very small portion of the screen. I would wish for this vital (to me) exposure indicator to be available in the full-screen image rather than tucked away in the corner along with a lot of exposure information I don't need at that moment (or ever).

Image Stabilization (IS) is built-in, and IS is essential to the kind of viewing this camera proffers. The camera offers various levels of JPEG, plus now there's a Raw mode and a Raw+JPEG option, to which I say hooray. But as is manufacturers' wont, there are simply too many JPEG size and compression options, which to me just confuses the issue for everyone. There's also a "widescreen" option, basically a crop. I have to say that there's nothing wrong with shooting JPEG, and nothing wrong with doing so with this camera, although one has to wonder about Canon's opinion of JPEG when reading the instruction book. In discussing the difference between Raw and JPEG the instruction book says, and I quote, "…image processing (of JPEGs) results in a deterioration of quality." Hmm…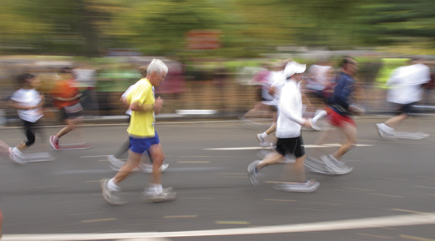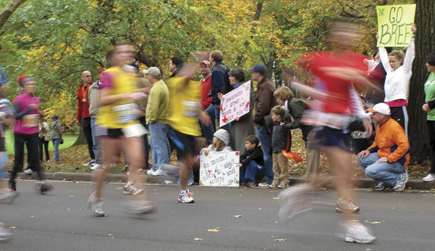 Having an 8x neutral density filter built-in will delight nature photographers, and all those who like extraordinary motion effects. These photographs, made at the New York City Marathon, show the use of the filter with a panning exposure and one where the camera is held stationary; both are handheld. (Top): At ISO 200, f/8 at 1⁄6 sec. (Bottom): At ISO 100, f/8 at 1⁄13 sec.
There are many pleasures to working with the G11 in the field, including the "live view"-like response of the monitor when you change exposure and white balance. There's an on-body dial for exposure compensation, a hot shoe for adding extra flash power, and a clever dial surrounding the mode dial where you can select ISO. In short, two very essential controls for shooting spontaneously in the field—ISO and exposure compensation—are literally right at hand. Bravo on that.

FEATURED VIDEO