Canon's EOS Rebel T2i; The EOS 7D's Kid Brother Page 2
Out Here In The Real World
One exception to my recommendation for the Battery Grip BG-E8 is for shooters who have smallish hands and that's why my friend Gary and his wife prefer the way their Digital Rebel XTi handles without the grip. I love the way the grip makes the camera feel, especially its vertical shutter release, but the Rebel T2i's shape is slightly larger, chunkier, and more rounded than an XTi and I expect Gary and Susan would love the new camera's ergonomics, and so will you. The T2i's controls and buttons are fewer and more logically placed than on the XTi and, unlike the EOS 7D that was attacked by the "button brigade," some real thought has been used with the T2i's human engineering to make the controls' actions and locations coherent and easy to use. Canon even left the on-off control in the same place as other Rebels.

The T2i has a wide range of ISO speed settings from 100-6400 (expandable to 12,800 via a Custom Function), including the Kreskin-like Auto that automatically predicts and selects what it feels is the correct ISO setting for a given shooting situation. To see what happens at high ISO settings I made shots in my basement train room with and without the camera's standard noise reduction setting. My reference shot at ISO 400 revealed the superb image quality that's available from what is a relatively affordable D-SLR. The image was sharp and noiseless. I kicked the ISO setting up to the nominal high ISO of 6400 with noise reduction off, then on.
(Left): Lighting for this photograph of Elektra was made using a Dynalite SP2000 power pack and four-head setup. The main light at camera left had a Chimera (www.chimeralighting.com) light bank attached, fill was provided by another Chimera light bank, the hairlight had a small Chimera light bank attached, and the fourth head was used to illuminate the "Carbonite-Inspired by Joe Farace" muslin background from Silverlake Photo (www.silverlakephoto.com). Lens was the EF-S 18-55mm f/3.5-5.6 IS and the final exposure of 1⁄125 sec at f/13 and ISO 200 was shot using the camera's Portrait Picture Style. (Right): Lighting for this photograph of Elektra was made with the same setup as the green dress shot but the background light was moved off the background and aimed at the model's back. It was also made using the Rebel T2i's Landscape Picture Style to punch up the color saturation and contrast. Lens was an EF 85mm f/1.8 with an exposure of 1⁄125 sec at f/13 and ISO 200.
With an exposure of 1⁄5 sec at f/22 the noise—without reduction—was controlled and certainly not oppressive even in shadow areas. With long exposure noise reduction engaged, any noise present was vaporized. By engaging the ISO expansion Custom Function, the H setting produces what EXIF data recognizes as 12,800, but is not, for all you sticklers out there, really an ISO number. Not surprisingly, the H setting produces a noisier image, but not annoyingly so. The camera's built-in noise reduction suppresses much of the noise but does not totally remove it. I applied Imagenomic's (www.imagenomic.com) Noiseware Professional to the ostensibly ISO 12,800 image and the results were impressive. Some noise remained but nobody looking at the image would believe it was shot at 12,800.
One of the useful buttons that's been added to the camera is for quick access to Picture Styles. All of the standard six Canon Picture Styles and three User Defined Styles are available at a push of one of the buttons in the cluster surrounding the SET button on the camera's back. Loading new Pictures Styles requires a special USB cable that Canon provides, but you'll have to go to the Japanese website (http://web.canon.jp/imaging/picturestyle/index.html) to download newer styles such as Autumn Hues or Nostalgia. For some reason, the US Picture Style site hasn't been updated in quite a while, so use the Japanese link—it's in English.
The Rebel T2i allows two Raw capture options: Raw+Large JPEG and Raw, which I think is all anybody really needs. That said, one reader took me to task about questioning Canon's offering of various sized Raw files in their other cameras telling me: "I shoot weddings and my wife assists me shooting candids. Her photos are less critical and it's unlikely her photos will need to be enlarged. So, having her shoot using a smaller file size speeds up processing and helps me make color corrections." If it works for you, Charlie, that's great, but in my experience the client is always going to want a 40x60" print of some image you could never guess, so why take a chance?
The image quality of the Rebel T2i is so good that I was able to crop this vertical image of a trials bicyclist from a horizontal (17.28x11.52" at 300dpi) file and still get a better than average 8x10" print. Lens was the EF-S 18-55mm f/3.5-5.6 IS with an exposure of 1⁄800 sec at f/16 and ISO 800 and yet noise was not a concern even in the cropped section.
Right now Raw files from the T2i work with Adobe Camera
Raw 5.7 or the 6.0 version that's part of Photoshop CS5, so you might need to download the latest version or use the Canon Digital Photo Professional software that's bundled free with the camera. As I was finishing this report, Apple announced its Digital Camera Raw Compatibility update for iPhoto '09 and Aperture 3.

I decided to give the EF-S 18-55mm f/3.5-5.6 IS lens a focal-length workout and headed south to Colorado Springs and photographed inside the historic Broadmoor Hotel and then spread out to Old Colorado City and finally to that stunning masterwork of nature, the Garden of the Gods (www.gardenofgods.com). Both the Rebel T2i and EF-S 18-55mm f/3.5-5.6 IS performed admirably under these conditions. In fact, I met a guy shooting with a T2i at Garden of the Gods and he raved about the quality of the video capture when displayed on his big screen HD television. His only comment: he wanted more lenses! And if you're new to the Canon system I suspect that'll be your reaction, too.

The Rebel T2i has a useful pop-up flash and compatibility with Canon EX-series Speedlites. With a Guide Number (ISO 100) of 43, the T2i's built-in flash does an excellent job of fill even if occasionally you might have to raise the ISO a bit to avoid the dreaded flash-on-camera look. To test the SLR's in-studio capabilities, my pal Jack Dean (www.jackdeanphotography.com) again allowed me to do a test shoot at his Fort Lupton studio. Like most entry-level SLRs, the Rebel T2i lacks a PC connection for connection via sync cord to studio lighting equipment, so I slipped PocketWizard's (www.pocketwizard.com) Plus II transmitter onto the hot shoe to trip a Dynalite (www.dynalite.com) SP2000 that has a PocketWizard receiver built into its power pack. During the sessions the camera handled, focused, and functioned perfectly under the kind of conditions any working pro or aspiring professional might encounter in a typical studio shoot.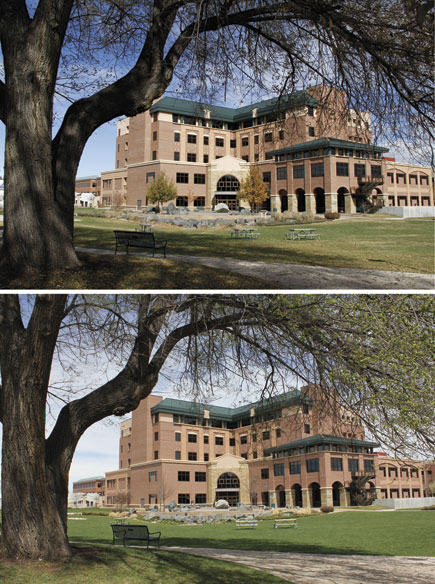 Which twin has the Toni? The image files are an identical 17.28x11.52" at 300dpi. The unmanipulated top image was shot in the fall with an EOS 7D and an EF-S 18-55mm f/3.5-5.6 IS lens using an exposure of 1⁄500 sec at f/13 and ISO 320. The unmanipulated bottom image was made in late spring with the EOS Rebel T2i and an EF-S 18-55mm f/3.5-5.6 IS lens using an exposure of 1⁄500 sec at f/13 and ISO 400. Theoretically the T2i image should be somewhat lower quality since it was shot at a higher ISO (320 is not an option with the Rebel). What's the diff? You'll have to read the text to find out.
Return To The Scene Of The Crime
In comparing the studio shots made for my EOS 7D review with those from the Rebel T2i I started to get a funny feeling. Was it possible that the images were just as good? Since I couldn't make a direct comparison (Shutterbug readers may be surprised to learn that the cameras must be returned to the manufacturer after review), I decided to do the next best thing. Making the 100-mile round trip back to Fort Collins, Colorado, home of the CSU Rams, I photographed the same county building that appeared in the EOS 7D review using the closest possible cropping, exposure, and even the same focal-length lens—although not the identical lens. What was the result?

Although the LCD screen on the EOS 7D I tested showed a slightly warmer image, when comparing the two files on a color corrected monitor, the Rebel T2i photograph was ever so slightly warmer, which can be easily attributed to the fact that the images, although made at almost identical times of day, were made at different times of year. The image quality between the two cameras was close enough in this real world test where construction tolerances in the inexpensive kit lens would have a bigger effect on image quality than the imaging chip.

Based on this simple-minded comparison, I'd call it a tie, which means that this $799 camera should give you identical image quality to a $1699 SLR. That does not mean that the EOS Rebel T2i is as good a camera as the EOS 7D that I liked so much. The EOS 7D is a more rugged and versatile camera with serious professional aspirations, while the Rebel T2i is not. But what it does mean is that the Rebel T2i is one heckuva camera for the money. And that's a good thing.
Canon's EF-S 18-55mm f/3.5-5.6 IS Lens
The EOS Rebel T2i will be offered as a kit with an EF-S 18-55mm f/3.5-5.6 IS zoom lens for $899.99, which is how I received it for testing. This is a pretty good kit lens that uses Canon's Optical Image Stabilizer technology and permits sharp handheld shots at shutter speeds that Canon claims is up to four stops slower than would be otherwise possible, but a lot still depends on the shooter. The lens consists of 11 elements in nine groups and uses an aspherical element to correct aberration throughout the zoom range and a circular aperture for all you bokeh fans out there. If you don't already have any Canon-mount lenses or haven't used an image-stabilized lens before, it's a no brainer—get the kit. Tip: The 18-55mm f/3.5-5.6 IS is an EF-S lens so it can't be physically attached to any EOS camera with a lens multiplication factor less than 1.6x. That also includes third-party Canon EF mount tele-extenders, too, alas.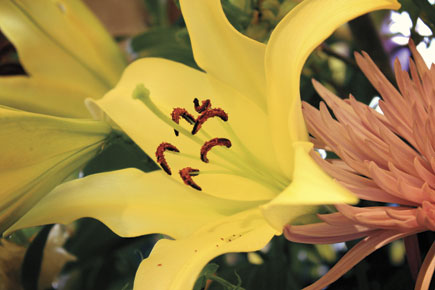 The EF-S 18-55mm f/3.5-5.6 IS lens focuses to 9.8". While that's not what you might normally call "macro," it let me get close to these flowers to almost fill the frame. Because the shot was made indoors with window light I had to kick the ISO up to 800 to get a sharp picture. At ISO 200 and 1⁄10 sec I couldn't hold it steady enough—even with image stabilization—to get a sharp image.
Canon EOS 7D Vs. EOS Rebel T2i: What's The Difference?
For more information, contact Canon U.S.A., Inc. at: www.usa.canon.com.

FEATURED VIDEO