Business Trends
The Spontaneous Eye
An Interview With Miami-Based Robin Hill Page 2
SB:
What is the new direction that evolved from all this exploration?
RH:
The directional change was going from travel or architectural photography and fine art being separate to architectural photography and fine art combined. I was shooting fine art all along but not crossing over into the architectural assignment client work. The clients I have now (the architects) not only hire me for architectural photos of their buildings but also buy prints to hang on the walls of the buildings they were designing.
Architect Francis Hoffmann designed this in 1958. Use of "cheeseholes" to express interplay of light and shadow to dramatic effect. The blue motif in the center bottom is a paint shop on the other side of the road.
SB: How did your various interests work together to combine different markets for photography in order to make one very good one?

RH: I was always interested in all sorts of things--especially dance, art, jazz music--and the challenge was to find a market for my various interests. I had to find a market for what I wanted. If you look at classic architectural photography you might notice that all photographers go about it in a similar way--my style is about improvisation and spontaneity. The MiMo architectural project gave me the opportunity to bring all my interests together into one.
Architect Norman Giller designed this hotel in 1957. The Carillon Hotel was the hotel of the year in '57. It is now being redesigned. Photo was made when a strong wind blew the masonry net to one side, making the stationary building appear to dance.
SB: How did the architectural work for MiMo cross over to fine art?

RH: "Art Basel" in Switzerland is one of the biggest and most prestigious art fairs and it started coming to Miami Beach. Their executive director picked one of my MiMo pictures for the cover of his program so that's how the art side started. The MiMo photography exhibit at the Municipal Art Society was in March of 2002 (it was the best attended exhibit in the 100-year history of that organization) and one of the attendees was Donald Albrecht. He is the curator for architecture at the Cooper-Hewitt, National Design Museum. He saw some of my photos of famed architect Morris Lapidus and asked me to exhibit a couple of the photos in his new exhibition called "New Hotels for Global Nomads."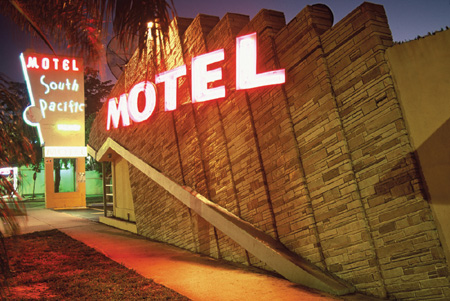 Biscayne Boulevard in Miami is lined with classic motels from the 1950s. The architectural style is known as MiMo (Miami Modern) and this is a prime example.
SB: What's next for you?

RH: The Miami Design Preservation League presented me with an award in April this year for my work in helping the cause of historic preservation of MiMo buildings. This resulted in the City of Miami Beach designating a new historic district for the MiMo buildings. The book called MiMo: Miami Modern Revealed comes out in September this year and is published by Chronicle Books and features many of my MiMo photos. I'm working on a book called Motel Florida to be published by Rizzoli as well as something on Frank Lloyd Wright. The MiMo exhibition is up at Miami International Airport and goes to the Florida Museum of
History in October 2004, along with another exhibition I'm doing in Fort Lauderdale.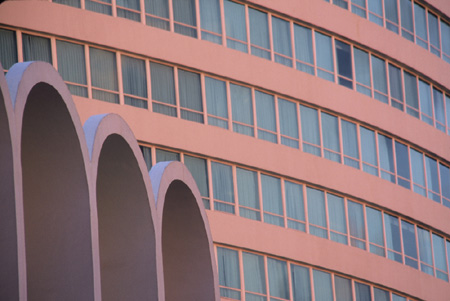 Architect Morris Lapidus designed this hotel in 1953. This is a white building painted magenta/pink by bizarre lighting just after a thunderstorm at sunset.
Bringing the philosophy of present moment awareness into my assignment work has transformed it. There still has to be an overall structure (like the melody of a song), but within that structure I leave a lot of time to play and be creative. As long as I explain to my clients up-front that I work in this way, it all seems to pan out rather well.
To learn more about Robin Hill's photography, visit his websites: www.robinhill.net and www.miamiphotographer.com.

LATEST VIDEO