Business Trends
Marketing Your Style
A New Business Model For Selling Portraits
Clah holds a portrait of his father taken many years ago. The purpose is to show the family resemblance between father and son.
Photos © 2003, David H. Davis, All Rights Reserved
The traditional portrait business has changed with new technology and new client needs and requests. Fads come and go, but the one thing all portrait photographers have to face is how to make a good profit--even a better profit--in today's new marketplace. The answer may rest in one of the most common business growth techniques--product diversification. Ultimately, anyone can take a portrait, even a very nice portrait, but what is there after selling your customer all of the wall prints and albums they need?
David H. Davis has developed a solution. Based in Colorado, he has been a free-lancer, then a full-service photo studio owner, since 1974. Though Davis still teaches and publishes (he is a PPA Certified Professional and holds a Master of Photography degree), he was looking for a project that would allow him both creative freedoms and additional profit centers.
Using the sunset light to model Brannon and Krystle's faces, and the rock swirls to compose the two young people, this portrait unites both a calm feeling and an underlying drama. (Near Page, Arizona.)
Shutterbug: You are known for your "marriage" of a fine art style with a profitable, commercial photography business--please explain how it applies to your portrait work.

David H. Davis: I've always believed that I should enjoy my photography, whether it was at the studio or in the field. Since the majority of my portrait work is done outdoors, it is a natural transition to apply my fine art approach to clients who want something different. We always try to have fun and let our ideas work in concert to create a more interesting result than we initially planned.

Fundamentally, our portrait work is strengthened by the fine art, and the fine art is refined by the portrait work. In this exciting time of an expanded photographic toolbox, this marriage of fine art photography with portraits has made it more important than ever to know how the client intends to use the image--what the actual end product is going to be. Naturally, the client helps control their finished product by providing input into the process, and I get to ask all the pertinent sales and journalistic questions to determine which set of tools to use.
This grand view portrait of Travis Terry was taken at an alcove in Canyonlands National Park.
SB: What lead you to expanding on your creative level of portrait work?

DHD: I was presented with an advertising assignment that sent me into the world of the Native Americans in the Southwest. While working on that project, I decided that it would be interesting to create images that combine these indigenous people with the dramatic landscapes of the Colorado Plateau. Early in the project I challenged myself to create all of these images with available light. As the "Native Americans in the Landscape" collection continues, I get to meet new people and find new locations to create images that keep appearing in my imagination.

The lessons learned from this project have allowed me to create more interesting portraits in the studio. When our portrait clients see the expanded set of possibilities they have confidence that we will consider all of their ideas, no matter how far out they seem to be. I believe that the "marriage" of fine art style to the portrait business also affects the perceived value for our clientele. Signature portraits continue to be in high demand because they are personalized.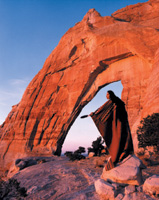 Michelle Bowman greets the sunrise at White Mesa Arch on the Navajo reservation.
SB: Who are your typical portrait clients and how do you market your work?

DHD: High school seniors, children, families, and business professionals make up the majority of our portrait clientele. Direct mail is our main marketing method, especially for the high school seniors. Our children and families are primarily repeat customers or referrals from current clients. We do send a variety of contact letters and a newsletter from time to time. Many of the business professionals and executive portraits are created for companies with whom we have established relationships--these include banks, hospitals, real estate companies, and professional groups.
Milton Tso, draped in Pendleton chief robe, shows his eagle feather in the eagle head chamber of Lower Antelope Canyon near Page, Arizona.
SB: What has been your best marketing approach to get new business?

DHD: We are continually experimenting with new ways of attracting clients, preferring guerilla-type techniques that establish strategic marketing alliances. Very seldom do we use traditional print and broadcast-type media. During the slower winter season we offer a variety of specials to attract folks who will let us experiment with their sessions. We devote more time to each session to try out new equipment, new techniques, and new photographic media. Often these practice sessions bring in more folks via word-of-mouth advertising when they see what their friends and family are creating.

SB: Now, you have a new "product" that expands upon the traditional portrait sale. What is the DVD and how are you marketing it as a line of different photo products?
Showing the intensity of youth, Ryan poses for an individual portrait while we were doing the "White House Guards" on horseback. (Canyon de Chelly, Arizona.)
DHD: Facerock Productions, LLC is the realization of a dream to build a company that can produce and distribute a variety of photographic art. Native American style and subject matter is the primary focus of our product line. Our investors have pledged a portion of the profits to be used to mentor and otherwise develop the talents of youth from the various reservations in our region, and give them an outlet for their work.

Our newest product is a unique piece of entertainment marketing. It is a DVD that includes a multimedia show of Native American images created over the past 10 years. Using interesting dissolves, zooms, pans, and other transition techniques, the "Native Faces--Desert Light" show moves along with narrative in the Navajo language and English subtitles. This gives the viewer an opportunity to hear the native language in a new context. The background music is licensed from and performed by several leading Native flutists. Many of the images featured in the program are available as fine art prints, posters, note cards, or in limited edition customized photo books.

We realize that fewer people will purchase fine art photographs than posters, note cards, and books, so having a complete product line gives people a choice of enjoying images from multiple price points. (Author's Note: For more information about Facerock Productions visit either www.dhdavis.com or www.facerockproductions.com. The websites are in a state of constant change and at press time are a source of information more than actual working e-commerce sites.)
This dramatic long view portrait was created at an overview in Canyon de Chelly, Arizona, to illustrate the relationship of man with the valley. Earl Watchman lets the wind blow his hair to add some motion to the composition.
SB: So you are selling both to the end customer and through distributors?

DHD: Yes, distribution relies heavily on strategic marketing alliances with galleries; music and flute producers; blanket manufacturers; gift shops; websites--our own and linked with others, other artists, as well as family-owned Native enterprises. We are negotiating to install kiosks with looping audio/video programs that are targeted at tourists visiting the Navajo Nation.

SB: This will be food for thought for the established photographer looking to go to the next level of marketing. It sounds like big business! What advice do you have for those just starting out? What can someone getting into the portrait business anticipate as far as pitfalls to avoid and opportunities to pursue?

DHD: Beginning photographers should seek out a mentor that is doing what they think they would like to be doing. There is no substitute for experience and no better way to learn than to become a part of the daily routine of an established photographer. This may not be glamorous, but you will learn the real world skills in context and be prepared to go out on your own. You do not need to make all the same mistakes every photographer seems to want to make. Put your ego in the back seat for a few years and learn the business.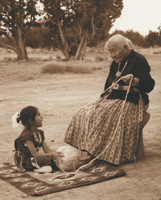 Little Kenya tells grandma Mary a story. Mary's weavings are well-known works of art and this is a rare portrait and glimpse into her simple life on the Navajo reservation.
It really is possible to be creative, have fun, and run a photography business. While you pursue your niche, study those things that interest you. Study subjects that will give you better communication and sales skills, then study anything and everything that will allow you to connect with the people you plan to meet. Building a photography business is an ongoing process that requires continuing preparation, patience, and persistence. Above all, you should develop you own unique vision. Use this vision to develop your own photographic style. Then use the business knowledge and experience that you have gained as a protégé or apprentice, and find a way to create image-based products that will create a residual income for your lifetime. Have fun!

FEATURED VIDEO