Business Trends
Lighting His Way To Success; An Interview With Tony Corbell
Tony Corbell (www.corbellproductions.com) was one of the first photographers I worked alongside when I started speaking on the photo lecture circuit. When I saw the "lighting" theme for this issue, I knew he would be the one to talk to about business today. Corbell's October appearance at the PhotoPlus Expo in New York confirms this and his "Power Of Light in the Digital Transition" program will discuss the technical aspects of lighting. We talked with him about the marketing edge his lighting expertise brings to business (among other things).

In the past 25 years, Corbell has photographed world leaders, brides and grooms, a couple of astronauts, and lots of famous and not-so-famous faces. He is the recipient of the highest honor from Wedding and Portrait Photographers International (WPPI) with their Lifetime Achievement Award and achieved the status of Photographic Craftsman from the Professional Photographers of America (PPA). Corbell has been linked to photographic lighting since his collaboration with Dean Collins, which lead to the production of over 20 "How-To" videos and DVDs. His Basic Studio Lighting book from Amphoto is the basis for numerous photographic college lighting courses. Today, Corbell serves as Director of the West Coast School of Photography and has long been associated with Hasselblad USA. He is currently a national spokesperson/consultant for Fuji Photo Film U.S.A. and has also designed a signature series of photographic lighting softboxes for Photo Control Corporation.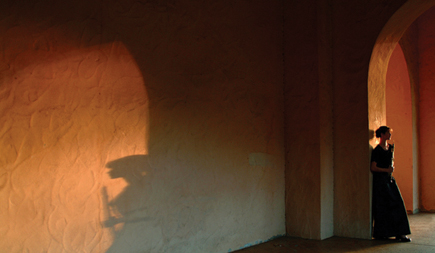 All Photos © 2005, Tony Corbell, All Rights Reserved
Shutterbug: You are well-known for your photographic lighting seminars, books, and now the DVD series. What is it about your approach to lighting that has made you successful--especially with your commercial and editorial clients?

Tony Corbell: I think my lighting style is successful because of the simple fact that I don't have a lighting style. I get hired because I can light just about anything: airplanes at night, executives, small electronic widgets, etc. Since most of my work is on location, I love the challenge of arriving and determining what I am going to do and how to do it, while exhibiting confidence to my client that they hired the right guy. In other words, I pride myself on not being fooled too often.

Lighting has always been critical to my success, not so much because of a formula that I use, but because I understand it well enough to know that when I have to make a lighting decision on the spot (with the client watching) I'll usually make a wise choice in how I will do something. The techniques that I teach in my workshops are the foundations I use for understanding light and how it reacts on film and digital. From exposure to color temperature to light-shaping tools, I teach what I call "Light Quality, Light Quantity, and Light Direction." As far as I am concerned, the successful photographer is the one who possesses the ability to improve almost any lighting condition he or she finds on location.
SB: Now that you can pick and choose your photo assignments, what type of lighting challenges or clients are you most attracted to?

TC: These days my favorite projects are those that allow me to think and create solutions spontaneously. I've basically stopped doing the kind of work where a client leads you around with their opinion of every image you will take. I love the jobs where my input is valuable to the success of the project. If I can satisfy the needs of my client and at the same time create something artistic and meaningful from my perspective, we all win.

I just did a job where my client is a very high-end real estate broker in one of the most exclusive areas in Southern California. She said she wanted to create "lifestyle portraits" for a major direct-mail campaign that will exhibit her area's architecture, golf, and lifestyle in general as well as her knowledge of each of these areas. So we spent time brainstorming lighting ideas, locations, and clothing for several days leading up to the shoot. I love this kind of a project and know that somewhere along the way there will be great spontaneous moments that will occur during the shoot.



FEATURED VIDEO