Business Trends
Direct Mail Marketing Targeted, Effective Campaigns Pay Off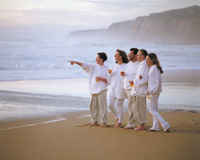 Photos © 2002, Huth & Booth, All Rights Reserved
I really never know what to expect when I'm taking one of my classes on a field trip. I do know that I will be using the same portrait techniques outdoors that I use when I'm in a studio environment. I also know that the outdoor settings offer many more challenges and opportunities for testing my ingenuity and resourcefulness.
So, there I was in the middle of the day with 15 "hungry" photographers, each waiting to see how I would tackle the afternoon's shoot-out in the park. I had already told the class that many photographers think that early morning and early evening light are the only times to photograph. I wanted to show those in my class how we could create good environmental portraiture throughout the day. "Good portrait lighting," I told them, "can be found in just about any and all locations, as long as you know what you're looking for."
Direct mail marketing has always been the most popular and personal of the non-personal marketing tools available to photographers that include advertising, mailings, and publicity. However, the last 12 months have seen direct mail plagued with problems ranging from increased postage costs, getting clients to open envelopes, and the increase in the volume of mailings clients receive every day. True for both consumer and commercial photographers, this is the time to look for some creative solutions to improve response from your direct mail marketing.
For an overview of current and effective direct mail marketing techniques, I want to recommend the trade publication Target Marketing magazine (www.targetonline.com). Though not specific to photography, this publication will give you lots of step by step tips and information on improving the design and production of your mailings in order to increase response. For a photographic point of view, I interviewed the successful photography team of Huth & Booth Photographic Artists (www.hbphoto.com) on their direct mail marketing campaigns. Huth & Booth Photographic Artists is a full service portrait and wedding studio and a member of Professional Photographers of America. They specialize in children and family portraiture, business and executive portraits. Prior to 1995, Ed Booth and Betty Huth operated their own studios in California. In 1995, they merged the two studios in order to put their combined efforts into growing their business. Popular instructors at the Golden Gate School (www.goldengateschool.com) they also have upcoming workshops for Professional Photographers of Northern Nevada and will be featured speakers at the Professional Photographers of California Western States Convention to be held January 23-25, 2003.
Shutterbug: How did you get started doing direct mail marketing and how did you develop or find the best mailing lists?
Huth & Booth: We have been doing direct mail, in some form, since the business began in 1981. We mail to our current client list and to prospective clients. In the early days this was in the form of newsletters or greeting cards and a few special offers. Over the past few years, we have also had our marketing people acquire lists of prospects. The criteria for the list have been based on geographic selections, homeowners, income selection, and ages of children in the home. Typically we aim our direct mail campaigns at the family and child markets, and the business and executive market. We do not use it for our wedding clients. That market comes to us by direct referral and we do not need to grow that section of our market.
SB: How are you dealing with new technology and who are your typical clients for your mailings--consumer or commercial or both?
H&B: Since early 2001 we have been 80 percent digital both in image capture and in image production. This year we will begin photographing our weddings digitally and designing albums that are produced digitally. Our typical new consumer client is a homeowner with expendable income. They are involved with their children and families and understand the importance of creating portraits to tell their family's history. Our wedding clients are young professionals who are not on a limited budget for their weddings. Our commercial business and executive clients come from small to middle-sized companies; law firms, real estate developers, medical offices, and the like.


SB: Who did you find to design, produce, and print your direct mailers and how do you divide up the responsibilities and what is planned for the future?
H&B: Our marketing team is POWER Consulting of Las Vegas. We have been with them for over five years. Together, we select the direction we'd like our studio to take and they create a plan of action. We have a marketing plan that is designed for the year with dates scheduled for our mailings. POWER Consulting then designs our pieces and handles the printing for us. They are also researching the feasibility of using e-mail as a way to target our client and prospect base and looking into purchasing lists with e-mail addresses.
SB: Since you buy mailing lists, do you still maintain your own, or do you do both?
H&B: We do both. We have purchased lists, acquired by POWER Consulting, that are kept as a separate database for prospective clients. This allows us to track the effectiveness of each list and each mailing piece. We maintain our own database using a studio software program, Com-plete Business Solutions, by Amicus Software. This database is made up of our current client list and anyone who has called the studio or inquired about our work. From this software we can generate targeted direct mail letters or mailing labels for campaigns we have in mind.


SB: For your direct mail, what types of "irresistible" offers do you use as techniques to increase mailing response?
H&B: Because we are an upscale studio, we use "special offers" as an avenue of marketing. We create special selections or products for some of our events. For example, with one of our children's specials, where we build a special set and do limited sessions (three days only), we may offer watercolor prints at a 25 percent discount off regular prices. We also have a special edition we offer our "preferred" clients of an inexpensive, short session for special times of the year--Christmas, Halloween, etc. With our "Baby Steps" Promotion we offer four images of ages 3, 6, 9, and 12 months framed and matted for one flat price for all sessions and images. We do, in this case, expect to sell other images from each session.
SB: When we first talked, you mentioned introducing a new line of "Mother and Baby" portraits, how are you using direct mail marketing for introducing new services?
H&B: We always want to target our specific audience. Our design team at POWER Consulting has acquired a list for us to use that reaches our specific target market, the pregnant woman. Using direct mail, we can get the best trackable return for our investment. The direct mail pieces we are using have been designed with our target audience in mind. It allows us to supply the prospect with information on the many benefits they will gain when they select our studio for this very special portrait.
In conclusion, Huth & Booth have made good points for you to review when thinking about using direct mail marketing.
Target your direct mail audience by their photo buying needs, their ability to afford you, and the timing of their need for the photos.
Plan your direct mail campaigns in advance, you don't have to produce all the mailings at once but you do need to have a long-term plan.
Design separate direct mail campaigns for different audiences, especially the difference between prospective clients and current clients.
Get professional help with your list buying, design, production, and printing needs!

FEATURED VIDEO