Business & Pleasure; A Commercial/Creative Balancing Act Page 2
Then in the 1980s and '90s things started happening for me with shows and exhibits both national and international. I had a show at the James Corcoran Gallery in Los Angeles in '84 and at the Santa Monica Museum of Art in Los Angeles. I have pictures from this work at MOMA in New York and the Walker Art Institute in Minneapolis. My photograph of David Hockney was the portrait used by the George Pompidou Centre in Paris for their grand reopening. Another Hockney portrait was recently acquired by the National Portrait Gallery in London.
| | |
| --- | --- |
| | |
SB: What are you working on now?

JM: About 10 years ago I started shooting the urban landscapes of my childhood, here in Los Angeles and in Europe, particularly Italy where I spent many teen-age years. For me, it was about looking back at a vanishing landscape. The Los Angeles images have turned into several shows and traveling exhibits. "On The Sunny Side of the Street: Polaroid Images from Los Angeles" and "Let's Get Lost: An Exhibition of Photographs from Los Angeles" will be in London in October of 2008.

SB: What inspired you to pursue personal work as part of your photographic business?

JM: All of this is because it is increasingly difficult to get hired on a regular basis to shoot assignments. At one time I was shooting for People magazine three days a week. Now, so much of that business has gone away, and my interests as an artist have changed. I want to spend more time doing what I like; commercial work is so much about pleasing others and being popular. Personal work is about letting yourself go. I like to do both. I shoot for myself almost constantly. Several years ago I began to concentrate on selling prints. That has become the majority of my focus. It's very satisfying.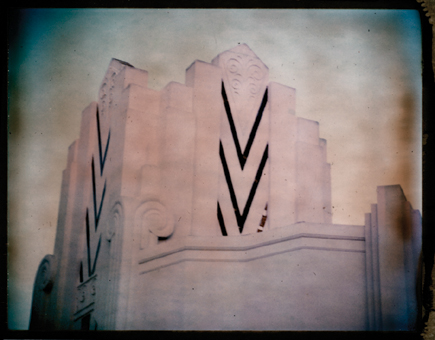 SB: I am curious, what inspired you to present this as a workshop?

JM: A lot of things have changed dramatically in photography over the years with lots of photographers asking this question--what can I succeed at? This question has led me to pursue my personal style and create my own vision and since I find that is far more marketable for me, I was asked to share my story.

SB: What marketing tactics do you recommend to find clients for both commercial and personal work?

JM: First, I have to make the images to market so I think a lot about how to take pictures that I have not taken before. For my personal work, I try to get them in front of people by showing the work in a public setting, having exhibitions and marketing the exhibitions. This business is also publication-driven so I recommend you find a way to create a body of work and then get it published.
After that, all the usual things you do for marketing. Really, there is only one answer: knocking on doors. I use e-mail, post cards, press releases, sponsorship from both corporate or collectors, taking people to lunches. One of my best marketing stories was a deal closed sitting next to someone at the opera: I was at the Opera in Los Angeles and by this time had photographed many artists for my books California Painters: New Work and The Art of Light and Space. I realized sitting at the Opera that the person next to me was the great artist Ellsworth Kelly.

I introduced myself and told him how much I liked his work. I told him that I was a photographer and asked if I could do a portrait. He said yes, but that I would have to do it the next day. So the next day I went to Gemini G.E.L. in Los Angeles where he was working and took the portrait. I had to be flexible enough to pull together a shoot for the next day. I had to be willing to put myself out there even when I was not "working." If I had not asked him on the spot when he was sitting right there next to me I would probably never have that opportunity again. I do everything I can think of to get the work and then to get the work out there.

FEATURED VIDEO