Bryan Linden: His Secret to Success? Just Do It!
All Photos © Bryan Lynden
Whether this diverse photographer is shooting sporting events, concerts, nature, fine art, or commercial images, Bryan Linden strives to share his passion for photography with others. And, as one who's worked in the digital medium since 1993, he enjoys helping other photographers make their transition from film to digital capture. Linden not only possesses talent and technical expertise, but his self-motivation and enthusiasm has taken him a long way. His work has been published in Glamour, Women's Wear Daily, Teen People, Celebrity Hairstyles, E! Online, Computer Reseller News, PC Magazine, Photo District News Online, LA Sports & Fitness, USA Today and more. He's shot ads recently for Compaq, Cisco, and Ingram Micro. He has also photographed billboard and bus shelter campaigns, and his business is less than two years old.
Leigh Nash of Sixpence None The Richer performs in concert. This photo captures the dreamlike melodies of this band.
Besides the commercial work he does through his company, Linden Photography, Linden regularly does consulting in digital color management. He also assists manufacturers of photo equipment and computer hardware and software in developing new products. Linden's consulting clients include Apple Computer, Inc., among others. "Because of my marketing and photography background, I understand how to sell products," he notes. "And from a consumer standpoint, I know what a customer wants, and I try and help with ideas that encourage manufacturers." This has led to many speaking engagements, including the Apple Stores, Photoshop World, and various photography/digital-imaging events.

Sales & Marketing
His background includes marketing, design and advertising. For ten years, Linden worked for Think Computer Products in Irvine, California, as Vice President of Marketing and Sales. During this time, he brought on product lines like digital media, and was responsible for "the corporate identity of the company." Prior to Think, he was an account executive for a small advertising agency, where he art-directed photo shoots for clients, and initially became involved with Apple Macintosh.
A California Poppy close-up.
Linden became interested in photography in the late 1980s, and "shot with the original Canon Rebel for fun." When he worked in sales for Think, Samy's Camera was one of his accounts. This large photo retailer allowed Linden to use one of
the first DCS systems from Kodak, and Linden shot ads in 1994 utilizing DCS and early Leaf digital backs. A couple of years later, he also launched Perfect Pix CompactFlash cards for Think.

Linden, who's basically self-taught in photography, has read photo magazines cover-to-cover for many years. Today, he says, "I love to educate. I'm very passionate about color management and how it's taught." He says that some instructors get too involved with teaching the scientific aspects, "and some students fall asleep or get overwhelmed." Linden maintains that people "just really want to know how to do it, and why they need it."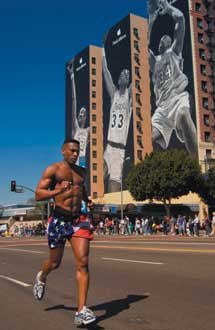 A runner shows American pride as he races toward the finish line in the 2002 Los Angeles Marathon.
Embracing Diversity
He has given numerous presentations on iMovie, iDVD, and the iPhoto Book service at Apple stores. Linden, who utilizes these programs as part of his own digital workflow, comments, "An iPhoto Book begins at $30 for 10 pages, and they have been a valuable tool for getting my work into the hands of potential clients." Even though these applications are targeted to a consumer audience, Linden and other photographers and graphic designers have been able to use them to quickly provide professional-looking products that may be easily produced. Linden's expertise in color management and digital color reproduction has proved to be valuable to Apple, and he's consulted on several projects for them. Additionally, Apple has utilized Linden's digital images, including some that were used exclusively during a keynote speech at a recent Seybold seminar.

While many photographers specialize, Linden embraces diversity. "Right now, I'm getting to shoot so many different types of projects. It's really a lot of fun and I get to offer my clients solutions for all of their photography needs." He's currently doing a lot of work for the music and entertainment industries, which, he says enthusiastically, "I really do enjoy." He's shot images for seven major radio stations; of concerts featuring major stars, such as No Doubt, Pink, Alanis Morissette, Carlos Santana, Sheryl Crow, and Celine Dion; and at special "fan only" live performances by major artists at intimate venues that are broadcast live on the radio. He also does head shots and photographs special events for his radio clientele.
A portfolio piece for a model.
Linden does photography and writes articles for L.A Sports & Fitness (L.A S & F). Additionally, he's written product reviews and informational pieces for Professional Photographer and Photo Electronic Imaging (PEI).

The events he's photographed include "Yeah Baby Expo" (a baby show), Frederick's of Hollywood events and a fashion show, and a recent Golden Globe party in Hollywood. One of Linden's most exciting occasions was when he assisted Blue Pixel (a consulting group that teaches digital workflow) at Eco-Challenge: New Zealand in 2001. He points out, "It was a great experience because I hadn't done that much in adventure sports," although his knowledge of digital workflow made him valuable. Afterwards, he wrote a couple of articles for L.A. S & F, entitled "Off the Couch and On To Adventure," which outlined his experiences in photographing and training to compete in adventure races. He gave a first-hand account of what it was like to dive into adventure racing with no prior experience and "a long layoff" from a regular exercise regimen.
One of Linden's promo pieces for sports.
Photo Equipment and Peripherals
Linden uses the Fujifilm FinePix S2 Pro digital SLR for his nature, portrait, event and commercial work, and says he especially enjoys the camera's RAW format and excellent color reproduction. He sometimes uses the 360 One VR by Kaidan, an attachment that allows him to shoot high-quality, 360° panoramic images in one shot. "It's great for restaurant VRs, and I'm trying to work it into my concert photography offerings," he says. He shoots with the Nikon D1x when doing sports, action, and event photography, and uses the Fujifilm FinePix S602 as a "travel and fun" camera.

FEATURED VIDEO