In Brief: Samsung WB500*
With a focal length of 24mm (35-mm-film equivalent) the Samsung WB500 offers very nice wide angle capabilities. The user can take images even in cramped and small rooms or use the wide angle setting for impressive landscape images. With a maximum setting of 240mm the lens systems allows for nice tele shots. The camera uses an integrated image stabilizer (CCD-shift).
The 10x zoom lens is very compact. Even in activated status and maximum tele setting it looks like a standard zoom. The camera doesn't offer interfaces on the side. The combi-interface for USB data transfer, video output (PAL/NTSC composite signal) and power supply is located on the right side.
The camera offers one interface for all functions. The charging device can be used as a power supply for stationary work with the camera while simultaneously recharging the battery. The camera can also be recharged by connecting it to a PC via USB.
The Samsung offers a lot of scene modes and uses face-, smile- and blink-detection for better portrait shots. It offers an additional mode called "Beauty Shot" which will soften skin areas in portrait shots.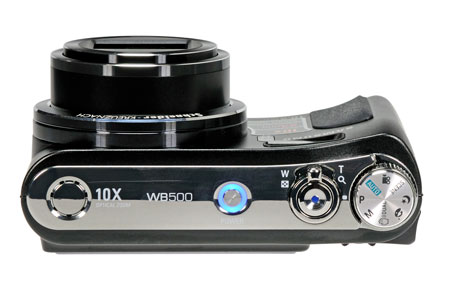 The mode dial on top of the camera offers scene modes, P-auto-mode and M-mode for manual setup of all image parameters.
In addition, the camera can be used in M-mode for manual setup of aperture and shutter speed. A setup switch in the upper right of the camera's back allows easy and fast setup of all parameters (nearly as comfortable as the parameter dial on D-SLR systems).
The camera takes HD-videos but with some unexpected limitations: It will take HD-movies with 1.280 x 720 pixel resolution but only with 15 images per second (PAL-standard is 25 frames per second; NTSC is 29.97/30 frames per second). In addition, the camera doesn't offer an HDMI-interface for Hi-res-presentation on HD-TVs, only a standard TV-interface.
The camera is supplied with 30 MB internal memory and can use optional MMC-/SD- and SDHC-cards. During the tests it worked fine with SDHC-cards up to 8 GB of memory.
A very nice und uncommon feature is the built-in stereo microphone. This will record sound when taking videos and can be used for voice image annotations.
Image Quality
Color:
The camera offers very fine colors. The automatic white balance setting did a remarkable job for a compact camera. All grey fields of the test chart are located exactly in the center of the test result graphic. The average saturation is 112.7 percent, which is on an average level for compact cameras. Some colors are very highly saturated, especially red nuances are very intensive.
Skin tones are a little too magenta rate but still look good.
Sharpness:
Sharpness is very good (2.568 pixels per picture height for a 10-Megapixel-camera with 2.736 pixels in picture height). For this result it has to use a very hard sharpening algorithm, which will create images with halos on contrast lines. See the ruler in the test image.
Nevertheless the user will get very crisp looking images with this filtering.
Even in the center of the WB500's images you will notice chromatic aberration artifacts.
It's an average result when you compare the WB500 to other cameras with 10x zoom lens and wide angle capabilities (the test image was taken in wide angle setting of 24mm).
Noise:
The camera uses a strong noise filtering. Therefore the luminance noise is on a very low level and will exceed the "magical" limit of 1 for the y-factor until an ISO 1600 setting (y=0,95 in ISO 800 setting). Due to this filtering color noise is smoothed, but this filtering will yield acceptable images even in low light situations. The camera offers an additional ISO 3200 setting in 3 MP resolution.
Pro:
+ wide angle lens system with 24mm (35mm equivalent) coverage
+ small and compact body
+ easy handling, a lot of scene programs and automatic scene settings
+ image stabilizer
+ good colors
+ optional: remote control SRC-A5
Cons:
- LCD-monitor with standard resolution of 230.000 pixels (another model, the WB550, offers a 3 inch display with 460.000 pixels)
- no HDMI-interface (the WB550 offers an HDMI-interface)
- no raw mode
TEST IMAGES
The red color of the model's t-shirt is over saturated but still shows a lot of details in the fabric. Skintone is fine but got a little to high magenta rate, a little more yellow would be better.
In addition the camera offers portrait shots with face detection and "beauty shot" function which will smooth skintones. This test image was taken in standard P-mode.
The standard test images shows the good color capabilities of the Samsung WB500. Fine details and contrast lines are clearly noticeable due to a hard USM-filtering which will create halo areas on these contrast lines. Nevertheless the image got a crisp look.
*Test report by Betternet. Tests are opinion and findings of Betternet.
SPEC SHEET: Samsung WB500

BASIC TECHNICAL DATA:

Resolution:

3648x2736

Resolution CCD:

10.2

Size of CCD in Inch:

1 / 2.3

LENSES:

Focal length (wide angle; 35 mm equivalent) in mm

24

Focal length (tele; 35 mm equivalent) KB in mm

240

Focal length (wide angle; real) in mm

4.2

Focal length (tele; real) KB in mm

42.0

Speed

3.3 - 5.8

Digital Zoom

5

Macro

5 - 50

Manual focus, controlled by function elements

yes

Manual focus, controlled with lens ring

no

TAKING PICTURES:

Startup time (in sec)

1.70

Shutter delay (in sec) without prefocusing

0.90

Shutter delay (in sec) with prefocusing

0.15

Continuous Shooting Speed (frames per second)

1.5

Max. Burst during continuous Shooting Speed

999.0

Fastest Shutter Speed in sec

1/1500

Long Time Exposure/Shutter Speed in sec

18

Selftimer

yes

Exposure Settings

manual exposure settings, automatic bracketing, time lapse photography

Exposure Programs

13

White Balance

Auto

yes

White Balance Settings

5

Individual White Balance

yes

ISO

min

80

max

1600 (up to 3.200 in 3-MP-mode)

steps

7

manual ISO control

yes

FLASH:

Integrated flash

yes

Guide Number in m (at ISO 100):

4.7

Flash Mode:

on, off, automatic-flash, slow-sync, anti-red-eye

External Flash:

x-Sync:

no

Accessory shoe:

no

FILE FORMATS:

Standard file formats:

JPEG, DCF
JPEG-Compression grades:
3

LCD AND PREVIEW:

Size in Inch

2.7

Resolution of LCD in pixel

230000

Zoom-Mode during Preview

yes

Index during Preview

yes

Slideshow during Preview

yes

POWER SOURCE:

Rechargeable Battery

yes

Battery type

Li-Ion

Battery Charger included

yes

Power Connector

yes

Power Supply Unit

no

STORAGE SYSTEM:

Supported Memory Cards

internal Memory, multimedia-Card, sd-Card

PC-CONNECTION:

PC-Connection

USB

TV-Out

NTSC/PAL with audio

DIMENSIONS:

Dimensions in mm (width x height x depth)

105 x 61 x 36

Weight in g (body without battery and memory card)

219

ACCESSORIES:

Docking Station:

no

Printed Manual

yes

Manual on CD

yes

Bag

no

Remote Control

no