Bowens' Pulsar Radio Trigger System
Work Wirelessly...On Location And In The Studio Page 2
In The Field
Pulsars operate at 3v so they are a perfect match for sensitive digital cameras that can have their systems fried with sync current that's too hot. They not only worked perfectly with the Canon EOS digital SLRs that I use but also with a borrowed Fujifilm FinePix S1. Unlike infrared flash sync devices that can't shoot through walls or around corners and can occasionally be unreliable, Pulsars use radio frequencies that allow them to function up to 100 meters (333 ft sounds longer), which should be enough for most photographers.
Bowens says you can "expect to enjoy over 200 hours of continuous use from your Pulsar." That may be true if you remember to turn the transmitter/receivers off after you use them. When I forgot to do that, the two AAA batteries were toast when I wanted to use them for my next photo session. AAA batteries are not as readily available as the ubiquitous AAs, but I was able to find four at a nearby 7-Eleven and now make sure to have back-ups.
So waddaya gonna do with these puppies, just toss 'em in your lighting bag? On the contrary, these are precision instruments so I placed them inside one of Norazza's (
www.norazza.com
) Ape Cases for digital cameras. The case holds two transmitter/receivers with antennas up, as well as having outside pockets for cables, phone plug adapter, and that cord that clamps the receiver to your flash head or light stand. Then I tossed the Ape Case in my lighting bag.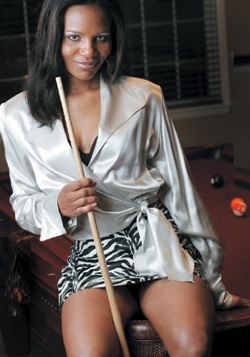 Even though the image was made in a condominium's clubhouse, and not a factory, the use of the Pulsar provides more repeatable and positive exposures as well as fewer cords to trip over. Image made with Canon EOS 10D at ISO 400 with EF 85mm f/1.8 lens with manual exposure of f/6.3 and 1/30 sec. Lighting was from a single Photogenic StudioMax II monolight, with Plume HexOval light bank mounted.
Other than when I forgot to turn off the Pulsars and wiped out the batteries, they performed flawlessly in all kinds of mixed environments. They were really put to the test inside a large, metal-framed factory that was sure to wreck havoc with radio signals, but the trusty Pulsars never missed a beat. I was able to use them to shoot in large atriums where I placed a monolight in a loft area but stayed on the ground. I got wide angle portraits that were well lit because the lights were tucked out of sight--one story up.

The Bowens Pulsar Radio Trigger frees your creative mind from one last detail: You don't have to worry about flash sync any more. I never want to use cables again.

For more information, visit the RTS Inc. website at: www.rtsphoto.com.
Technical Specifications
Batteries: 2 x AAA, MN2400 or LR03
Battery Life Approx: Transmit Mode--350 hours with NiCd, 560 hours with alkaline; Receive Mode--140 hours with NiCd, 224 hours with alkaline; Typical Use--125 hours with NiCd, 200 hours with alkaline Sync Voltage Out: 3.3v max
Size: 3.54x1.93x1.95"
Weight: 4.3 oz
Range: 333 ft
Frequency: 433MHz (Europe and U.S.A.)
Conformity: FCC part 15 - CE
Trigger Timings: 1/2000 500µS delay max
Fixing Methods: Camera--hot shoe; Other--fixing adapter
Accessories: External power supply and motor drive sync cord
Suggested List Price: $247 each