Bags, Lighting, Tripods, Photo Gadgets And Accessories...And More
Having attended the ever-growing PMA trade show for 40 years, I'm used to seeing lots of interesting new items of appeal to general photo enthusiasts. This year was no exception, but new offerings seemed to be primarily in the rapidly expanding digital-oriented category, which other editors were covering. My assignment was to ferret out new accessories and gadgets useful for those of us die-hards still content with loading film into our cameras.
All serious photographers need several gadget bags and tripods, and there were literally hundreds on display on the two huge floors jam-packed with all kinds of photographic goodies at this year's show. There were several brand-new makes or brands of bags and tripods shown for the first time. As always, we try to limit our coverage to the really new and different products, and there were many there for all to see. As anticipated, there were very few darkroom-related products introduced.
Besides the relatively few products mentioned here, there were many thousands of other items on display. I walked every foot of all the aisles on both levels of the trade show while locating these items and I hope many will be of interest to you. You can obtain more detailed information about them by contacting the manufacturers listed elsewhere. With all that in mind here are some of the items that caught my eye.
Tripods And Supports
BKA showed a number of accessories. One of the more interesting was the Zygo-7 Compact Photo Mount consisting of a C-clamp-like grip on one end with a stainless steel screw and an extendable arm having a vertical rotating post. It has a small swivel ball top for a camera. It weighs just 21 oz and comes with two extension tubes. Pricing is not yet available.
BKA now distributes the small, pocketable Ultra Pod line of short tabletop tripods suitable for holding a small camera or slave flash. Brand-new is the Ultra Pod Mini made of translucent plastic, which weighs only 1.5 oz yet will support anything weighing up to 1 lb and folds to a compact 4" length. A touch-fastener strap allows it to be attached to objects up to 2.75" diameter. It lists for $16.
For all photographers doing fast-action photography with the camera on a tripod, there is the new Manfrotto Grip Action Ball Head for use with 35mm to medium format equipment weighing up to 11 lbs. A pistol grip permits the user to simultaneously unlock the head and readjust the camera. Once the grip is released, the camera stays locked in place without the need to tighten knobs or levers. It's easily removed with a quick release. An optional electronic shutter release gives the user one-hand operation for adjustment and release. The street price is about $99 and the product is distributed by Bogen Imaging.

New from Novoflex is the ClassicBall 5, said to be the first ball head with three vertical 90Þ openings for the neck, a new system for precisely repeatable friction presets, and absolutely no change of ball position during locking. The flat black titanium finish unit integrates 360Þ panning and two camera threads. This product is available from HP Marketing.
OSN (One Source Network) offers a very wide variety of tripods of all sizes and types. The OS 900 is a deluxe heavy-duty model capable of handling SLRs as well as digital and video cameras. Constructed of aluminum, it has a three-way fluid pan head, quick release, geared center column, dual levels, locking leg braces, and quick lever leg locks. It can extend up to 64.9" and has a MSRP of $80. When you don't need much height, but want a very compact tripod for carrying along, model OS 250 will handle small SLRs and digital cameras. It collapses to just 12.3", extends up to 24.5", and has an MSRP of $40.

New lightweight and durable carbon-fiber models are #FT6601 and 6603, both of which use a simple twist to both unlock and relock the legs. The MSRP starts at $399. The PT 10 is a pan head with a quick-release camera mount that clamps onto a car window for steadying a camera while shooting from inside a vehicle. The MSRP is $30. They also offer a number of tabletop tripods and monopods plus a line of all-metal rotary trimmers ranging from 12" up to 18", which have MSRPs starting from $60.

Photo Control demonstrated an interesting shoulder brace intended for the active photographer carrying bulky camera or video equipment about such as sports photographers, called the Go Pod. It has two curved supports that rest on the user's shoulders then goes down to their waist where a monopod-like support goes up vertically to a tilting head. There are numerous adjustments possible and the MSRP is $465.

At the ToCAD booth we saw four new Velbon Ultra Series travel tripods, all of which have a patented direct contact pipe system. This unique cross-section of leg tubes enables the user to make a half-turn twist to quickly lock and unlock all of the five leg sections at once without using traditional separate flip locks. When collapsed, they are very compact and the center column is removable for low-angle situations. They come with a removable head, rubber feet, and carrying case. The MSRP starts at $160.
Two new Velbon carbon-fiber professional monopods, Neo Pod 6 and 7 have large rubber twist leg locks, a padded strap for carrying around your neck, accessory hook, and a neoprene grip. The MSRP starts at $180. The new El Carmange series of professional tripods are light yet sturdy since they are made of carbon fiber. The MSRP starts at $450. The Hakuba Multipod is an ultra-compact tabletop tripod with a padded vise-like clamp used to hold cell phone cameras, pocket film, digital cameras, or digital pen-size cameras, which often don't have a tripod socket. Just in case it also has a 1/4-20 screw. Offered in three colors, it weighs only 4.8 oz, and the height can range from 6-10" but folded it's only 7.5" long.
Lighting
APV showed two diffusion tents. The Magic Studio is triangular in shape with four translucent sides, one of which has an opening for the camera lens. A detachable mask cutout can be placed on either side of the booth to cast a window shadow on the glass or other reflective subject inside. It folds up into a round shape for storage in a provided pouch. It's available in two sizes with the price starting at $60. The Magic Silo is a cylindrical diffusing tent that collapses down to a flat circle for storage. There are two flaps on top for positioning a camera lens to shoot straight down into the tent. The MSRP is $38.

Argraph displayed the Internet Photo Studio Pro, a complete photo kit for lighting small items for the Internet, advertising, forensics, medical, dental, collections, etc. The metal base is 16x24" with two magnetic-mount adjustable height columns that each hold a 26w, 5000ÞK fluorescent color-corrected lamp. There's another lamp inside the translucent base. Two risers at the back support a crossbar for a background sweep. It accepts products up to 20" high. The MSRP is $500.
BKA showed three new models of E-Z Mini Soft Boxes said to open and close as easy as an umbrella. The octagonal model is 19" in diameter; the square model measures 12x12"; and the rectangular model is 8x17". They fit selected Lumedyne, Norman, Quantum, and Sunpak flash units and come with the adapter attached.

Two small-product light diffusion boxes were displayed by Booth Photographic Limited. A 16" square model has a choice of chroma-key blue, green, gray, or white backgrounds said to be compatible with many digital photo editing programs. The front has an opening for the camera lens and either hot lights or electronic flash can be directed through the top or sides to illuminate small items for accurate rendition without highlights or excessive shadows. The MSRP is $60. The also have two sizes of cone-shaped light tents that can be suspended over small reflective items. The camera lens is inserted through a touch-fastener seam at the angle needed to record the desired image. It's offered in 20" and 30" sizes.

Chimera Lighting showed their new Quick Release Speed Ring which permits easily releasing lightbank pole tension with the flip of a lever that fits many current electronic flash and continuous light sources. It not only simplifies setup and teardown, but also allows quick folding of a lightbank to move through doorways or on narrow sets and allows the lightbank to be collapsed without disassembly. Sizes will include a full range of Chimera Speed Rings beginning with the popular 6" series. No pricing is available.

HP Marketing always has some interesting gadgets on display. The Kaiser "Studio-out-of-a-box" is intended for film or digital photographers needing a simplified method of shooting small products. Everything but the lights and camera are stored inside a thin box which becomes an 12x18" baseboard with a pullout drawer that can be removed and used to increase the base length by 12" when needed. A trapeze stand with parallel support/brace arms supports a pivoting and sliding camera platform. A roll of background material and back sweep support also store inside the box. The MSRP is $200.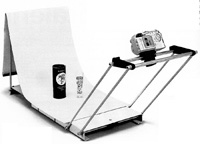 OmegaSatter showed a number of new gadgets including the Cloud Dome Infiniti Board, a flexible tabletop backdrop that can be used flat or adjusted into an infinite number of U-shapes. It rolls up for storage and uses cords with clamps to hold various curves. Available in two sizes (18x28" and 23x31") in white or black matte finish, the MSRP starts at $40. The FlashFrame FF300 flash bracket allows you to keep the flash high and centered over the lens for both horizontal and vertical compositions. In the vertical mode, the user's hand on the foam grip, is positioned on top of the camera, a more natural and popular method of shooting verticals. The MSRP is $85.

Among the many new items in the Tiffen booth was the Stroboframe Folding Flip Flash Bracket, which helps eliminate redeye and softens harsh shadows. The extra-wide base has multiple camera mounting slots to accommodate about any 35mm or digital camera. The lens to flash height can be adjusted between 6.75" and 9". A pivoting flash arm keeps the flash centered over the lens while a neoprene foam grip makes it comfortable to hold. It folds to 8.5x3x3.75" and has an MSRP of $95.
Bags And Camera Carrying Gear
New in the Seahorse line of watertight equipment cases from Argraph is the Hurricane SE1220F, an oversized case with 25.5x19.5x13" interior dimensions, large 3" wide track heavy-duty wheels for stability, telescoping pullout handle, front and side easy-grip handles, and molded-in padlock holes. The MSRP is $376.
The D'Exec Series of Pelican soft-sided cases, from BKA, is suitable for film or digital gear. They include a compact rolling camera case and a similar model with a removable computer pack, a pro camera tote bag, and a wheeled camera attaché. All five are offered in black or NV green, and the interiors are configured
to carry many 35mm SLR, 645, or 6x6 SLR cameras plus lenses, flashes, and accessories. All meet airline carryon requirements and the MSRP starts at $145.

Bogen Imaging displayed their broad new line of Kata's GDC collection of 17 protective, modular-design, photo carrying solutions. These products incorporate a unique thermo-shield technology to produce a rib-shaped outer shell made of double-cord Super Nylon. Underneath, a closed-cell, interior shield protects and insulates the contents from temperature and moisture. A distinctive, bright yellow interior helps make the contents more visible.


Cases and bags are offered in various sizes. Variations include a waist pack that attaches to a rucksack to create a large backpack, while a torso pack and backpack can be combined to yield high-volume storage capacity. All seem designed to deliver optimal weight distribution for easier use while transporting equipment in the field. A very practical rainshield easily slips over the camera and lens and is secured with adjusters and pull cords. Two roomy sleeves provide access to all camera and lens controls while a transparent top enables monitoring the camera controls and viewfinder. A number of sizes are offered to fit a variety of long telephoto lenses. Prices start at $60.

Cameras Up has three styles of a "Shooter's Belt" system having a radical new quick-release design that holds camera, lens, and accessories at the user's hip, making them all instantly available whenever needed. It's fully adjustable to fit most any camera or lens. It has an MSRP of $80-$140. They also offer an extensive line of quick-dry, long and short sleeve shirts and vests with MSRPs of $40-$80.


At the Jobo booth we saw some new items in the very attractive and always colorful Crumpler line of bags. They now offer a line of backpacks varying in size to hold your computer, camera stuff, or both along with room for whatever else you want to carry. Made of ultra-tough and water-resistant Chicken Tex ripstop nylon, they have super-strong shoulder straps with a chest strap to stabilize the load. Also new is a group of small "John Thursday" film and digital camera pouches made of neoprene. There are seven sizes and five colors. They can be worn on a belt, on a neck strap, or attached to another bag.

Kiesel Bags has a broad line of attractive, feature-laden bags, ranging from small pouches for a film or digital camera along with a few accessories (with an MSRP of $10-$20) up to large professional bags for safely toting lots of different gear. Most bags are clad in either ballistic or ripstop nylon for a rugged exterior. Messenger-style bags have an ample amount of padded, removable dividers permitting customizing for your needs. A front zippered compartment has multiple pockets for smaller accessories and a front access panel makes it easy to get to gear buried deep inside the main compartment. Two of the four models in this group have a removable padded laptop computer sleeve. The MSRP for this group ranges from $70-$139.


Lowepro has a new ultra-lightweight, carryon sized, Rolling Mini Trekker AW compact all-weather backpack. There are sealed-bearing, in-line skate wheels and an extendable, single-handle tube system for pulling with perfect balance. It easily converts to a backpack with an ergonomic harness and padded waistbelt that tucks away when using the rollers. The interior is fully customizable to carry an SLR with an 80-200mm zoom lens, additional SLR body, 3-5 lenses plus accessories. A built-in all-weather cover protects the entire pack from weather and there is a hideaway tripod holder. The MSRP is $242.

Also new are two briefcase-like cases for transporting a notebook computer along with accessories, PDAs, compact cameras, cell phones, and related devices while on the road. The main compartment of the Tropolis 1100 and 1200 cases use a contour zipper which wraps around the bag for easy access to the contents when the bag is either standing upright or lying flat. The MSRPs are $60 and $70.


The broad line of 14 functional M-Rock bags has added new modular pouches, which are said to be more bag-like with zipper opening and closing and more pockets for accessories. They now have handles and a second color on the front pockets, non-abrasive plastic mesh pockets, and are more curved, similar to that on the larger bags, which they can be attached to. The photo backpack has been improved and renamed the Wasatch with access to the interior compartments now direct from the outside, more roundness for better appearance and a lower price.

A new line of small Ape brand cases from OmegaSatter are designed for today's small compact film and digital cameras. They all have a conservative black exterior with a bright yellow interior, which makes locating the accessories inside easier. There are more pockets and storage compartments than typically found in small cases and they have extra padding for protection. The MSRP ranges from $10-$30.

Tamrac has expanded the models of their convenient Velocity Series of sling backpacks that easily slide from your back to the front for easy access without removing it from your shoulder. The Velocity 6-Compact Sling Pack is suitable for carrying a film or digital SLR with an attached zoom lens up to 4" long plus another small lens, flash, and accessories. The front pocket utilizes their exclusive Memory & Battery Management System that uses red flags to identify unused memory cards from ones that are used. A Speed Flap top, adjustable, foam-padded dividers, and an accessory pocket on the top round out the features. The Velocity 4-Micro Sling Pack has similar features, but is smaller so it holds just a compact camera or camcorder and fewer accessories. The MSRPs are $45 and $35.


There are two new rolling cases as well. The CyberPro Express was designed to carry two large SLR cameras, multiple large lenses, accessories, and a large laptop. The CyberPack Express adds the versatility of a Tuck-A-Way backpack harness to the capability of carrying pro-sized SLRs, many accessories, and a notebook computer. Ball-bearing, in-line skate wheels and industrial strength telescoping handles make them easy to move about on smooth ground. The MSRPs are $325 and $350 respectively.
Other Accessories Of Interest
Advantus Corporation introduced a new line of KeepSafe transparent photo organizers that are an acid-free and archival-safe method of storing up to 60 prints along with the negatives. Each four pack contains one clear, magenta, blue, and purple organizer for color-coded organizing. The suggested MSRP is just under $4. Several sizes of KeepSafe photo boxes and cases intended for storing groups of the KeepSafe organizers are offered for keeping 720, 960, and 2000 4x6 prints together. The MSRP ranges from $8-$20.
CokinUSA now offers a line of infrared (IR) filters made of CR39 organic glass. Numbered 007, the IR filter is comparable to the Kodak Wratten 89B so it's well matched for popular monochrome and color IR films. It will be available in standard Cokin square A, P, Z-PRO, X-PRO, and S-series of round filters.

Daylab demonstrated a new self-contained copy system that accepts any print up to 4x6 (or limited 3D objects) and makes a copy onto Polaroid 3x4" color or black and white film in just 60 seconds. The light is built-in as is the adapter for holding the Polaroid pack film. You can easily copy photos to obtain extra prints to share, or use it to produce Polaroid peel-apart prints to use for creative image and emulsion transfers. It has an MSRP of $200.


Key Item Sales was showing a brand-new item called Memory Maker, a line of antique silver or gold bracelets having six miniature frames for displaying family photos. Each of the two sizes and three styles of stretch bracelets, that retail for under $30, come with an EZ-Fit Photo Reduction System that can make any picture fit perfectly into the miniature frame. Simply use any color copier to reduce the pictures to fit. Of course, you can change the pictures whenever you desire. In addition, they offer crystal pendants or pins that also hold small photos.

Kinetronics showed the IAG (Ionizing Air Gun), which is a film duster that eliminates static electricity on film and prints. It's intended for production labs and picture framers. Although AC powered, it uses low voltage, so there are no shocks that some other devices might generate. The MSRP is $295. A new lens cleaning kit consisting of a cleaning cloth and liquid comes in a small package that can be attached to the camera's neck strap. The MSRP is $5. A packet of DSP (Digital Screen Protectors) includes optical clear vinyl in six widths so they are suitable for use with screens ranging in width from 1" to 2.5". They can be used with digital cameras, camcorders, cell phones, camera phones, and GPS units.

Lee Filters introduced a new Soft Focus glass filter, which adds a medium amount of softness to any image without losing focus. It's useful for reducing both sharpness and contrast. It's offered in a 4x4" 2mm thick version and there is no f/stop adjustment necessary. The MSRP of the SFT2-G filter is $199.

The Neil Enterprises booth was jam-packed with novelty items that use photos for personal appeal. New products include 6" tall bobble heads in a variety of sports outfits and costumes that accept small headshot prints of children. They have Carabiner photo keytags that hold one or two 2x27/8" photos and are also available with flashlights. A floating magnet cube holds six 23/8" square photos suspended from an arched support arm. Imprinting is offered on most items. These products are typically sold in large quantities but are reasonably priced.


Photographic Solutions showed the prototype of a custom-made tiny die they will offer that contains up to 11 alphanumeric characters. You can just tap an imprint on your equipment to place pertinent ownership information inconspicuously on your valuable gear for positive identification if it is ever stolen, and hopefully recovered. Even if the serial number is removed, this tiny mark should remain to identify your items.

Print File introduced a number of new archival storage items including a series of black clamshell archival portfolio boxes ranging in size from 4x5" to 16x20" in different depths. The MSRP ranges from $17-$85. Several configurations of wire-bound presentation albums are offered in print sizes of 5x7", 8.5x11", and 11x14". Covers are offered in six colors and two different textures. Presentation pockets, which are sealed on three sides, are offered in sizes 4x5" up to 20x24" prints, are made of high-clarity 6 or 16 mil thick polypropylene, and 25 packs range in price from $6-$50. They now offer a range of CD storage systems ranging from one for four CDs up to a portfolio box capable of holding 100-sleeved CDs.

Superior Specialties, the firm that offers a wide variety of backgrounds and support devices, announced new solid and mottled colored patterns in their backgrounds in a bag line. The 10x12 ft size runs $125 and the 10x24 ft size goes for $160. All are machine-washable, have a 6" pocket on one end, and include a carry bag with the same coloring. Also new are the nine colors of Twistflex lightweight, collapsible backgrounds, which are two-sided with different colors on each side, and collapse into a handy carry sack. They measure 6x7 ft and list for $150.

Treasure Knit produces a 40x60" washable throw coverlet or blanket having a photo image woven into the black and white acrylic material for $110. Informative text about the person or photo can be included. If you want a picture having more detail (higher resolution) you can have it woven from mercerized cotton. All you have to do is e-mail the image you want used to their website, then your picture will be woven into the coverlet of your choice. Since the image is woven into the blanket, it's washable and never fades. This brand-new item was attracting considerable attention at the show.

ULTRAline, Inc. offers an interesting new way to display photos of any type in any environment: the Personalight. It's an acrylic plastic in a shallow vertical housing having a standard 40w white lamp inside. In the front is a slot for placing any letter-size transparency or photo print up to 11x11". It can be placed on a horizontal surface anywhere and the backlit illumination will draw attention to the print on display. It sells for $30.

ZTS now offers the very small and far more portable Mini-MBT Pulse Load Multi-Battery Tester that measures just 4x2.5x0.75". It can do a load test on most popular sizes of today's photo and video batteries such as AAA, AA, C, and D (Ni-MH, NiCd, and alkaline), 3v lithium (CR123, CR2, and CRV3), and 9v. This new unit is so small you can easily carry it along in the field to test your camera and/or flash batteries whenever necessary. The MSRP is $30.

Manufacturers/Distributors'

FEATURED VIDEO