Bags And Cases Page 2
Digital Compacts

And of course there was a profusion of little cases for digital compacts and bridge cameras in all sorts of shapes, materials, and colors. For example, Sakar had a patent leather look pouch in bright yellow, white, blue, and black. Storm Case had a new smaller size, the iM2050, if you need serious storm-proofing with a lifetime guarantee. World Richman market their bags under the name Hi-Pro and also make bags for camera companies, retailers, and others (OEM); they are sticking with the smaller bags and leaving the digital SLR market to others. In addition to their classic black leather bags, they are introducing new materials and designs.
M-Rock's new Biscayne Bay is a very tiny bag--3x4x1"--with many of the features of a bigger bag. OSN had a line of new pouches with a touch of color. But more importantly their pouches have a double touch-fastener belt loop and water-resistant zips.
If you need something really big, the cube which Porter Case showed at photokina has sprouted feet and a handle. If you need to protect seriously big cameras, or lights, or audio gear this might be just what you need. Porter Case is distributed by Omega/Satter.
Vests And Bag Accessories
Air Cell, a material I mentioned in my photokina coverage has made its debut in the US. Dot Line Corp. had two camera straps and RoadWired showed their Skooba attache cases. Air Cell is similar to bubble wrap, although each cell is individually sealed so that if one breaks the others don't lose their air. It is very light, and straps made with it stay on your shoulder well, and are exceedingly comfortable.

OP/TECH carries on making pouches and other specialized protective covers. Their latest offering is a cover which allows you to use a gimbaled tripod head.
Sun Designe's Sockit camera pouch
Some new photographer's vests caught my eye. Fotodiox has four models all from 100 percent cotton, all nicely detailed. But the most unusual vest came from Nada-Chair. It is a 16-pocket cotton vest with cotton straps tucked away for walking, but which fit around your knees when you sit down. This gives you amazing lumbar support and steadies you while you shoot.

New accessories for the camera bag included the Sockit, a microfiber drawstring pouch in three sizes, from Sun Designe Ltd. This product is simple, obvious, and will probably sell like hot cakes at a price range of $2.99-$4.99.

If you need to see inside your bag look for the new Pelican Camera Bag Light, again it is simple, obvious, inexpensive, and very useful.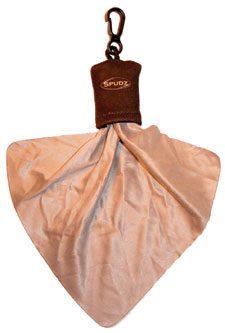 One of the most important things you can have in your camera bag is a lens cleaner and there are lots of them out there. At PMA I got a little microfiber cloth that tucks away into its own little bag. Pull it out and clean your lens. Tuck it back in and it stays clean. These little cleaners are called Spudz, because they resemble a small potato when the cloth is tucked away.

Something else I saw which is not really a camera carrying system, but which comes from Case Logic and uses camera bag technology is their Space Logic. This is a series of organizers for tools and all the other things which clutter up our lives. I immediately visualized organizing our studio equipment in this way. These organizers hang on the wall, and have a strong nylon mesh which allows you to see what is where. They even make a tool belt which you can wear around your waist and then hang up on the wall when you are finished.
The important thing that all of the manufacturers wanted to stress is that camera bags help you protect your investment, whether you need a tiny pouch for a digital point-and-shoot or a rolling backpack for cameras, lenses, and computer gear.

It always takes a lot of time to visit all of the bag manufacturers, but there is always a little bit of time left over to see what else is around. It is always fun to see what catches my interest. This time I surprised myself by falling for a little digital multimedia capture device: the Minox Mobi DV. This is a digital video camera, a digital still camera, a voice recorder, an MP3 player, and a flashlight. If I had had one of these, it would have been a great deal easier to cover the show and I might well have had more illustrations for you: at the very least, I want one before next photokina!

Manufacturers/Distributors' addresses can be found on page 176.

LATEST VIDEO