August Table Of Contents
August 2010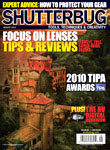 On The Cover
This month our focus is on lenses and we have tips and reviews that cover the optical gamut, from fisheyes to teles to super-wide zooms. Lenses aside, we also have expert advice on how to properly protect your gear, which will certainly come in handy if you decide to take the RV digital darkroom challenge of writer Art Rosch, who currently resides in a 38-foot motorcoach. Finally, we have the results from the Technical Image Press Association (TIPA) Awards, which feature the best imaging products of 2010 as voted on at the TIPA General Assembly.
Tools
30 Digital Innovations
Tools Of The Trade
by Joe Farace
40 Roundup
Covering The Photo Beat
by C.A. Boylan
46 Buying Smart
Tele-Converters
by Jon Sienkiewicz
56 Classic Cameras
More Greatest Cameras Of All Time
by Jason Schneider
68 Digital Help
Q&A For Digital Photography
by David B. Brooks
82 Test Report: Nikon's AF-S Nikkor 16-35mm f/4G ED VR Zoom
Ultra-Wide For FX, Moderate Wide For DX Nikon D-SLRs
by George Schaub
92 Test Report: Tamron's 17-50mm F/2.8 Lens
A Constant Aperture, Image Stabilized Zoom
by Jack Neubart
102 Test Report: Carl Zeiss' Distagon T* 18mm f/3.5 And Distagon T* 21mm f/2.8 Lenses
Open Wide, Wider Still…That's It!
by Joe Farace
112 Test Report: Nikon's AF-S Nikkor 70-200mm f/2.8G ED VR II Lens
A Fast, Constant Aperture Zoom With Vibration Reduction
by Stan Trzoniec
120 TIPA Awards 2010
Technical Image Press Association Results
176 Help!
Q&A For Traditional Photography
by Robert E. Mayer
Techniques
70 Business Trends
Model Releases
by Maria Piscopo
76 Pro's Choice
Tony Arrasmith's Convincing Composites
by Jack Neubart
126 Fisheye Facts & Fantasies
Get The Most From Fisheye Lenses
by Jack Neubart
130 The Digital Challenge
Protecting Images And Gear On The Road
by Jim Zuckerman
134 Protect Your Cameras And Lenses
Important Tips From World Travelers
by Roger W. Hicks
Creativity
12 Picture This!
Monthly Photo Assignment
by The Editors
20 Talking Pictures
What's A Little Water?
by Bruce Birch
24 Student Union
Profiles Of The Up And Coming
by Jay McCabe
26 Web Profiles
Great Photo Sites Reviewed
by Joe Farace
118 Book Reviews
Latest Photo Books Reviewed
by C.A. Boylan
138 Sam Gray, Master Photographer
Classic Style And Technique
by Steve Bedell
167 The RV Digital Darkroom
Takin' It On The Road
by Art Rosch
Departments

10 Editor's Notes
160 Trade Shows
161 Workshops


LATEST VIDEO

SPONSORED VIDEO
Testing Tamron's SP 150-60mm G2 lens while capturing birds and alligators in Apalachicola, Florida.