The Artistry Corel Painter Retreat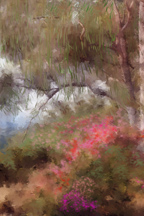 Southern California
The Artistry Corel Painter Retreat
Taught by Karen Sperling
August 27, 28 and 29, 2007
The Artistry GARTEL
Marketing for Photographers Seminar
Taught by Laurence Gartel
August 30 and 31, 2007
Contact Information
Karen Sperling
http://www.artistrymag.com
(818) 981 2803
ksperling@aol.com
Karen Sperling, who just celebrated the debut of her abstract art in an art gallery in New York's prestigious Chelsea section, has announced two new Artistry Retreats and Artistry GARTEL Marketing Seminars in August, 2007.
"I am the example of what we're teaching," Karen said. "I use all the concepts that I teach in my Artistry Retreats in my art, and I follow what Laurence Gartel says in my Artistry GARTEL Marketing Seminars, and I am nowan artist with a gallery show in New York!"
Karen's art is in a group show entitled "Damez" at Monkdogz Gallery, 547 West 27th Street, 5th floor, between 10th & 11th Aves in the Chelsea section of New York City.
"Attending the opening night reception was like a Cinderella night for me," Karen says. "Creating art is a solitary occupation, and being in a New York gallery with people crowding around the art and pointing to it, discussing> it and studying it was an amazing experience," Karen says.
"Whether you dream of having your photos or art in a gallery, or selling it to portrait clients, or marketing it in other ways, I can show you how to create paintings and Laurence Gartel can show you how to market photos and art. Don't forget, there's another ingredient, and that's practice. I'm not saying you'll take our classes and be in a New York gallery the next day, but you will have the tools to begin to work your way toward whatever goal you set for yourself. And I have had photographers who start selling portrait paintings to their clients as soon as they return home from he Artistry Retreat."
The Artistry Retreats are aimed at photographers and artists who wish to turn photos into paintings in Corel Painter. The Artistry GARTEL Marketing Seminars are for artists and photographers working with either Painter, Photoshop or even traditionally, who wish to learn techniques for marketing photos or paintings either to portrait clients, to art galleries or to any other potential market.
Taught by author, artist, photographer and original Painter expert, Karen Sperling (she wrote the first Painter manual), The Artistry Retreats give you not just the Painter steps. You also learn the art concepts for turning photos into paintings in Painter. Art concepts include things like how to know if a photo is even a good candidate to be turned into a painting in Painter and how to choose colors.
Teaching the Artistry GARTEL Marketing Seminars is Laurence Gartel, who has exhibited his artwork internationally in museums and galleries for 30 years.
Laurence covers out-of-the-box marketing concepts; provides steps for developing a niche, including ways to get happily published to enhance your image; and how to respond to the inevitable questions about digital art.
To see photos from the opening night gallery reception, visit Karen's art web site at http://www.karensperling.com
For more information about the Artistry Retreats and the Artistry GARTEL Marketing Seminars visit: http://www.artistrymag.com/docs/classes.html
Meanwhile, photographers who can't leave their studios can benefit from the Artistry Retreat information by reading Artistry Tips and Tricks e-zine.
Visit this page for information about all issues of Artistry Tips and
Tricks:
http://www.artistrymag.com/docs/tipsall.html
Contact Karen Sperling at ksperling@aol.com or 818-981-2803 for more information about the Artistry Retreats and Artistry GARTEL Seminars.

FEATURED VIDEO