This Amazing Image of a Fox Scaring a Marmot Won Top Prize in Wildlife Photographer of the Year Contest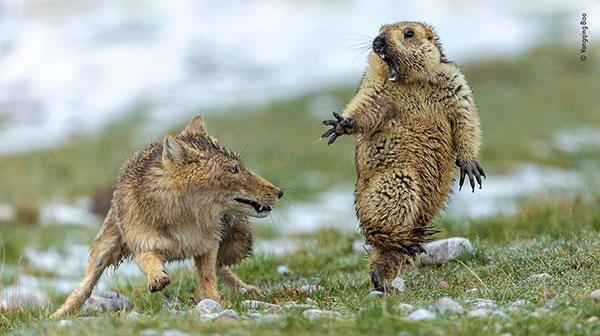 The photo above showing a Tibetan fox about to attack a frightened marmot in China's Qilian Mountains just won the top prize in the Wildlife Photographer of the Year competition. The image was shot by Yongqing Bao, who is the director and chief ecological photographer of the Qilian Mountain Nature Conservation Association of China.
Titled "The Moment," Bao's photo captures the instant a female fox, "hunting to keep her three cubs alive, engages in a fight for survival with a Himalyan marmot," according to the website of London's Natural History Museum, which runs the contest.
The image was awarded the grand title in the Wildlife Photographer of the Year competition, which received over 48,000 entries from 100 countries.
"Photographically, it is quite simply the perfect moment. The expressive intensity of the postures holds you transfixed, and the thread of energy between the raised paws seems to hold the protagonists in perfect balance," said Roz Kidman Cox, the chair of the competition's judging panel. "Images from the Qinghai-Tibet Plateau are rare enough, but to have captured such a powerful interaction between a Tibetan fox and a marmot - two species key to the ecology of this high-grassland region - is extraordinary."
Below are some other winners in the 2019 Wildlife Photographer of the Year competition. You can read more about the contest here and see a gallery of all the winners here.

FEATURED VIDEO