Alien Skin Software's Exposure 2
The work space consists of two main windows, with variations on each available. The main work space (goldenhour) gives you a configurable split screen that quickly shows the before and after of each filter chosen. You can choose from color or black and white film and effects, all of which are customizable. The refinement screen (colortone) allows you to start with an effect and then modify many of its characteristics. While you cannot do this as a selection, you can create layers, and use layer masks if you wish. This yields more options than you might ever use.
Image Options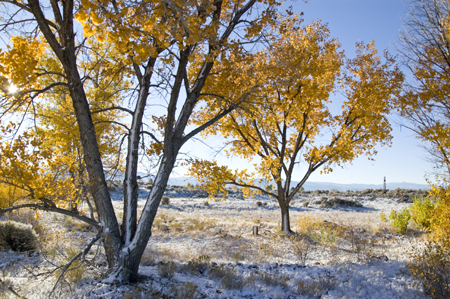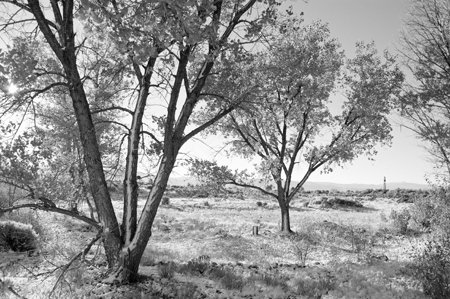 Each of these optional looks were made in a few seconds. The folks at Alien Skin have analyzed many different film stock "looks" and come up with some imaginative interpretations. Here is an emulation of this scene (colororig), shot with a Nikon D40 and a Sigma 17-70mm HSM lens, with the Black and White/T-MAX 100 filter and the GAF 500 filter. The last time I shot and processed GAF film was back in the 1970s so I'll just take their word for it; I recall it being a fairly garish, high-contrast, thick-grained emulsion.
IR Effects
The first time I taught black and white digital printing I had requests for the workflow for emulating infrared film, which took a number of steps and some guessing. If I only had Alien Skin's Exposure 2 I could have made it a much easier lesson. Here's one option in a number of their IR effects, which I modified using a Curves adjustment layer.
Special Effects
If you want to play on the far side you can choose from numerous effects such as this one found in the Cross Processing (meaning a film processed in the wrong chemistry, such as a chrome film in C-41 or a negative film in E-6) folder. This change was made by using the Lomo Agfa cross-processed filter.
Compatibility
Exposure 2 is a plug-in and will require one of the following: Adobe Photoshop CS2 or later, Adobe Photoshop Elements 4.0 or later, Adobe Fireworks CS3, or Corel Paint Shop Pro Photo XI. Exposure 2 is a Universal Macintosh application. Live Effects in Fireworks CS3 are not supported. On my CS3 work space it shows up at the base of the Filters menu.

FEATURED VIDEO