Adventure Photography: Matthew Cohen's High Seas Adventures: The Art Of Creating Exciting Sailing Images
In a business that thrives on intensely refined specialties, Newport, Rhode Island-based shooter Matthew Cohen has managed to find success in what has to be one of the ultimate photographic niches: nautical adventure photography. Cohen is one of a handful of photographers worldwide who earns much of his living adventuring on the high seas and capturing those exploits with his camera.
It's a calling that has taken Cohen literally around the globe. "In just the past six years I have logged over 30,000 nautical miles, made two transatlantic crossings, made about 20 yacht deliveries to the Caribbean, spent seven weeks cruising the Pacific Coast, and raced in more regattas than I can remember," he says.
Even a short list of his ports of call reads like a travel-junkie's ultimate bucket list: England, the Azores, Portugal, the Canary Islands, the US Virgin Islands, Bermuda, British Virgin Islands, Grenada, Antigua, St. Martin, Puerto Rico, and the Bahamas. He's also transited the Panama Canal, explored the coasts of Mexico and Costa Rica—with time out in the latter for horseback riding, deep jungle exploring, and zip lining in the canopy. In North America, he says, he's sailed into "…almost every major port from Key West to Alaska."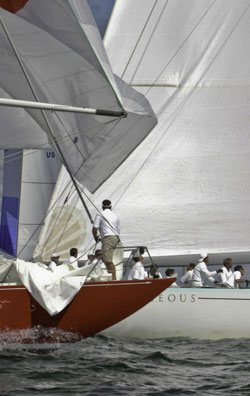 Part Of The Crew
Much of Cohen's work is done while working as a part of the sailing crew, which means he is almost always working two jobs at once: "When I am on-board, usually forward of the mast where the crazy action is, I have to make decisions not only about getting the shot, but I also have to get my job done."
It's that "in the moment" quality that makes Cohen's work so exciting. One extreme vantage point Cohen loves to exploit is the one that gives most of us instant vertigo: the top of the mast—occasionally as high as 150 feet above the deck. Is being up that high as scary as it looks? "When it's rough, it will soil your drawers," he says. Surprisingly though, he actually enjoys the experience. "When the weather is perfect, it's actually very relaxing. I've been known to stay up in the rigging for hours."
Even on the relative comfort of a flat deck, however, there is always the sea to contend with: "The waves will kick your butt. They will knock you down, pick you up and then knock you again down," he says. Another obstacle he contends with is sleep deprivation: "The lack of sleep wears on me. It is very important to stay on your sleep cycle during watch rotations or else you will be a 'yard sale' at the end of the delivery or race." In other words, find yourself another ride home.
Carving out a living in such a tiny niche is not easy. "The editorial world has been a tough nut to crack," he says. Most of his assignment work and print sales come from word of mouth and referrals. "I do very little advertising. One of the reasons that I wanted to set up shop in Newport, is that it's one of the sailing capitals of the world."
Cohen's editorial work has been published in dozens of the world's top sailing and adventure journals, including Sailing World, Cruising World, Sailing, SAIL, Blue Water Sailing, Wooden Boat, Power Cruising, Men's Journal, Newport Life, Martha's Vineyard magazines—to name a few.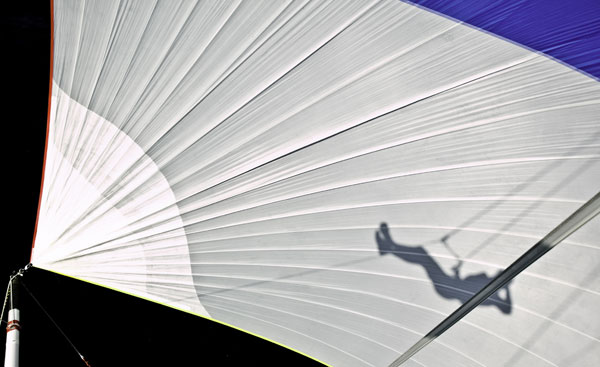 Probably Cohen's biggest career leap came in August of 2008 when he received a print order for 34 pieces for permanent installation at a new building in Manhattan's Financial District. Two months later, Cohen received an additional order from the same client for 17 more pieces and to date Cohen has sold the client 74 large-format prints (16x24 and 20x30).
In the spring of 2012 Cohen opened a small gallery in downtown Newport where he spends his time organizing and printing his images between sailing adventures. "The grand opening was a blast," he says. "I sold 40 out of 66 pieces in 72 hours!"
Cohen, who grew up on the Connecticut shore, says his entire career was born out of a passion for sailing and adventure that he first developed as a kid. His passion for photography didn't catch up with him until years later. "I started out as a sailor who shot and morphed into a photographer who sails," he says.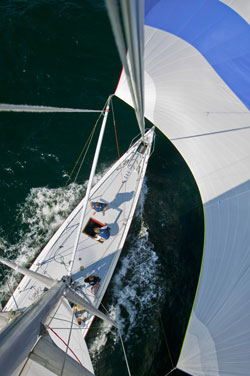 And despite the hardships of both the sailing life and trying to create a photo career he was inspired by a line he heard in the film A Bronx Tale: "The saddest thing in life is wasted talent." It is, he says, the daily mantra that keeps him going.
Matthew Cohen's Gear
When it comes to sailing with photo gear, Matthew Cohen's philosophy is to keep things simple. His basic on-board rig is a Canon EOS-1Ds equipped with either a Canon EF 16-35mm f/2.8L USM or a Canon EF 70-200mm f/2.8L IS USM lens, or a 300mm f/2.8. When shooting races from shore or from another boat, he'll occasionally pack a Canon 300mm f/2.8L IS USM and a 600mm f/4L IS USM.
Cohen is also not big on accessories: "I don't like fussing with filters, extraneous gear, extenders, extra battery packs, multiple slaves, cables, Pelican cases, etc. To me, less is more," he says. "I would rather master one simple tool than be worrying about acquiring the latest and newest trend or equipment—a missionary attitude that has gotten me around the world very easily and inexpensively. No checking camera gear at airports for me."
The nature of the environment does mean, however, that he has to take precautions just to keep the gear functioning. "It's a constant dance of taking it out, hiding it, and taking it out, because you want to shoot, but the elements do find their ways to the gear," he says. It's not just a matter of keeping things dry but also protecting equipment getting banged around on the hardware and rigging, he says. "I love the professional magnesium-alloy bodies that can 'take a kick and still tick.'"
To see more of Matthew Cohen's work, visit www.cohenphotography.com. He can be reached via e-mail at: matthew@cohenphotography.com.

FEATURED VIDEO