7 Fantastic New Film Cameras (& More): Analog Holdouts that Defy the Digital Revolution
Ever since digital supplanted film as the primary capture medium sometime in the early 2000's, the number of new analog cameras available on the market has declined precipitously. And while you can find tons of used film cameras in top condition by going to the Used Camera Departments of major retailers or cruising eBay listings, entire categories of once popular film cameras are no longer available brand new: medium-format SLRs and non-interchangeable-lens 35mm rangefinder cameras to name two—except for sporadic "NOS" (new old stock) listings.
Despite this nearly total transformation, film fanatics still have a fairly diverse choice of new (yes new!) analog cameras to consider, including a number of timeless classics. Here are my seven favorite film cameras (and a few more) you can buy now in a brand new box. (And if you like this subject like I do, here are my 10 favorite film cameras of all time.)
1. Leicas: The 35mm Leica M Lives!
It's hard to believe but there are still three classic 35mm Leica M rangefinder cameras in production, all of which incorporate Leica's magnificent long-base 0.72x range/viewfinder with projected, selectable parallax compensating frame lines for lenses from 28-135mm. These are classically compact, rounded-end, one-piece all metal bodies with a hinged rear flap to facilitate loading, and a solid brass top and baseplate finished in silver chrome or black.
My personal favorite is the Leica M-A (Typ 127), an all-mechanical, totally manual 35mm rangefinder camera that's (almost) the spitting image of the original Leica M3 of 1954. It has a rubberized cloth focal-plane shutter with speeds of 1-1/1000 sec plus B and flash sync at 1/50 sec, an uncommonly smooth single-stroke wind lever, and ye olde pull-up rewind knob.
Street price: $4,180, body only, in silver or black
The other two models are the Leica MP, basically the same as the M-A but with battery operated TTL metering, and the long running Leica M7, which has an electronically timed shutter horizontal focal-plane shutter with speeds from 32-1/1000 sec manual mechanical speeds of 1/60 and 1/125 sec for emergencies, and provides an aperture-priority auto-exposure mode.
Street prices: Leica MP and Leica M7, $4,395.60 body only, in silver or black.
(Note: Several retailer websites also list the Voigtlander R4A auto-exposure M-mount rangefinder 35 -- made by Cosina in Japan -- and other versions of the M-mount Voigtlander, but all are currently back-ordered and it is rumored that they're out of production.)
2. A high-tech version of the classic roll film folding camera

You've got to hand it to Fuji for still offering the Fujifilm GF670, a successor to such enduring classics as the Zeiss Super Ikontas, Voigtlander Bessa II and the late, lamented Fuji GS645. It has a coupled, combined, superimposed-image range/viewfinder with projected, parallax-compensating frame lines, a center-weighted aperture-priority auto-exposure system, full manual settings, and an electronically controlled inter-lens leaf shutter with speeds ranging from 4-1/500 with flash sync at all speeds. This cool high-performance folding camera shoots 6x6 or 6x7cm images on 120 or 220 roll film, and its excellent 80mm f/3.5 EBC Fujinon lens provides 40mm equivalent coverage on 6x7cm and 44mm equivalent on 6x6cm. The GF670 is an impressive all-around shooter that combines classic virtues with a contemporary feature set and (at 2-12 inches thick when folded) it's one medium-format camera that will literally fit into your pocket.
Street price: $1,749
3. What's the last brand new TLR? Hint: It's made in Russia

The Russian-made Lubitel twin-lens reflex has been in production for decades and the Lomography folks describe the latest iteration, the Lomography Lubitel 166+ (probably with unintended irony) as a "re-creation of a Soviet-era classic." Anyway Lubitel means "amateur" in Russian, which is right on target, and this is a simple plastic-bodied TLR with a coated, glass 75mm f/4.5 triplet lens, and an improved pop-up waist-level viewfinder that now a flat ground glass that makes it easier to compose the subject. The Lubitel captures 6x6 cm (2-1/4-inch square) images on 120 film, or in the 4.5 x 6 cm format if you drop in the included mask. It also comes with a 35mm Lubikin conversion kit so you can create "58 x 33mm vertical panoramas with exposed sprocket holes showing" on 35mm film. You can set apertures from f/4.5-f/22 and shutter speeds from 1/15 to 1/125 sec. plus B, and minimum focus is 2.6 feet, but based on my experience you'll have to stop down to about f/8 if to get sharp images. This modest camera is not on par with the classic TLRs of yore but it delivers a lot of fun for the money.
Street price: $289.99
4. A brace of Nikon 35mm SLRs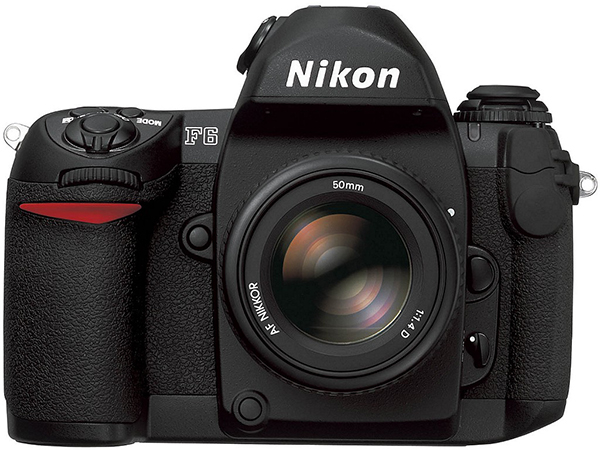 Nikon still offers two new 35mm SLRs at either end of the spectrum: a full zoom motor-drive AF pro model with advanced AF and AE systems, and a nice manual-focus, manual-wind, mechanical model with TTL match-diode metering aimed at the student/enthusiast market. According to industry insiders, neither one is currently rolling off the production line, but there are sufficient quantities to satisfy demand for "a while," and they could be put back in production if need be.
The Nikon F6 is Nikon's latest (and probably last) 35mm SLR with an advanced Multi-CAM AF Sensor Module that controls an 11-zone AF system with nine cross-type sensors, 1005-zone 3D Matrix Metering with spot, evaluative, and flexible center-weighted options, a 150,000-cycle Kevlar- and aluminum-bladed shutter with electronically controlled speeds to 1/8000 sec, and a maximum burst rate of 5.5 (8 fps with optional MB-40 Battery Pack.) The F6 also offers i-TTL balanced fill flash with compatible flash units, 41 custom settings, a mirror lockup, and multi-exposure capability, all in a rugged, die-cast, titanium-clad alloy body.
Street price: $1,995 body only, in black
There's also the classic Nikon FM10 all-manual 35mm SLR with all-mechanical shutter speeds of 1-1/2000 plus B, and flash sync at 1/125 sec--you'll need two long-lasting button cells only to power the simple match-diode center-weighted meter. The FM-10 works with all F-mount lenses that have aperture rings, has a fixed split-image focusing screen with micro-prism, and a mechanical self-timer that also locks up the mirror.
Street price: $519 in silver, with 35-70mm f/3.5-4.8 Zoom-Nikkor lens.
5. A serious medium-format panoramic camera aimed at pros

Yes, you can still buy the fabulous Linhof Technorama 612 PC II, an exquisitely made panoramic camera that takes 1:2 aspect ratio 6x12 cm (2-1/4 x 4-1/2 inch) images, and captures six exposures per roll of 120 film, and 12 on 220. The detachable viewfinder has a built-in spirit level with reference crosshairs and bright line frame that shows the fields for both of the 2 lenses available for the camera, the 58mm f/5.6 Technorama Super-Angulon XL (Street price: $5,865.00), and the 135mm f/5.6 Apo-Symmar, each with a built-in shutter and 8mm rise movement to provide "complete perspective control." This high-end rig is aimed mostly at panorama-shooting pros, and is certainly not for the faint of wallet.
Street price: $4,715, body only
6. View Cameras: The ultimate in control with film or digital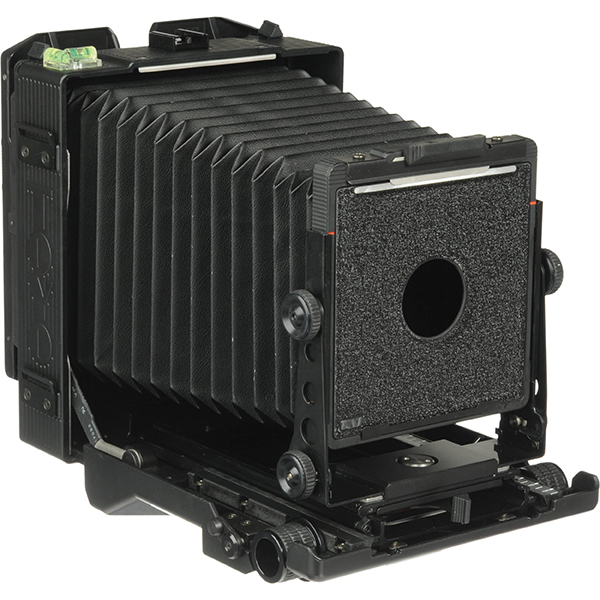 Virtually all large format 4x5, 5x7, 8x10 and roll film 6x9cm view cameras have spring-loaded ground glass backs that accept a range of standard film holders or third party digital capture modules. If this idea turns you on, by all means check out the dozens of new view cameras available on leading retailer websites, but here's one that's not stratospherically priced, and rings my chimes because I prefer shooting in the field rather than in the studio.
The long-running Toyo View 45CF Field Camera is fabricated of robust but lightweight polycarbonate and it provides a reversible horizontal/vertical Graflok ground glass back with etched markings for 6x7 and 6x9 cm formats, enables a wide range of swing and and tilt adjustments for a camera of this type, accepts Toyo flat or recessed lens boards, and folds flat for easy transport.
Street price: $894.30, body only
7. Other film cameras worth checking out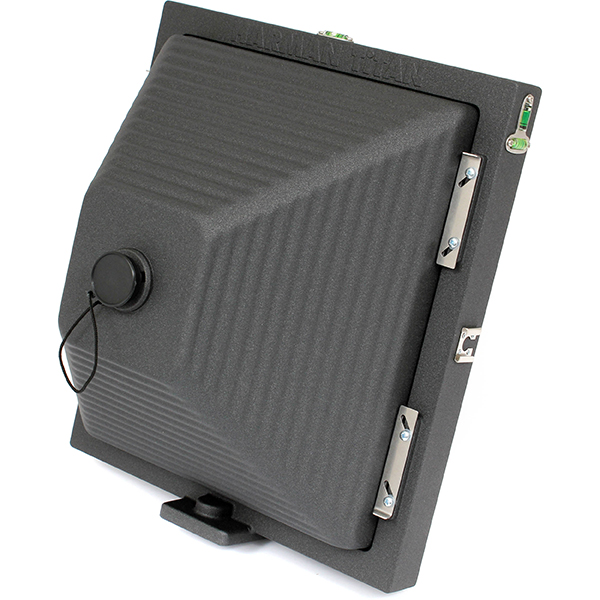 Aside from the magnificent film cameras described above, film enthusiasts in search of a brand new camera may want to check out:
1. Crappy Cameras, an affectionate term for the simple successors to the humble box camera that capture "dreamily soft, old-timey, artsy" images and are sold under the Lomography, Diana, and Holga brands, and include a few cool looking Lomography DIY camera construction kits.
2. Instant picture cameras by Fujifilm and Polaroid, and also the Impossible Polaroid SX-70 and SX-70 Sonar, which are actually refurbished classics.
3. The Ilford Harman Titan 8x10 Pinhole Camera (pictured above), which promises to takes your pinhole photography to an entirely new level.