7 Beautiful Poses for Any Body Type (VIDEO)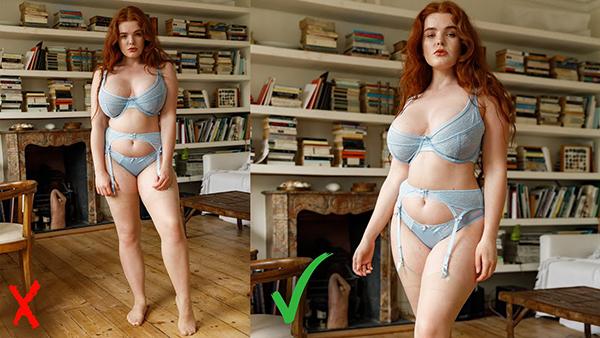 Swimsuit and lingerie photographer Anita Sadowska teams up with model Miss Deadly Red to share seven flattering poses for every body type. Whether you shoot swimwear or boudoir, this video will help you create beautiful photos of your subjects even if they're not professional models.
"Today we are going to be showing you some really juicy posing tips that you guys can do if you're a model or if you're a photographer," Sadowska says "Our lovely model is going to show us some of her pinup poses that she used to do. She used to do a lot of glamor and pinup modeling and we are going to see how different the poses are compared to regular poses when it comes to lingerie."
This boudoir tutorial is a collaborative process between model and photographer, with each bringing out the best in each other through sharing ideas about posing.
"So, in terms of posing for someone who is not very comfortable at posing, do you have any go-to poses that you would do that are comfortable?" Sadowska asks
"Probably the easiest pose is literally putting your body weight onto one hip because it gives you freedom to move a bit more with your less dominant leg," Miss Deadly Red replies. "It's about trying to make it more natural because the more natural you are in your posing the better than it's going to look in camera. Because if you start acting really stiff and you're thinking about your poses, it really shows up in our face and it becomes tense in your body. It's about trying to stay quite fluid. Shifting the body weight changes your body completely and you go into a bit more of curvature of your body."
Sadowska's video with Miss Deadly Red is shot in the free-flowing style of an actual boudoir lingerie model shoot, so follow along with your eyes and ears to see the variety of flattering poses and pick up the tips.
"Our model has a really beautiful figure, so the pin-up poses definitely accentuate that," Sadowska explains. "However, I will say that these poses are usually pretty nice for pretty much anybody of any shape and size. I think they accentuate all the right places, and they make anybody look beautiful and confident and strong, which I really love."
After you're done watching the video, go visit and subscribe to Sadowska's channel to get all of her awesome photography content including this tutorial where she shares her top five tips for posing models for boudoir and swimwear photography.

FEATURED VIDEO