5 Tips to Shoot Beautiful BOUDOIR Portraits Outside (VIDEO)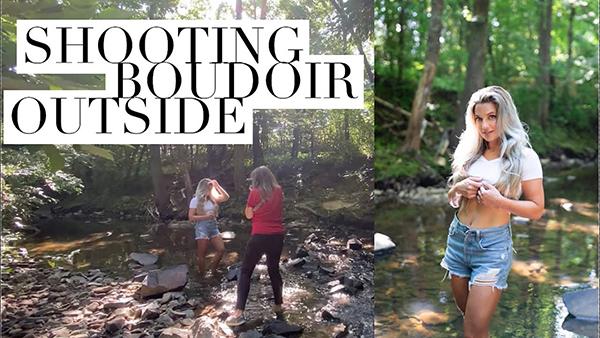 Yes, boudoir technically means bedroom in French and yes, most boudoir photography is shot indoors (in the bedroom and elsewhere) but that doesn't mean you can't shoot boudoir outdoors too. We've written about photographers who shoot boudoir outdoors previously, now here's another take on why it's good to experiment with intimate portraiture outside.
In the tutorial below, boudoir pro Critsey Rowe shares tips for photographing boudoir portraits outside. The video was shot on location in a public park, so Rowe discuss some considerations she took for the shoot.
"This is actually a public greenway, so we did do a little more modest outfits just because we didn't want families walking by an seeing the model in her skivvies," she explains.
#1 Look for Open Shade
"Here we are shooting with some backlight, we looked for open shade just to get the best light because it is during the day," Rowe says. "I love to shoot around dusk or dawn; however, it just wasn't going to happen for this date. Anytime I'm shooting outside and it's bright sunlight I look for open shade. So that is tip number one."
#2 Use Diffused Light
"Here we are at our next location at the same park. I set her up in a little bit of a diffused light, so the sunlight is coming from the side, and it just looks really pretty. So this is tip number two: try not to use a direct light but just get a little bit of diffused light from the side and it looks beautiful."
#3 Seek Seclusion
"Tip number three might be an obvious one but you definitely want to look for a location that is private and if you are shooting in a public place definitely have your client dress more modest. But if you have a private location and you're unsure if somebody may happen upon you, you can even take an assistant to kind of be a lookout."
#4 Include Scenery
"When you're shooting outside on location definitely include a lot of the scenery. It's just going to give you a lot of variety in your images. Try to shoot around your subject and just get a lot of the atmosphere."
#5 Scout the Location
"If at all possible, scout the location you're planning to shoot, only because this is going to save you a lot of time from trying to look around on the day of your shoot. And you are already going to know the best spots in that area and the time of day that you need to be there."

FEATURED VIDEO