Photographing Kids; Stacy Bratton Shows You How
All Photos © Stacy Bratton
There's more to taking kid pictures than meets the eye--just ask Stacy Bratton. A sought-after photographer from Dallas, Texas, she specializes in photographing children ranging in age from newborns up to 12-year-olds. "My goal is to capture the magic of childhood," she says. Her portraits highlight children's expressions and spontaneity, rather than simply posing them in the studio with a lot of props.

Stacy Bratton's ingenuity in working with different age groups comes across in her portraits.
"Where I really shine is with those aged three and under; basically the `pre-verbal' child," she states. Bratton sets herself apart from most family photographers as her success comes from studying her young subjects emotionally and psychologically. She discovered sensory integration--which refers to coordination of the senses and how they develop--and has been incorporating this knowledge into her business. Bratton started her career doing commercial photography, but began specializing in photographing children after her first baby was born. Ten years ago, people discouraged her from specializing in this narrowly defined field, but since then, she's very much proved them wrong.
| | |
| --- | --- |
| | |
Knowing Her Subjects
To successfully photograph a baby or child, she asserts, "It's very important to know at what stage of development he or she is." For example, a 10-month-old will probably enjoy having a toy shaken in front of him, while an 18-month-old must hold the toy. She's also a believer in arranging your shoot around the child's schedule, rather than your own. "I generally don't take pictures after lunch," she points out. Bratton has learned from much experience that attention spans fare much better in the morning. "I don't expect a two-year-old to want pictures taken in the afternoon." In fact, she says, a two-year-old is just becoming his/her own person. "If you're taking pictures of three-year-olds, it has to seem as though it's their idea. They're more independent, and want to exercise the right to say no." She works quickly when photographing kids, and always has her studio set up in advance to avoid boredom.

She and her husband have an 11,000-square-foot studio in a warehouse district of downtown Dallas, and between them, are members of American Society of Media Photographers (ASMP), Professional Photographers of America (PPA), and the Photo Marketing Association (PMA). As a portrait photographer who's very much in demand, she has many repeat customers over the years.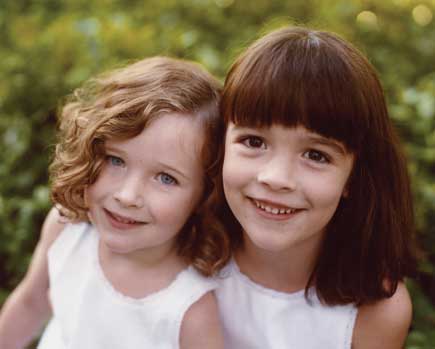 Off-Camera Props
Although she doesn't often utilize props in her photos, she'll sometimes include an object that represents comfort to the child. For example, an 18-month-old may not mind having its picture taken with a favorite "blankie," as opposed to something strange and new. "Most people like to use props like a wicker chair or vase of flowers--but to me, that's not a portrait," she observes.
Instead, she says, she utilizes props outside the frame to inspire a reaction from the children she photographs: "Some of my off-camera propping is actual food." A child may give a pleasant or surprised look in reaction to a unique taste. Food can also provide a good distraction. Again, she says, children learn through their senses. "But there's no negotiation with pre-verbal kids."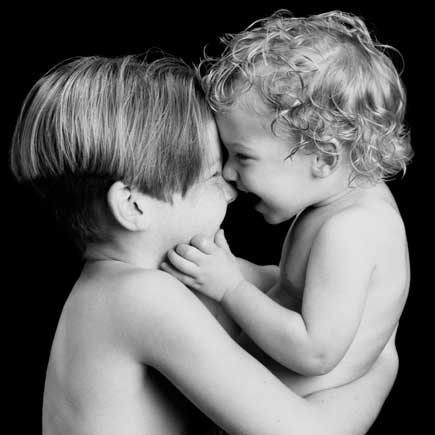 In the studio or on location, Bratton's assistants assemble various items for the child to experience, depending on his/her age. She sometimes uses unusual music or bells (she uses different bell tones to attract babies' attention), and sometimes she even sings. One of her most important off-camera props is a "tickle feather," which is imperative to her child photography. A newborn's eyes may focus on it for the camera, while a three-month-old might enjoy being tickled on the cheek with this feather. "At three months, their brains are just wiring themselves," she comments. At 9--12 months, the feather can become very entertaining. "You can flip-flop it, and the child usually gets a kick out of it." From 18 months to three years, she finds, kids can be very obstinate. Boys like to punch the feather out of the way and think it's pretty funny. She likes to play feather games, but says that approximately after the age of seven, "It's no longer interesting to them." But for the most part, the feather is so important that Bratton says,"it was devastating once when an assistant forgot to bring it."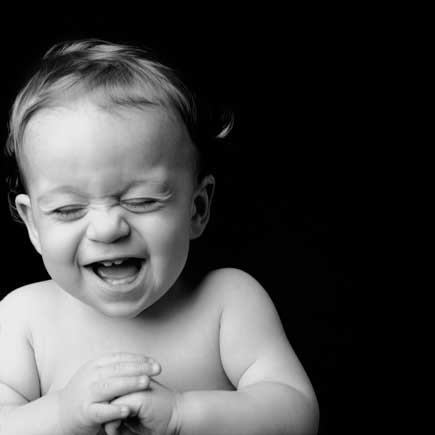 Making Kids Happy
Although she has a great understanding of what happens at a child's varying stages of development, she laughs, "I never say I understand children fully, because they'll do something to make a liar out of me." Nonetheless, she rarely has to do a reshoot. She schedules about two hours to work with her little subjects, but shoots perhaps for only 15 minutes. "It takes a while to see what makes a child tick," she says.


FEATURED VIDEO