PMA Show Reports; Camera Luggage; Backpacks Plus Sling, Messenger, And Shoulder Bags
Just when I thought I'd seen it all, along come camera bags that capture my attention. Photo backpacks are sporting new looks that are designed to reduce back strain. Messenger bags are seeing a resurgence, doing double duty as laptop and camera bag, while maintaining their svelte lines. The more conventional shoulder bag, however, is still on the scene for those who prefer tradition while still being fashionable, or just practical.

Clik Elite photo packs, slings, and waist packs are aimed at adventure backpacking and more sedate day-tripping. The ProBody Sport ($125 MSRP) is compartmentalized to handle camera gear and personal items in a two-tier design. This backpack features a side hatch for quick access to gear. And a separate compartment will hold a hydration pack, alleviating the need to carry a water bottle. In contrast, the Pro Express ($225) is more traditionally designed top to bottom for photo gear with customizable dividers, plus a dedicated laptop sleeve, and the bag holds a tripod. The Escape ($210) is a camera pack with a semirigid camera cradle. It holds several lenses and accessories, with room for a hydration pack on the inside and a tripod on the outside.
Dolica has a convertible backpack/sling bag, the DK-30 ($129 MSRP), which accommodates up to two camera bodies, extra lenses, a flash, accessories, and holds a laptop up to 15" (in a rear sleeve). It is designed with side and upper compartments for quick access and storage and will also carry a tripod. Provided you don't stuff the outer pockets, the bag should be airline carryon-friendly.
Giottos' (HP Marketing Corp.) Lefoto shoulder bags ($105) are made of waterproof canvas, in black, green, or khaki. The bags feature a removable camera insert that is padded and fully customizable.
Giottos Lefoto Shoulder Bags
Jill-E Designs has a new Nylon Backpack they dub a "right-sized, female-friendly" backpack "better suited to a woman's dimensions."

These carryon-compatible packs are fully customizable, in black or brown.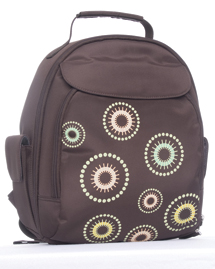 Jill-E Designs Nylon Backpack
Lowepro's Pro Runner AW (All Weather) series of backpacks and convertible rollers come in six models ($89-$379). The backpacks are lightweight, compact, and sleek, with the four larger models adding a laptop sleeve (removable on the two largest models—the x450 holds a 17" laptop). The Pro Runner x350 and x450 backpacks convert to a roller case. There is a handy tripod mount system that tucks away when not needed. Lowepro revamped its SlingShot AW Series, adding the tuck-away tripod mount system, in addition to making the upper compartment larger for personal items ($89-$129).
Lowepro Pro Runner x450 AW

FEATURED VIDEO