Zen And The Art Of Photography
"Attain the center of emptiness, preserve the utmost quiet..."--Tao Te Ching
In recent months, I've introduced you to websites chock full of colorful images and action. This month, we will get meditative with two sites that have quiet designs and one photographer who creates art out of emptiness. This artist's images may be just a few dots of black on a vast panorama of white. You can't get more yin and yang than that.
Less Is Smores
The understated design of James F. Quinn's website (www.jamesfquinn.com) combines with his outstanding photography to produce an airy feeling rarely encountered in the often-claustrophobic designs rampant on the Internet. The subtle Flash (www.macromedia.com) concept is by Jim White of Art+Strategy (www.artandstrategy.com), who used the medium to frame Quinn's images, while making navigation of the site interesting and fun. The portrait of Quinn surrounded by various percussion instruments that you see on the Info page was made by his wife, Karen, leaning out of a second-floor window. Her credit line is at the bottom of the caption that appears when you mouse over that photograph.

There are seven galleries ranging from portraits to nature, and when you visit, you see a large image that can be selected by a simple forward arrow or a bunch of little empty squares that when you roll your mouse over them provides a tiny sliver of a preview without changing the main image. Trés cool. His portraits range from energetic studio shots to sensitive photographs of athletes and people at work, and whether made in the studio or on-location, Quinn's fashion images are full of color and verve. I'm on the South Beach Diet (don't ask) so it was fulfilling to look at his scrumptious food photographs, most of which I can't eat. There's a lot more here, so peek into all of the galleries and enjoy all of the images from Quinn, a pro who's obviously at the top of his game.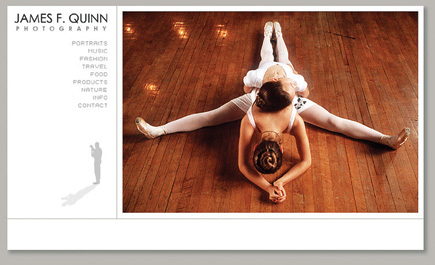 The understated design of James F. Quinn's website combines with outstanding photography to create an airy feeling rarely found in the often-claustrophobic site designs that are rampant on the Internet.
© 2004, James F. Quinn, All Rights Reserved
Holiday Lights
People love to photograph holiday lights and so does Dr. Peter Lutz, a fellow in Pulmonary/Critical Care at Wake Forest. His URL(http://bellsouthpwp.net/p/l/ plutzmd/) is complicated so please type it carefully, but the site's design is impressive, featuring many collections including Architecture, Churches, Weddings, Landscapes, and one marked simply Holidays. Selecting any topic brings up an image in a window with big front and back buttons that let you navigate. While there are spectacular photographs of holiday trees, Dr. Lutz is at his best with images such as a long-exposure shot of a fountain decorated for the holidays or the one with a holiday tree surrounded by illuminated fountains. That's a gee-whiz shot if ever I saw one, as is the red, white, and blue decorated tree in front of a huge American flag. If that last shot doesn't inspire you to grab your tripod and run outside during the holidays, please check your pulse.
The design of Dr. Peter Lutz's site is impressive, featuring many collections including Architecture, Churches, Weddings, Landscapes, and one marked simply Holidays. Don't miss it.
© 2004, Peter Lutz, All Rights Reserved