Zen And The Art Of Photography Page 2
Serendipity
I "bumped into" Brian Kosoff accidentally on the web and was knocked out when I took a look at his website (www.kosoff.com). An almost Zen approach to design complements the Zen-like imagery found in both his portrait and landscape work. When you enter one of the portfolios you'll see a larger image, with a title (imagine that!) and scrolling thumbnails below. The Landscapes are black and white panoramics of such breadth and power that it makes you want to view the originals, not some JPEGs. (You can click on the large image to see a slightly larger one in a separate window.) Underneath these images is an Info button that overlays a translucent screen providing information about print sizes and mounting.

Sparse, intensely graphic images such as "Twelve Birds," found in New Work, make you want to whisper because you're afraid you may scare the birds off the lines. Images such "Mono Lake and the Sierra Nevadas" provide an almost Bach-like contrapuntal relationship by being filled with content. His images span the globe and include icebergs, deserts, and a few studio still life photographs. He is kind enough to list the 11 cities where there are galleries that have his work so you can see for yourself. If there's a gallery near you, go see for yourself.
In the Galleries section, Brian Kosoff lists 11 cities where there are galleries that represent his work so you can see it for yourself. If there's a gallery near you, the trip will be worth it.
© 2004, Brain Kosoff, All Rights Reserved

Fashion And Flair
Eric Striffler is another photographer I found on the Internet; I was blown away and impressed with his fashion imagery. After looking at his website (www.striffler.com) I wanted to make sure that Shutterbug readers got a peek, too. Clicking on the categories across the screen's top from Fashion to Interiors shows that Striffler is one versatile dude. Each category has several collections with individual themes and clicking on a column of numbers shows vertical pairs of photographs, sometimes a single horizontal image, that are clearly designed to work together to provide additional information or effect.

From the tungsten-blue look of "Midsummer Night's Dream" to the wild collision of colors in "She's a Rainbow," Striffler's imagery epitomizes the best of fashion photography by exceeding its boundaries and knocking on art's door. There is some lingerie and PG-13 nudity in the "Misc." collection; skip it if that offends you. Similarly there are images in the Edgy collection of Beauty that are on a Hanzo sword's edge of fetish, but I didn't find them personally offensive. Still-Life contains the inevitable products on white Plexi, but others are darn intriguing with the placement of objects within context.

The Interiors section combines the mundane with the unexpected in complex juxtapositions. I especially like the night fisheye shot of an outdoor café. Travel explodes with colorful, interesting images from around the world and even Bio has a gallery that combines artistic nudes with images of goddess statues. The overall design of the site is, to put it simply, bare bones, proving that
you don't need flash and dash to make it into Web Profiles--just great photography.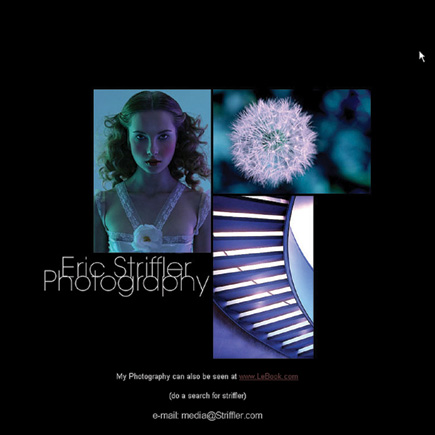 The overall design of Eric Striffler's site is, to put it simply, bare bones, proving that you don't need flash and dash to make it into Web Profiles--just great photography.
© 2004, Eric Striffler, All Rights Reserved

LATEST VIDEO

SPONSORED VIDEO