Wildlife Model Shoots
Great Shots Under "Controlled Conditions"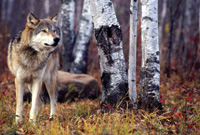 Gray wolf, Canis lupus, Minnesota, "Controlled Conditions."
Photos © 2003, Don Mammoser, All Rights Reserved
Wildlife model shoots are simply a wonderful, easy way to get great photos of some very elusive animals. I have a Zoology degree. I have worked as a ranger for the US Fish & Wildlife Service. I have studied endangered species, spending countless hours in the woods, and I still have never seen a wild mountain lion, lynx, fisher, or wolverine. The few bobcats and bears I have seen were either crossing the road in front of me or were split-second glimpses as they disappeared into the bush. Photographing these and many other animals is next to impossible in the wild.

Enter the game farm or wildlife model shoot. In three days time and with lots of film or memory-card space, you can photograph well cared for, sometimes trained, elusive mammals to your heart's content. Note that there are hundreds, if not thousands, of animal rehabilitation centers, rescue facilities, and drive-through zoos in the US where a person might do some photography, but the wildlife model shoots I am talking about are done at facilities in business specifically for photographers. These are places that have raised their animals for photographers (both video and still) and know just what photographers need and want.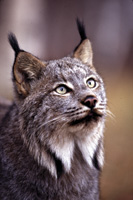 Lynx, Lynx canadensis, Minnesota, "Controlled Conditions."
Animals that are usually available for "modeling" include most of the species that are rarely, if ever, seen in the wild: mountain lion, lynx, bobcat, wolf, grizzly and black bear, coyote, fox, wolverine, fisher, and badger. Smaller animals are also available at some places: raccoon, opossum, skunk, weasel, beaver, mink, etc. I have seen most of these "secondary" animals in the woods but photographing them is, again, difficult and, at best, very time consuming. At a game farm, these animals are placed in natural-looking areas and you can photograph all day without ever worrying about getting sprayed by the skunk.
The Controversy Over Game Farms
Is there some controversy about photography game farms? You bet! My experience has been that when the general public looks at a pretty wolf calendar they do not know that the photographs may have been done at game farms. The simple labeling of shots as done under controlled conditions helps with this situation. But the controversy I'm talking about is mostly among wildlife photographers.

Some wildlife photographers say that they've never shot at a game farm and think it is some sort of "cheating." Here is what I'd like to ask these sometimes vocal opponents of wildlife model shoots: Have you ever photographed elk in Yellowstone? How about polar bears up in Churchill, Canada? Why? There are certainly lots of other places that have elk or polar bears. Why not try and photograph elk in the Medicine Bow National Forest? The answer, and the reason wildlife photographers choose to photograph elk in Yellowstone (or wildlife in any national park) is because the animals there are habituated to people. They photograph these places because it's easy to get close to the animals there. Why make photography any more difficult than it already is?
Grizzly bear, Ursus horribilis, Montana,
"Controlled Conditions."
I ask, how far do you want to take the "wildlife photos should be taken in the wild" statement put out by some? If some purists choose not to shoot at game farms--great! If that's what you choose, I have no problem with it, but please don't think you have the right, the ability, or the power to tell the rest of us what we should and shouldn't do.

Game farms are regulated, licensed, and legal. I have sold many images that I've taken at them, and I believe I am helping wildlife gain respect and appreciation through my pictures. I do designate any game farm image that I send out as taken under "controlled conditions." I tell people the truth about how I got the shot and you should, too.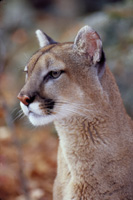 Mountain lion, Felis concolor, Minnesota, "Controlled Conditions."
Questions To Ask
Wildlife model shoots are an enjoyable, fun experience and probably the best way to quickly add photos of lots of animals to your files. Here are a few important questions to ask before scheduling your calendar:

1. Is the facility a true game farm or a rehabilitation or rescue facility?

I have had experience with and/or have heard about four true game farms, and one good animal photo center in the US. There may be others I am missing but those that are listed in my resource list at the end of this article are the ones with good reputations among professionals. Photograph at one of these places and you'll be very pleased.

2. Should you go solo or as part of a group?
This is a question that can only be answered according to each photographer's tastes and individual likes. Model shoots are expensive and going by yourself can sometimes mean paying up to $1000/day. Of course, you'll have the animals to yourself and no other photographers will get in the way. Group shoots sometimes mean lesser costs, but you'll need to share space, shooting lanes, and you'll have to hope that everyone is courteous. I'd never go on a game farm shoot when more than 7-8 photographers would be shooting the same animal at the same time. Additionally, group shoots might be great learning experiences for beginners, as a professional instructor may be available to help with exposure and composition questions.
3. When to go?

Seasons change and of course, so do the animals at a game farm. Interested in photographing young babies interacting with parents? Better schedule your visit for springtime. How about animals in the flowers? Also good in spring and early summer. Of course a winter shoot means lynx and wolves running through snow, which is great, but winter can also mean cold photographers. I would say that mid-summer is probably the least desirable time to schedule a model shoot. When temperatures get hot animals sometimes just lay down and pant. A panting wolf looks like a Siberian husky dog and this is not a desirable thing for wolf photography. Shedding also occurs in summertime and animals' coats are typically not pretty when shedding.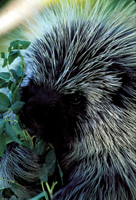 Porcupine, Erethizon dorsatum, Montana,
"Controlled Conditions."
Shooting Tips And Techniques
Whether shooting digital or film, there are still some basic techniques that will make your model shoot more successful. Start early in the morning, quit if the light gets harsh--and use a tripod! A true game farm will have experienced animal handlers helping you get better photos. Don't be afraid to ask these folks if you need something. Moving distracting grass or sticks, putting the animal's tail on the other side of a branch, or whatever you desire, is their job. The handlers love the animals they work with, and they are there to ensure your safety. The trainers usually have no problem trying something new, such as having the cougar jump from rock to rock or getting a bear to climb a tree. Just don't ask them to have the animal do something dangerous or completely unnatural, e.g., skunks do not climb trees, so don't ask the trainer to put the skunk up in the snag.
For exposure determination, I usually use aperture priority and matrix metering on my Nikon F100 if the animal and background is an overall mid tone. For other, not-so-average tonality animals, such as black bears and arctic foxes, I'll spot meter and dial in the appropriate exposure compensation. Fill flash works great for darker faced animals and for backlit shooting. Be careful of redeye on cats when using flash. Just use the redeye reduction feature on your flash. As with all wildlife photography, get down to the animal's level and keep the background of your photos as non-distracting as possible.

My final advice for anyone thinking of scheduling a wildlife model shoot is to research where and when you'd like to go, and then give it a try. Oh yeah, and bring lots and lots of film or digital memory cards.
Resources
True Game Farms
1. Kroschel Films, Haines, Alaska; (907) 767-5464; www.kroschelfilms.com. Houses 10-12 species. Charges by the hour.
2. Minnesota Wildlife Connection, Sandstone, Minnesota; (320) 245-2017; www.minnesotawildlifeconnection.com. Over 24 species including Bengal Tiger. Charges by hour or by day, special multiple day rates available.
3. Triple "D" Game Farm, Kalispell, Montana; (406) 755-9653; www.tripledgamefarm.com. Over 20 species. Charges by day or multiple days.
4. Wild Eyes Animal & Photo Adventures, Columbia Falls, Montana; (406) 387-5391; www.wildeyes-usa.com. Houses 15-18 species. Charges by day or multiple days.
Animal Photo Center
1. Lakota Wolf Preserve, Columbia, New Jersey; (877) 733-9653; www.lakotawolf.com. Three species photographed through fences. Charges by hour.
All photos were made with a Nikon F100 with a Nikkor 80-200mm f/2.8 lens on a Bogen 3021 tripod with Acratech Ultimate ball head on Kodak E100VS or E100GX film.
Donald Mammoser is a professional nature photographer based in Littleton, Colorado. To see more of his work visit www.donmammoserphoto.com.

FEATURED VIDEO