The Big Edit; In Which Kevin Schafer Drives To The Dump
Ladies and gentlemen, I am proud to present to you the noted nature and wildlife photographer Kevin Schafer, a man who may well serve as a role model for the pack rats among us; a man who faced his demons and trashed them.

Here we salute Kevin not for his outstanding photography—he is a recipient of the North American Nature Photography Association's Outstanding Nature Photographer award—or his efforts on behalf of endangered species, but for the fact that last Christmas he confronted the accumulated Kodachromes of 25 years of photography and, in a marathon of fortitude, edited them.
Aurora Borealis (the Northern Lights) and spruce forest, Alaska Range.
Our chronicle begins innocently enough. Early this year I was talking with Kevin and asked, "How'd you spend your Christmas holiday?"

"Throwing away 25 years' worth of slides," he replied. "Took 'em to the dump. I don't like to admit it, but I've taken some junk in my life. It was time to get rid of it."

As somewhat of a pack rat, I shuddered with horror…or perhaps it was envy. In any case, I began taking notes.
Wild beluga whales under water, Churchill River, Hudson Bay, Alaska.
All Photos © 2009, Kevin Schafer, All Rights Reserved
"This was something that's been hanging over my head for a long time," Kevin continued. "At Christmas I was snowed in, couldn't get out of the house for a week, and it forced me to go through my entire collection and cut all the deadwood that's been in there for a long time."

Kevin had been steadily scanning his work to digital files for several years. The scans were done based on priority—the best ones, the ones that were requested, the ones he needed to send out for a specific use. "But there were tens of thousands of pictures that never went out and many that were never going to go out." Some were alternates, some near-duplicates, all were "just sitting there."

He guesses that he reviewed about 150,000 slides, which he sorted into three categories: already scanned and to be saved; to be scanned and then saved; to the dump.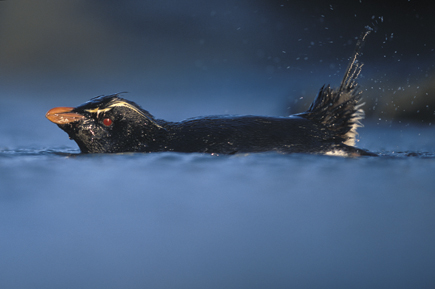 Rockhopper penguin bathing in tide pool, Falkland Islands.
"The order of selection is important," Kevin says. "I pulled the ones to keep first because it's easier to do a positive pull than a negative one. Pull the ones you really like—they jump out at you; and from the labeling we do I knew which ones had been scanned or sold to clients, so those were pulled immediately."


FEATURED VIDEO