WHCC Studio Sample Program and New Products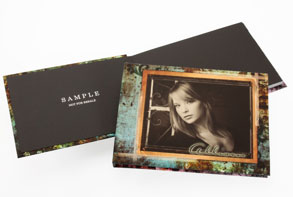 White House Custom Colour
(WHCC) announced its Book and
Album Sample Program
to make it easier to sell books and albums to clients, as well as the availability of several new products. The new additions arrive just in time for the fall and holiday selling season, giving professional photographers more creative ways to market their businesses and expand their product selection.
"Our clients ask and we deliver. That is our standard operating procedure around here," said Mike Hanline, owner and CEO of WHCC. "We take client feedback seriously, and our new studio sample program and product additions are a direct result of conversations we've had with our clients. If we can help add value to your business, we'll not only meet your needs, we'll exceed them."
The Book and Album Sample Program is designed to reduce the overhead costs associated with ordering book and album samples, and arms photographers with sales tools they can use to sell more during sessions. Book and album samples are 25 percent off the regular price and marked with "Sample Not for Resale" in the front and back covers. Boutique Bags, which are custom made to fit any album or book, are also available with the same discount.
Additionally, WHCC recently introduced several new products to its offering:
* Press Printed Magnets – Perfect for save the dates and baby announcements, Press Printed Magnets have the same look and feel of a press printed card, except the back is entirely magnetic. These are available in 2''x3.5'', 3''x3'', 4''x5.5'', 5x5'', 5x7'', 4''x8'' and 5''x10'' sizes, and also available in Boutique Card shapes.
* 6'x8' Backdrops – The line of contemporary, wrinkle-free printed photography backdrops now come in a smaller 6'x8' format, accompanying the original 8'x10' size. The new size is available in a variety of designs, patterns and colors for $175.
* Inside Image Panel for DVD case – The option to customize the inside panel with a prized photo from a wedding or event will add an emotional layer to your client's product and provide another outlet to merchandise your work. The inside image panel may also work well to showcase a pricelist.
* Press Printed Postcard Sizes – Providing additional options for marketing collateral and beyond, the new Press Printed Postcard sizes include 4''x8'', 5''x10'', 5.5''x11'' and 8''x10'' flat sizes and are available in both vertical and horizontal layouts.
* Boutique Card Sizes – Complementing the 5''x5'' and 5''x7'' sizes, Boutique Cards now come in several new sizes: 2''x3.5'', 3''x3'', 4''x8'' and 5''x10''. Choose from over 50 shapes, available on any six paper types, including sticker and magnet material
* Mat Color Options for Framed Prints – Now choose from a total of seven mat colors including white, cream, black, blue, brown, light green and dark green. Framed Prints are available in 11''x14'', 10''x20'', 12''x18'', 16''x16'', 16''x20'', and 20''x24'' sizes with a wide variety of print and mat opening options. Mats are acid free and archival.
To learn more about the Book and Album Sample Program and new products available at WHCC, visit www.whcc.com.

LATEST VIDEO

SPONSORED VIDEO