What It Takes; Moose Peterson's Works In Progress
A few months prior to the publication of Moose Peterson's new book, Captured: Lessons from Behind the Lens of a Legendary Wildlife Photographer, he told me what to expect—or maybe, what not to expect. "It's very unconventional," he said. "I call it a romantic how-to."
More information about Moose Peterson's book is available at his website,
www.moosepeterson.com
, along with his latest blog entries, news of workshops, and his take on gear, technology, and the generalities and specifics of photography.
When I got the book I quickly figured out that the romance referred to Moose's love of photography, which includes not only the taking of pictures but also the talking about the taking. The romance also encompasses his notable dedication to the preservation and documentation of wildlife and the environment.

Moose is dedicated also to storytelling: the story his pictures tell; the story of his life and adventures in photography.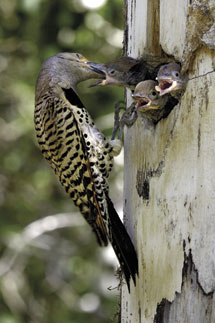 A red-shafted flicker feeding its young. The birds are members of the woodpecker family.
All Photos Moose Peterson
There's plenty of how-to in the book's nearly 400 pages about how Moose takes pictures and how he chooses and uses his gear—there are even screen grabs of his digital camera's menu settings—but the book is not strictly a how-to guide. What it is is the photography world according to Moose. Part autobiography, part how-to, part why-to, it was written to answer the implied question that's always present when people talk to him at his workshops, seminars, and lectures: how did you get here? What does it take to take these pictures?

Structuring the book, deciding on its content, and writing it was something of a risk. "I wrote the book to be read from page one to the end," Moose says. "Most publishers and editors will tell you that's not what people do anymore; they hopscotch around. People doing that will find plenty of information, but I intended the book to be read front to back." It's a narrative, a chronological history of Moose's development, interests, achievements, and the lessons learned along the way.
Coyotes on the frozen Lamar River, Yellowstone National Park.
Grizzly bear, McNeil River, Alaska.
Collared pika gathering hay. An endangered species, pikas are closely related to rabbits.
It's Moose's world…and welcome to it.

"I put my photography from the early years to the present in the book," he says, "so people could understand right off the bat that I didn't take great pictures then, and I say that I still don't think I've hit the point where I take great pictures. I'm better than I was, but I'm still working at it." And that too is what the narrative is all about: a life, and a life's work, in progress. "If you don't understand where I've come from," he writes, "you surely won't get where I'm at, nor where I'm going. You especially won't understand where I want to take you."

If you go along for the ride, you'll find that Moose is direct and honest, generous with talk of his techniques and the tools he uses, quick to supply details. He's also opinionated and fearless in expressing those opinions; his is the confidence you need to lead workshops, give lectures, and write books.

He'll tell you he hates tripods because they take away the joy of creative freedom, then he'll say they are absolutely necessary. And when you get one, don't dare skimp. He laughs when photographers tell him their ten thousand dollar lens, which they've mounted on a one hundred dollar tripod, isn't sharp. Then he'll proceed to guide you through his take on tripods—all the details of what models he uses, when and why.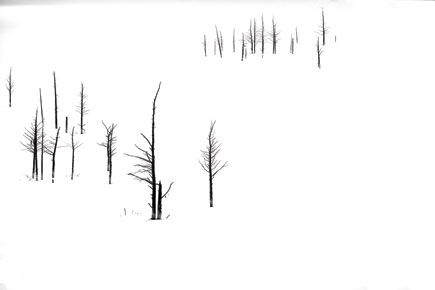 Part of a forest submerged in the frozen Quake Lake, Montana.
Sanderlings (small, light-colored sandpipers) in flight.
Snow geese, Bosque del Apache National Wildlife Refuge, New Mexico.

LATEST VIDEO