The 3 Best Lenses for Landscape Photography: This Award-Winning Pro Reveals His Top Picks (VIDEO)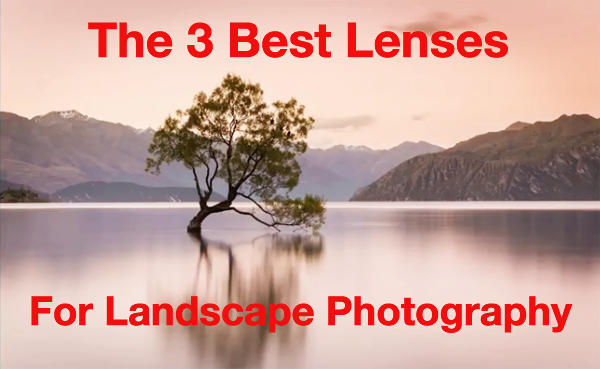 Serious nature photographers typically carry a bag full of premium glass on their excursions into the great outdoors, and in the video below you'll see what one award-winning pro says are, "the best lenses for landscape photography."
Tom Archer is a London-based freelance photographer who travels the globe shooting epic landscape photographs for a number of top-tier clients. He says his goal is to "capture the scale and beauty of the world," while shooting commercial and editorial nature photographs.
Archer is a Nikon shooter, so the lenses he prefers all carry the Nikkor logo. But the recommendations he makes are more about focal length than brand, and similar lenses are available from other manufacturers. There are three lenses Archer never leaves home without, and in this six-minute video he explains why.
Unlike some pros who only shoot with primes lenses, Archer prefers fast zooms because of the compositional versatility they offer. He says, "If I could only choose one lens, the AF-S Nikkor 24-70mm f/2.8E ED would be it." A fast lens in this focal range, he explains, is a real workhorse that's particularly useful for landscape photography.
Archer also relies upon a fast, super-wide lens for shooting broad vistas, the nighttime sky, and other expansive scenes. In this case his choice is the AF-S Nikkor 14-24mm f/2.8G ED. And, as you'll see in his dramatic photos, he clearly puts it to good use.
A telephoto zoom is Archer's third go-to lens, and he says that while he uses it less frequently than the two lenses above, "When I need it, it's really vital." This fast zoom is the AF-S Nikkor 70-200mm f/2.8E FL ED VR, and Archer illustrates how he uses it to compress perspective, photograph wildlife, and capture sports/action photos and landscape scenes with people in the distance.
You can see more from Archer on his YouTube channel. And be sure to check out yesterday's tutorial, explaining how to include the moon in landscape photos.

FEATURED VIDEO