Westcott's Strobelite Plus Monolight; A Lightweight, Versatile Light
I have been using Westcott's light banks and umbrellas for glamour, fashion, and portraiture almost since the company entered the photographic business and have always been impressed by their quality and value. Previously I used their rugged and flexible Spiderlite family of hot and cold continuous lighting products and now they've introduced a line of monolights built to those very same qualities.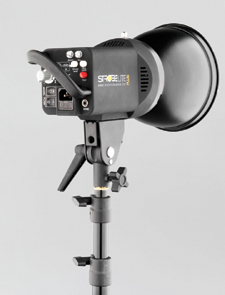 The Strobelite Family
The Westcott Strobelite monolight produces 150 ws (watt seconds) of output and is wrapped up in a compact and lightweight design. The soft touch yet high-impact polycarbonate housing weighs less than 31/2 lbs and measures 9x5x8". At full-power flash, the Strobelite's recycle time averages 2 seconds, which is adequate for all but the most demanding professionals. The unit uses a 100w modeling lamp and has a user-changeable flash tube that can be replaced quickly and easily without having to send the flash back to the manufacturers and paying them service fees. Power output is continuously variable from 1/4 to full power. A handle on the back of the Strobelite, that's obviously designed for medium to smaller hands, makes it easy to carry or aim the monolight at the subject.

Want more power? The Strobelite Plus provides 400 ws at that same 2-second recycle time and at full power. The Plus weighs a little more than 31/2 lbs and measures 9x5x8" and the polycarbonate housing has an all-metal casing tilter bracket that should hold up under hard use at weddings or prom shoots. Like the base model, the power output is continuously variable from 1/4 to full power, but in actual usage seems greater than the 400 ws rating might otherwise indicate. You can ensure the flash is ready by either checking the ready light on the back of the housing (not always easy to do depending on your camera position) or by turning on a switchable audible beep that's loud enough to be heard over a noisy wedding reception. The 100w modeling lamp can be set in three modes: full power, adjusted to match power setting, or off. The Strobelite Plus includes an optical slave but has an on/off switch if you decide to use wireless tripping. Like the base model Strobelite, the Plus has a user-changeable flash tube. The #225 Strobelite flash tube costs $65.90 and the #206 Plus flash tube costs $72. Keep a spare on hand, just in case...
Image captured with a Canon EOS-1D Mark II N and an EF 135mm f/2.8 SF lens at the #1 soft focus setting. Although this test shot of Mary was made with an exposure of f/9 at 1/60 sec and ISO 100, the flash meter reading of f/8 produced exposures that were clearly more accurate. I had to slightly dodge Mary's face on this final image but liked this pose and expression the best from that test session.
All Photos © 2008, Joe Farace, All Rights Reserved
Westcott offers a starter-style Studio Kit that includes a Strobelite, 43" white umbrella, 40" 5-in-1 reflector and arm, two 7.5-foot light stands, and a carrying case that would work for senior portraits or headshots. Kits start at $374.40 and snoots, grid spots, barn doors, softboxes, and other lighting accessories are available. The Strobelite Plus 3 Light Kit ($1249.90) includes three Strobelite Plus lights, two 24x32" silver softboxes with adapter rings, two 8.5-foot light stands, backlight stand, barn door set with gels, and a wheeled carrying case. This setup is perfect for the shooter just getting started and would be an ideal lighting kit for wedding and on-location family portraiture.
In The Studio
Since I only received one Strobelite Plus for testing I needed to keep my lighting setup simple: The monolight has a non-locking umbrella attachment bracket and I attached a 45" Westcott Round Halo Mono, placing the combination high and near camera axis to produce a butterfly lighting a.k.a. Paramount (as in the movie studio) effect. By positioning the main--in this case only--light directly in front of the subject's face and adjusting its height to create a shadow directly under, and in line with, their nose, it creates a "butterfly" effect that's a basic glamour lighting style and best suited for portraits of women. A 42" Westcott (Sunlight/Silver) Illuminator reflector was used for fill.

FEATURED VIDEO