Wes Kroninger's Lighting: Design Techniques For Digital Photographers
In his new book, Wes Kroninger's Lighting (ISBN: 978-1-608952-54-0, Amherst Media, $34.95 US), the author and photographer draws on his experience as a portrait, commercial, and editorial photographer to present strategies that will help photographers bring out the beauty and character in all of their subjects—from kids, to businessmen, to fashion models.
Kroninger provides an overview of the creative process, then analyzes a wide variety of images from actual sessions, explaining the conceptualization of each image and the execution of each lighting design at the shoot (whether in the studio or on location). These images take the reader from simple location setups, pairing just a reflector with natural light, on through to complex studio lighting design with multiple lights and modifiers. What we thought really aided the design and communication in the book were the lighting diagrams, one from camera view and one from an elevated view, that make it easy to study the techniques and outcomes.—Editor
All photographs copyright Wes Kroninger. All illustrations by Trevor Lemoine.
Just as when working with actors' headshots, when creating headshots for a model's portfolio it is a good idea to keep things as simple as possible. This allows your subject to show casting agents or art directors what they have to offer without complicated lighting setups distracting from their look.
This image was created with a beauty dish angled down toward the model's face from slightly above head height. A second light was placed on a stand behind the model to light the background, giving separation and a natural vignette.
Use: Model's portfolio
Camera: Nikon D2Xs
Format: 35mm digital
Lens: 70-200mm f/2.8
Focal Length: 70mm
ISO: 100
Exposure: 1⁄125 second at f/8
White Balance: Custom
Location: Baton Rouge, LA
Lighting: Studio strobes
Working in different locations can be tricky at times, but it can also lead to interesting backgrounds and locations. For this image, three steel benches were placed on end behind the model to create the textured background. They were set far enough behind the model to fall out of focus but close enough to cover the frame.
One overhead beauty dish was used as the main light and a silver reflector was used from below to add a bit of fill, lessening the shadow under the chin. A softbox strip light was used at camera right for fill, as well as to add a little illumination to the background. It was important that the faint blue coloring of the hair read in the image. This can be difficult with lighter hair, but it is manageable with careful metering.
Use: Contest entry/advertising
Camera: Phase One P45+, Phase One 645
Format: Medium format digital
Lens: 55-110mm f/2.8
Focal Length: 70mm
ISO: 50
Exposure: 1⁄60 second at f/16
White Balance: Custom
Location: Orlando, FL
Lighting: Studio strobes
When creating beauty images for the hair industry, you light for the hair color and texture first, and for the model's face second. This can be new for a portrait photographer used to lighting primarily for the face.
A beauty dish was used overhead to bring out crisp details and the snappy color of the hair. A softbox was positioned from below as fill and to light the model's face. A rim light to the side (with barn doors) brought some added interest to the image, while a background light on a floor stand helped to separate the model from the background. One reflector was used camera right to add a touch of fill light.
The shine line on the hair is often important for creating shape and definition. To get it in the proper place, it is necessary to light from a more overhead angle than would be typical when photographing a person. With some hair styles, without the addition of a second light or reflector to add light to the face, the eyes will go dark because of the fringe of the hair. In this case, more light was needed than even a silver reflector would have offered; that is why a softbox was chosen. Careful balancing of the two lights was needed to achieve a somewhat convincing look.
Camera: Hasselblad H2 with Phase One P45+
Format: Digital
Lens: Hasselblad 50-110mm f/3.5-4.5
Focal Length: 110mm
ISO: 50
Exposure: 1⁄160 second at f/20
White Balance: Custom
Location: Houston, TX
It is possible to create beautiful work in very small spaces with minimal lighting. This image was produced as part of an advertising series for a hair salon. The art director wanted a strong series of black & white images to use as in-store art. I decided to go with a stark, high-contrast look, where the model seems to emerge from the white background. To do this, I positioned the model directly against a white wall.
A single beauty dish was used overhead with one silver reflector at around chest high. The drop shadows this created provided three-dimensional qualities that help the overall shape of the image. Digital image processing added to the minimalist high-key look.
With the use of a relatively short lens and a previsualized image concept that incorporated the background, only a small amount of space—no more than seven square feet—was needed to achieve the desired look.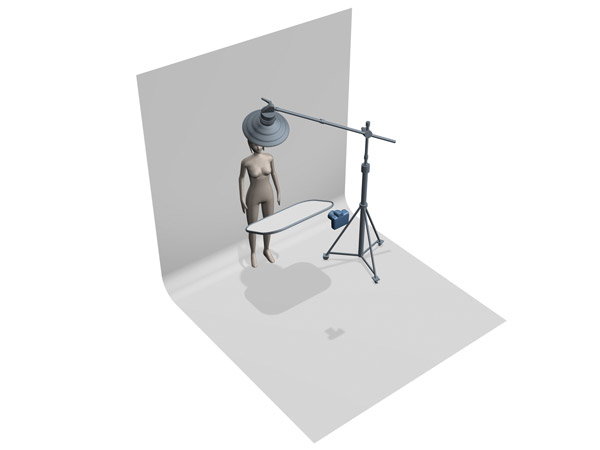 Use: Advertising
Camera: Nikon D2Xs
Format: Digital
Lens: 35-70mm f/2.8
Focal Length: 44mm
ISO: 100
Exposure: 1⁄125 second at f/22
White Balance: Custom
Location: Baton Rouge, LA
Author Bio
Wes Kroninger was raised in Columbus, Ohio where he began his training as a photographer. Since then his career has taken him across the country capturing images for clients as well as teaching his knowledge and love of photography. Wes has a strong passion for the photographic community and for educating.
Only a short time out of school Wes was the recipient of the Hy Sheanin Memorial Scholarship through WPPI and from that moment hasn't looked back. In addition to numerous gallery shows his work has been published in Rolling Stone Magazine, Modern Salon, American Salon, Rangefinder, as well as many trade publications. He has had the opportunity to work for companies like Home Depot, AVEDA, Starmount Insurance, Long Beach Water and the Neill Corporation.
In 2008 Wes taught a Master Class at the annual WPPI conference in Las Vegas and contributes monthly educational articles on www.prophotoresource.com. He has also received national recognition and honors for charitable contributions as well, including a gold ADDY award for work produced to raise money for victims of Hurricane Katrina and a Best of Show award for projects for the Children's Miracle Network.
Where To Buy
Amherst Media books can be purchased worldwide at photo retail stores and anywhere books are sold. They are available on Amazon, Barnes & Noble, and at our own website, www.AmherstMedia.com.

FEATURED VIDEO