Wedding & Portraiture
Out Of The Darkroom, And Into The Light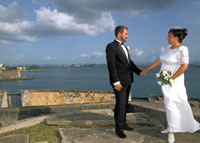 Photo 1.
Photos © Monte Zucker, 2000
At first you may not realize why this article was written for what is basically supposed to be a "darkroom" issue. Let me explain.
The story began when I volunteered to assist photographing a wedding in San Juan, Puerto Rico, as part of my position as Photographic Consultant for Carnival Cruise Lines. While sharing the drive to the location of the wedding with the bridal couple, Mike and Beth Bundy, I was immediately struck by the beauty of their faces.
During the drive we got to know each other a little better. I gave her a brief summary of my position among portrait/wedding photographers. To say that she was thrilled was putting it mildly. But to say that she was overwhelmed when she saw the pictures the very next day would be an understatement. (And that was with absolutely no touch-ups. Straight prints right out of the ship's photo lab.) So, let's get on with the wedding day story now.
Beth and Mike mentioned to me that they had originally met online through a "personal" that Mike had placed with Americansingles.com. She responded to his ad and they began dating. Two years later they were here on a Carnival Cruise Lines ship getting married in San Juan with me as one of their assistant wedding photographers.
The wedding took place in Old San Juan high-up on a cliff, overlooking the entrance to San Juan harbor. They were married in an area where strong, direct sun was everywhere. We were completely out in the open. Absolutely no shade at all.
Well, no shade, except when they were positioned to be backlit by the sun. So, that's the way we set them up for the ceremony--out on the farthest most point of one of the harbor's protective fortresses. Beautiful landscapes completely surrounded them. Mike and Beth strongly implored me to show some of the setting where they were married, so that they could always remember where the wedding took place and share those moments with their families and friends.
I was thrilled to be a part of this particular wedding day for several reasons. First of all, I knew that I would be able to create beautiful images. Secondly, the location was going to be different and picturesque. Finally, I had an additional challenge. I had with me only a 35mm camera with a single flash attached to the bracket and none of my "essential," more elaborate equipment.
It was a great challenge that I was anxious to undertake. I knew that there was potential for publishing the story, as soon as we began talking while in the limousine.
I saw the bright sunshine and welcomed it, since I have recently begun to love working in bright, direct sunlight. At the same time, it would give me the opportunity to show to my fellow photographers, who were part of the ship's crew, what could be done given all these circumstances--not to mention only a couple of hours in which to accomplish it all.
The actual ceremony took place exactly where I created Photo 1. From one angle you could see out to sea. From another you could see the governor's home far in the background. And from still another viewpoint you could see lush green hills and beautiful white clouds in a superb blue sky. This was going to be great fun.
The photographs shown here were made after the ceremony. In the pictures with brightly lit backgrounds, I exposed 1/125 at f/16, my typical exposure for bright, sunny backgrounds. Thus, I was assured of good environmental backgrounds in all of my pictures. It was easy, of course, to keep Beth and Mike close to my camera and far away from the background--my method for keeping the attention on my subjects, even in beautiful settings.
For Photo 1 I positioned the bride and groom to the right, so that I could show a portion of the fort behind them and the harbor entrance that it guarded. I positioned them so that the sunlight crossed over her gown to bring out the detail and to light Mike's profile. The automatic flash was also set for f/16. No chance for Polaroid test shots here.
Notice that when I photographed them both in profile, their bodies were still turned at a 45 angle to the camera. I also lowered the camera to put their faces against a completely clear background of sky. I posed both of them with their legs set for a full-faced, full-length picture. After all, I was taking a picture of their bodies first.
Then, when I turned their faces to profile, I was careful to leave their bodies still turned toward the camera, rather than having them face each other and their shoulders going directly into the lens. I separated them, but they were still joined together since they were holding hands.
Photo 2 was taken soon afterward, closer to the edge of the fortress. Fortunately, I was able to take a position lower down, allowing me to place their bodies and faces up into the sky portion of the background. I was using the telephoto capabilities of my zoom lens on my 35mm camera, so that I could keep the background simple and uncluttered. The distance between my flash and the subjects made the shadows on their faces remain deeper here than on some of the other pictures when I was much closer to them.
Again, the off-center cropping in my viewfinder allowed me to take advantage of the beautiful cloud formations behind them.
Upon looking around during the wedding ceremony, I noticed an enclosed porch a short distance to my left. I knew this would be an ideal "protected" location for available light portraits. I was right. Photos 3 and 4 were created there. The double profile was made possible by the light coming from the left, right and behind me. The plain walls were a perfect background, but I had to go closer to one of the doorways in order to get the best lighting on their faces. For Beth's portrait (Photo 4) I actually posed her closer to the light coming from camera right, so that I could turn her face toward the main light and continue with my regular short-lighting portrait style. For the 2/3 view of her face I kept her body turned straight into the camera, as I always do. I later cropped the shoulders down to an oval, so that it would be more flattering.
Photo 5, touching his lips to her fingers is a current favorite pose of mine, because it allows them to relate to each other in a very personal way that looks entirely candid. The photograph was created close to one of the openings to the porch.
Earlier, we had all admired the view from the approach to where the wedding took place, so we walked down the roadway to the governor's house and used that and the waterfront as the setting. The overhanging leaves in Photo 6 added depth to the picture. I was very careful to place Mike's profile against a simple, dark area of the background, so that his profile would stand out clearly. The exposure is nearly always the same when I'm photographing into a brightly lit background that's important to show in the picture--that is, 1/125 at f/16. The flash was set to f/16, too.
Photo 7 was made just a little closer to the governor's house and the fortress on which it sits. It's one of the symbols of Old San Juan. So, of course, the bride and groom are off-center in order to show the setting in which they were married. One of the final pictures near the location of their ceremony was by the statues that overlook the harbor. I composed the portrait so that I could have the couple near to the camera and illuminate them brightly with my flash (Photo 8). I knew that the statues (much farther away from the camera) would be too far from the flash to register the additional on-camera light and would, therefore, remain in silhouette against the still-bright late afternoon sky.
The final portrait of this series, (Photo 9) was visualized by me when we passed this arbor of flowers on the way to the wedding ceremony. Fortunately, our driver took us back there, before returning us to the ship.
I had to walk around the bougainvillea background a couple of times, until I saw where the light was best for showing the flowers. They were, of course, being backlit from this viewpoint. What I hadn't noticed at first was that there was a huge tree overhead just around to the side of this flowered background. The tree covered both of their heads, while the light coming in around both sides of the tree gave me absolutely perfect profile lighting on their faces. No additional light controls were necessary.
So, to return now to the original topic of this article€something about "Out of the Darkroom€and Into the Light!" Well, as you can see, we were photographing primarily in bright sunshine, weren't we?
And as far as getting out of the darkroom? My darkroom was actually Photoshop. I scanned each one of the pictures and did some minor touch-ups in a matter of seconds that could never have been done in a conventional darkroom. "Darkroom" as such? Well, I did let the blinds down in my office, so that I could see my computer screen a little more clearly.
I straightened out some flaring jackets and dresses, trimmed wind-blown hair, opened up a lot of the contrast ratios that were a result of the extreme lighting conditions, straightened some verticals, and all in all did some darkroom magic that I would never have believed possible had these pictures been created just a short time ago.
These pictures were all created with a 35mm camera and a single on-camera flash. Guess I'm beginning to see the brighter side of things more clearly, wouldn't you say?

FEATURED VIDEO