Focal Lengths And Faces; Choosing The Right Lens For Up Close And Personal Portraits
The right equipment, being creative, interacting well with your subjects, and of course being in the right place at the right time can all add up to some stunning imagery. An important part of that gear is the lenses you choose to bring along. Because varying angles and focal lengths portray the face in radically different ways, I always travel equipped with a wide variety to hopefully match every subject and scene. My basic assortment includes a 14mm, 16-35mm, 24-105mm, 70-200mm, 50mm macro, and a 1.4 extender. Of course, my carbon-fiber tripod is never far from me.
Super Wide
I had just returned from a nearby monastery in Pagan, Burma, where the abbot had graciously released seven young monks equipped with parasols to serve as models atop a temple. Being a travel/stock photographer, I always look for striking faces and often photograph young people while traveling. The chance to pose seven young Buddhist monks was more than anyone could ask for.
Shot straight up at these seven little monks with parasols while lying on my back. My 14mm lens was the only way to capture all of them in the frame and get a different perspective.
All Photos © 2007, Scott Stulberg, All Rights Reserved
I had packed my 14mm wide angle lens and, while not your typical portrait lens, it allowed me to place those seven faces within a circle. Lying on my back, I motioned for them to encircle me while holding their parasols overhead and look down at me toward the lens. Without that extremely wide angle lens I wouldn't have captured that image.
Depth Of Field
I often shoot close focus/wide angle shots to produce very dramatic images. With the little Burmese girl wearing Thanaka face paint, I placed her on top of the temple and reached for my 16-35mm lens. Getting close to your subject with a wide angle lens changes the feel and perspective of the image, putting them in the context of where they live. With the ancient temples softly blurred, she stands out in an almost three-dimensional aspect. Close focus/wide angle shots produce an opposite effect from a telephoto (which compresses space) and can give you images unlike any that you have done before.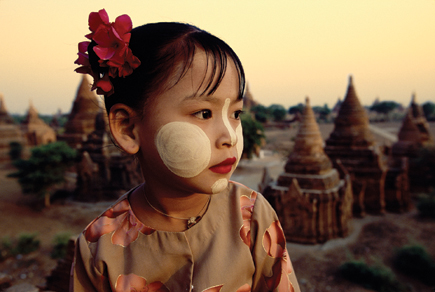 To emphasize the grandeur of Pagan, I placed this little Burmese girl on top of a temple, with a view of many temples in the distance. Having your subject look away from the lens can create compelling shots with impact.

FEATURED VIDEO