Web Site Of The Month
Michael Smith Photography
In addition to a portfolio section, the opening screen of Michael Smith Photography's web site shows the photographer's major areas of interest, including: People, Product, and Sport.
Photos © 1999, Michael Smith, All Rights Reserved
You know what a good photograph looks like, right? It's the kind that we enjoy making. Just like those created by our favorite photographers, whether it's Ansel Adams, André Kertesz, or Harry Callahan. I find that when I'm stuck in a rut, trying to think "outside the box" kick starts my creativity by looking at images that challenge the way I normally view the world. That's the reason why I've selected Michael Smith Photography (www.michael-smith.com) for this Web Site of the Month. Smith is a creative photographer who can take a conventional product shot of a Harley-Davidson motorcycle and produce a photograph of it like none you've ever seen before.

Smith was born in San Diego but moved to Northern California to complete his fine art education. He began his career in the field of graphics design working for Fortune 500 clients and served as the creative director for a number of companies, while using his photographic skills for numerous design projects. Eventually, his design skills merged with the creation of fine art images and Michael Smith Photography was established in Southern California. This web site is one of the studio's marketing tools.

The low-key opening screen of Smith's site includes a table of contents of what's found inside. Clicking on either of the first two sections--"About Us" and "More Info"--provides access to information about the photographer and his studio. This contains the kind of data you'd expect to see on a commercial photographer's site: including biography, client list, and a display of the awards the web site has already won. A "Contact Us" button includes not only the names of the studio's personnel with e-mail links, but also the studio's address, phone, and a hyperlink to an attractive map showing interested parties how to find the studio in San Diego. The "More Info" section features an e-mail form that can be used to contact the studio to obtain answers to any questions you might have about Smith's services.

As you might expect, the heart of this site is its images which can be viewed as a portfolio, or by specific categories such as People, Sport, and Product. Every page in the site follows the same understated design that puts the focus on information, whether it's an individual photograph or a way to contact the studio.
The portfolio section begins with a short biographical sketch. You move through its pages by clicking on a large, ghosted arrow that comes into sharp focus when your mouse gets close to it. Like the rest of the site, this feature isn't fancy but effective in showing that this is not just another "forward" arrow. Clicking on it moves you to the first image page which like the rest has forward and back arrows, allowing you to browse through all of the images. The images in this section are striking, ranging from a black and white portrait of a female gorilla and her small offspring to a head-turning black and white fashion shot presented as a blue quadtone. While there are the inevitable California surfer shots, they are anything but a Baywatch cliché. Readers who are interested in fashion or product photography will find inspiration while browsing through these portfolio images.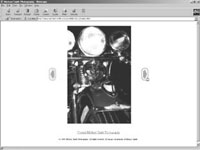 Invoking Wagnerian impressions of Valkylries, Michael Smith's photograph of a Harley-Davidson motorcycle can be found in his portfolio and free samples sections.
At 56K, the portfolio images don't load quickly, but it isn't long before the JPEG files fully display themselves. Those lucky readers out there with cable modems or T-1 lines won't even notice any lag time. The number of images in the portfolio seems to go on forever, which is probably the Webmaster's intention, but a "home" button on each page that would take you back to the opening screen would have been welcome. There is a large, psychedelic "MSP" button on the last page of the portfolio, but a small one located in between would have been nice.

In the image specific sections, Smith uses a different approach. Clicking on People, Sport, and Product takes you to a single page displaying thumbnails of all of his images in each category. Clicking on a specific thumbnail produces an enlarged version of the image. Unlike the portfolio section, these loaded quickly and there were only a few duplicates from other sections. If you had previously visited the portfolio, most of the images will be ones that you haven't seen before. When Smith says "sports" he really means surfing in a big Beach Boys sort of way. This page has 11 dramatic surfing photographs including some made with an electronic flash at dusk that will blow you away. As I've mentioned before, I would have liked to have seen larger images--especially in the surfing section--but I understand Smith's copyright concerns. The product photography section includes everything from Barbie to fashion to high tech products. In all of the images, you'll see a use of color that is unique and is clearly Smith's trademark.

As I was completing this month's column, the Webmaster added a new section on the opening web page called "Free Printed Samples." This link lets you order a promotional sheet of up to four images that are featured in the portfolio, including the gorilla mother portrait, Barbie, and the Harley-Davidson. Smith can now add Shutterbug's Web Site of the Month to the web page that shows awards his site has won. If you would like to see how one photographer looks at the world in a unique way, I suggest you visit Michael Smith Photography's site.

Mark Your Books. One of the most useful capabilities of some Internet browser software is the ability to "bookmark" a web site's address so you can find it again quickly. This feature can be really useful when typing long, complex, or foreign URLs (Uniform Resource Locator.) The address for Willem-Jan Markerink's Web Site of the Month last year was so complicated that some readers had trouble typing it without error. While I was attending last year's COMDEX show, I spoke with a reader who asked me about my own browser's bookmarks. "You can learn a lot about a person from their bookmarks," the reader told me, so I decided to start sharing some of them with you each month.

As the author of The Digital Imaging Dictionary, I'm often asked about what a particular computer buzzword means, but I don't claim to have all of the answers. When I get stuck with an unfamiliar acronym, such as ODBC, I go to the Free On-Line Dictionary of Computing at wombat.doc.ic.ac.uk/foldoc/index.html As I was finishing this month's column the Webmaster was changing the address. If that one doesn't work, try foldoc. doc.ic.ac.uk FOLDOC may not be perfect, but it currently contains 1024 hyperlinked definitions, with more being added all the time. By the way, ODBC means Open DataBase Connectivity.

If you think your web site should be featured in an upcoming column or would like to send me your favorite bookmark, drop me an e-mail at: editorial@shutterbug.net.

FEATURED VIDEO