Watch the Canon 5D III vs. the Sony A7 II During a Swimwear Shoot at the Beach (VIDEO)
Julia Trotti is one of our favorite photographers for swimwear photography tips videos and she's back with another one, which features a shootout between two popular cameras. In the video below, Trotti pits her trusty Canon 5D Mark III DSLR against the underdog Sony A7 II mirrorless camera while photographing her model, Jax, in a variety of swimsuits on the beach.
Sounds like a fun test, right?
As with many of Trotti's videos, the shootout is more of a behind-the-scenes look at her trying out both cameras while capturing pretty portraits of Jax. You'll have to draw your own conclusions about which camera did a better job in the swimwear shoot while looking at the images she shares in the video.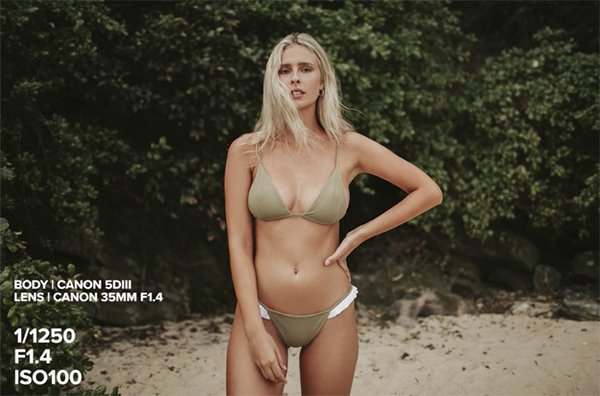 At one point, Trotti notes that she doesn't like shooting through the Sony A7 II's electronic viewfinder (EVF) because it looks "super digital," and that it feels "a lot more natural" shooting in live view mode on the camera's rear display. On the other hand, she loves the Canon 5D III's optical viewfinder but "can't stand shooting in the live view" with the 5D III. She also notes that the Sony mirrorless camera takes longer to focus on the model compared to the Canon DSLR.
For the test, Trotti at first pairs the 5D III with a Canon 50mm f/1.2 lens, and the Sony A7 II with a Canon 35mm f/1.4. Later during the shoot, she swaps the lenses on the cameras so that the 35mm is on the Canon and the 50mm is on the Sony.
You can see more of Trotti's videos on her YouTube channel. You should also check out this tutorial from Trotti on how to shoot beautiful portraits on the beach with natural light. If you like camera shootouts, you should look at this one, which pits the Sony A7R III vs. the Nikon D850 vs. the Canon 5D IV.
And finally, if you're interested Sony's full frame mirrorless cameras, check out our review (with high resolution sample images) of the brand-new Sony A7 III.

FEATURED VIDEO