Watch 50 Canon 1D X DSLRs Capture a Matrix-Like Bullet-Time Shot of River Surfers (VIDEO)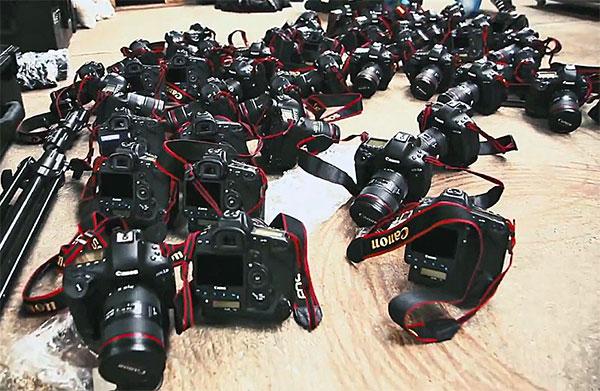 Let say you have 50 Canon EOS-1D X professional digital SLRs lying around, and are looking for something to do with them. Here's a fun idea: create a stunning bullet-time shot that appears to freeze the action, and then somersaults 360 degrees over your subject for an out-of-this-world effect.
The bullet-time look is most associated with the sci-fi movie, The Matrix, but more and more photographers are creating the effect with squadrons of synchronized DSLRs. That's what a Swiss TV crew did with 50 1D X DSLRs while shooting bungee river surfers in Switzerland. (Yes, this is the first time we've heard of bungee river surfing too.)
The crew attached Canon EF 24-70mm F/2.8L lenses to the cameras, and aimed them at the same point in the river to create the effect of having one camera travel around the surfer.
"I hope it will be a cool shot," director Dodo Hunziker says in the below video. "Otherwise many people will be disappointed."
No doubt. Check it out.

FEATURED VIDEO