Walter Iooss: Sports Photography Legend
All photos by Walter Iooss
I've been fortunate," Walter Iooss Jr. concedes. "It's been a good life--I'm not going to complain about it." As a photographer for Sports Illustrated for over 40 years, Iooss professes that he'll continue to work for this magazine "till the end." Since the early 1960s, he's shot countless sports figures for SI's pages and over 300 covers, and since 1972, he's photographed many of the world's top models for the magazine's annual swimsuit issue.
Nine-time Olympic champion Carl Lewis, Houston, Texas, 1991.
Back in the '70s, Iooss points out, only one photographer was chosen by SI to do an entire swimsuit issue each year. "Today, they use about eight photographers," he says. This enviable assignment has taken him to some of the world's most exotic locales--Mexico, Versailles, Hawaii, "lots of places in the Carribean," and even Vietnam in 2002. "Everybody thinks I shoot pictures of girls all year, but it's really just for one week," he laughs. In 1975, he photographed Christie Brinkley's first modeling job, and Cheryl Tiegs in 1978, clad in a white fishnet bathing suit on a Brazilian beach.
Great Body of Work
"Outside of a brief span in the '80s," he says, SI has been his primary focus. (He briefly left the staff of SI in 1983 and started the "Shooting for the Gold" project for Fuji film for a year and half, photographing U.S. athletes as they trained for the 1984 Olympics.) Outside of this, Iooss has also shot for Time, Newsweek, New York magazine, People, and has done a lot of advertising work for clients such as Adidas, Coca-Cola, Camel, Nike, Pepsi, Gatorade, Fuji, and Eastman Kodak Co.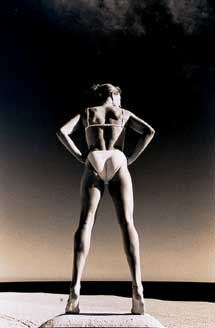 Tennis great Steffi Graf, Cabo San Lucas, Mexico, 1997.
Iooss (whose name is pronounced "yose"), has published 12 books thus far, which feature sports luminaries such as Michael Jordan, Cal Ripken Jr., Ken Griffey Jr., Mario Andretti, as well as the 1984 Olympic Games and collections of many of his baseball and football photos. The most recent of these is called Classic Baseball: The Photos of Walter Iooss Jr.

Another new book, entitled Sporting Life: Journals of Walter Iooss, is actually a collection of pages from Iooss' journals since 1981. This personal glimpse of his work combines over 150 photos and illustrations, newspaper clippings, and handwritten thoughts that are cut and pasted into collages. The photographs include Michael Jordan, Kobe Bryant, Muhammad Ali, Anna Kournikova, various SI swimsuit models, and more. Beyond this, he says, "I'm trying to get a book project started with Serena Williams."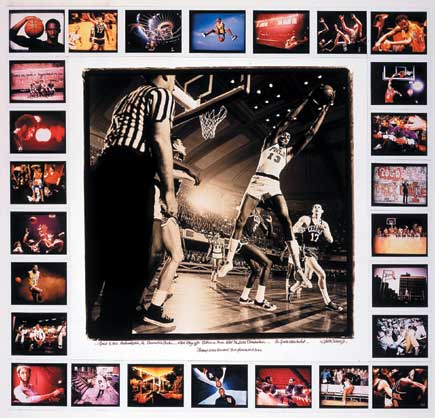 "Wilt the Stilt" basketball collage.
He's photographed most of the luminaries in the world of sports over the years, and still retains his enthusiasm for his craft. "As a photographer, I'm drawn to stars," he comments. "When I can get a star to perform, it's the ultimate pleasure for me." Iooss says the aura of celebrity athletes is what he's drawn to the most in photography--"and for this, I get paid." Iooss' action photos capture the beauty and grace of sports, while his portraits reveal the soul of the subject.
A Love of the Game
Born in Temple, Texas, in 1943, Iooss moved with his family to the east coast, and he grew up in East Orange, New Jersey. His father, Walter Iooss Sr., was a jazz musician. ("You name them, he played with them--Benny Goodman, Dizzy Gillespie, Billie Holiday.") He describes his father as "a big Brooklyn Dodger fan" who also did photography as a hobby. Iooss Sr. bought a lot of photo equipment in the late '50s, and took his son to photograph a football game one afternoon. Afterwards, they went home, processed the black-and-white Kodak Tri-X film that they shot that day, "and it was epiphany," recalls Iooss.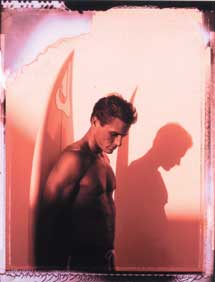 A Polaroid image of surfer Kelly Slater, Santa Monica, California, 1994.
A sports fan from the beginning, he started to photograph his friends playing baseball and football, as well as professional games in the New York area. Before long, Iooss started photographing his heroes, Mickey Mantle of the New York Yankees, and Raymond Berry and Johnny Unitas of the Baltimore Colts. His father encouraged him when he realized photography was something his son really enjoyed. In 1960, Iooss attended the German School of Photography in New York City, where he took an accelerated photography fundamentals course during his summer break.

FEATURED VIDEO