Vision Quest
Gary San Pietro Takes TIme To Stop And See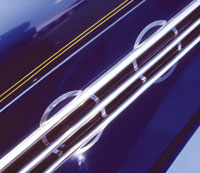 Gary cites the sense of motion and speed in this image of a detail of a 1935 Plymouth, photographed at a Hershey, Pennsylvania, auto show with a Vivitar 70-210mm on the T-90.
Photos © 2002, Gary San Pietro, All Rights Reserved
"I'm a strong believer in keeping this as simple as it can be," Gary San Pietro says of the process by which he makes his photographs. "I tell people when they put the camera up to their eye, the key thing is to be clear on what it is that is causing them to take that shot." After that, it's a matter of composing the image "so that every part of the frame helps communicate your feelings."
A fine art photographer whose work has won many awards and is featured in numerous corporate collections, Gary got started in photography in 1970 when he received a Minolta SR-T 101 as a birthday gift. He found he had a talent for photography, but perhaps more important he discovered that the camera put him in touch with a whole new world. "Taking the time to stop and see all of this stuff that I had been going past opened up how incredibly attractive the world is." By 1975 Gary was showing his work and had won a few competitions. "It became clear to me that what I really wanted to do was to continue to explore the whole photo experience," he says, and so he left his job and devoted himself full-time to photography.
Gary created this study in color, shadow, and reflection in a most prosaic location--a shopping mall stairway in Pittsfield, Massachusetts. He used a Sigma 28-70mm on the T-90.
Strong graphics, saturated colors, and a clear, direct vision mark his images. He doesn't have to strain to find them; they naturally attract his eye. "You can't be out there trying to take good pictures," Gary says. "You really have to be open to going inside and allowing whatever is out there to stimulate your heart."
And although he is certainly willing to give advice, he maintains that there's no substitute for "just going out and shooting like crazy. I strongly believe that one's own experience is by far the most valuable learning tool. And the only rule is that there are no rules. Be open, experiment, try anything. This whole picture-making thing is about discovering and getting more fully in touch with your own truth, not anybody else's."
--Barry Tanenbaum
"The red against the blue jumped right out at me as I turned a corner," Gary says of this photograph, made in Burano, Italy. "I love getting this kind of impact with only a few colors, especially red and blue." He used a Sigma 75-300mm on his T-90.
About The Photos
Gary shoots with the Canon T-90 he's used for some 15 years. Among the lenses most likely to be on the camera are two Sigma zooms--a 75-300mm and a 28-70mm--and a Vivitar 17-28mm zoom.
For a long time Gary had used Ektachrome 200; then, five years ago, he switched to Fuji Velvia. He will often underexpose by a 1/3 or a 1/2 stop for color saturation. And if there's a shot he's particularly turned on by, he'll bracket up to four exposures, "because the latitude on slide film is small and I want to be positive that I have the one that expresses the mood I'm trying to capture." He will sometimes use Cokin filters to intensify the colors in a scene and, as you might imagine, his camera is almost always on a tripod.
The simplicity of two strong, contrasting primary colors and a few basic shapes is strengthened by vertical and horizontal shadow lines. Taken in Vancouver, Canada, with a Kiron 28-210mm zoom and the T-90.
Note: Gary's web site at www.garysanpietro offers a chance to see many more of his images.

LATEST VIDEO

SPONSORED VIDEO
Testing Tamron's SP 150-60mm G2 lens while capturing birds and alligators in Apalachicola, Florida.