Useful Gizmos For The Digital Photographer; Improving The Photographic Experience
"I find television very educating. Every time somebody turns on the set, I go into the other room and read a book."—Groucho Marx
Other than live motorsports I don't watch much television, preferring movies on DVD or Blu-ray, but during the winter racing hiatus I found two programs whose photography is nothing short of sensational. The first is, not surprisingly, BBC America's Top Gear (www.bbcamerica.com/topgear). Yeah, it's about cars but the on-location camera work is spectacular and visually stunning, including vignetting and graduated filter effects that will have you reaching for Nik Software's Color Efex Pro, and if you didn't own a copy before, then you'll want one after watching one episode. Each week on the Travel Channel's No Reservations, Anthony Bourdain (www.travelchannel.com/TV_Shows/Anthony_Bourdain) and an Emmy award-winning team of cinematographers traverse the globe, producing the most thought-provoking and gorgeous travel photography on all of television. The show on Laos was beautiful and heart wrenching and anyone interested in good writing will be blown away by Bourdain's scripts. Watch and learn, boys and girls.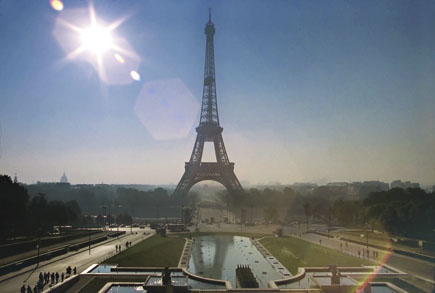 Photos © 2010, Joe Farace, All Rights Reserved
Adobe's Photoshop Elements 8
For the first time ever, Adobe (www.adobe.com) simultaneously launched Mac OS and Windows versions of Photoshop Elements and now that they've done it once, I hope they'll continue in the future. With this latest version, Elements continues to improve while making it the ideal and affordable alternative for photographers who can't handle Photoshop CS4's hefty price tag. The Windows version (only) of Elements 8 offers Organizer, a media management hub that, well, lets you organize photos and video clips. Adobe even tosses in 2GB of free online storage that's upgradeable under its Plus option to 20GB. Get this: an Auto-Analyzer can automatically tag your files to find the most interesting, highest-quality photos and video clips. You can search for specific people using Organizer's People Recognition feature that automatically identifies the people in your photos.

If you use both a laptop and desktop computer, Element 8's syncing feature makes sure that any photos added or edited on one computer are automatically synced with the other. Elements has always been a more than capable image editor and Version 8 lets you re-size or reshape from landscape to portrait or vice versa without distorting key subjects like people or buildings. Its new Photomerge Exposure can combine multiple shots made while bracketing or using "flash/no flash" into a single, perfectly exposed photo and there's a long list of common photo adjustments, including color, contrast, and lighting, that can be applied with just one click. If you want to do it longhand, there's always the Full Edit option. Photoshop Elements is compatible with Windows 7 and costs $99.99 for either version, while the Plus option is $49.99 per year, including 20GB of storage for automatic online backup and sharing as well as tutorials, tips, and interactive templates sent directly to your desktop.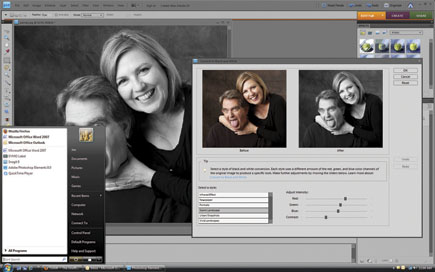 © 2009, Barry Staver, All Rights Reserved
Photoshop On An iPhone?
Adobe Systems now offers Photoshop.com Mobile, a free iPhone (and iPod touch) application that lets you edit photos, apply effects, and share images with the flick of a finger. Seamless integration with Photoshop.com accounts enables photo sharing and data backup. Photoshop.com Mobile for iPhone offers a fun, seamless experience for viewing photos with full-screen previews and the ability to crop, rotate, and flip. You can correct and play with color by adjusting saturation and tint, enhancing exposure and vibrancy as well as converting images to black and white. The Sketch tool makes photos look like drawings and Soft Focus gives photos a subtle blur for an artistic effect. With just one click, you can also apply effects such as Warm Vintage, Vignette, and Pop. Edits or changes can be undone or redone so you can experiment, and, after making any edits, you can upload photos to a Photoshop.com account to view and retrieve at a later time. If you don't already have a Photoshop.com account, they're free and offer 2GB of online photo storage.
Shoe-Mount Flash Lighting Kits
Based on the feedback I received, lots of readers liked the Mini/Max shoe-mount flash light modifiers that I reviewed in the October 2009 issue of Shutterbug. Well, the folks at Booth Photographic (www.boothphoto.com) are at it again with new additions to its Mini/Max line—three new Strobist Kits. Each kit is a one-stop solution to accessorize a shoe-mount flash and includes a pro-quality light bank, mounting bracket, light stand, and carrying case, all for less than $300. The Stripbox Kit features an oblong-shaped softbox that can be used as a dramatic main light, hairlight, or even for shooting groups. The Squarebox Kit includes an 18x18"-sized softbox that should work well for general photography while the Octobox Kit contains an eight-sided light bank that offers striking light quality and beautiful catchlights for portraiture. All light banks have sewn-in front diffuser panels and interior baffles to provide smooth, diffuse lighting. I've been using the Stripbox Kit and have been impressed with the build quality, value, and great lighting it produces.