Useful Gizmos For The Digital Photographer; Improving The Photographic Experience Page 2
Backpack With Wheels!
When you fill any camera bag with gear it gets heavy pretty fast so I was anxious to try Think Tank Photo's (www.thinktankphoto.com) Airport TakeOff rolling backpack that's designed to comply with international airline carryon requirements. Priced at just under $300, the exterior stitching and material of this bag is world class and it comes with a full-size reversible card that shows the bag filled with either Nikon or (flip it over) Canon equipment. This is really handy for guys like me who can never figure out gear placement, although I had to move my cameras to different spots than suggested because they have battery grips installed, making them taller, and the backbone of the Airport TakeOff is filled with the mechanism for the retractable handles. It will hold two pro- or regular-sized SLR bodies with or without lenses attached, including hefty-sized ones like a 300mm f/2.8, and has lockable zipper sliders and adjustable sternum straps. I really liked the design that lets me tuck the straps away or they can be completely zipped inside the rear panel to let you start rolling instead of rolling over the straps.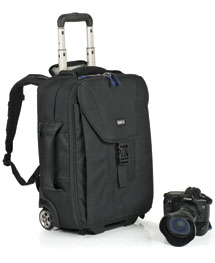 Fotobox
Honestech's (www.honestech.com) FOTOBOX is a clever USB device that lets you create multimedia slide shows from photos, videos, music, and narration. It features a USB 2.0 interface with an integrated SD card reader and embedded Windows-based software that automatically runs without having to be installed. Pictures made by cameras using SD cards can be easily turned into a slide show just by inserting the card into the reader slot. With its built-in and easy-to-use editing tools, you can remove redeye from photos, crop images, and add effects. You can customize the slide shows with themed templates that offer transition and title effects and when you're finished upload the finished presentation to Facebook or YouTube, save to CD/DVD, or store it on your computer.

Because the software is embedded within the USB device it appears to the computer as an installed CD-ROM, so even netbook users can take advantage of FOTOBOX. FOTOBOX offers both an Easy and an Advanced mode, and supports high-definition MPEG video with resolutions from standard TVs up to 1920x1080. It costs $79.95, supports Windows 7.0, and lets anybody, including your Aunt Ethel, create multimedia slide shows. I tested it on my iMac running Windows Vista but would love a real Mac OS version and so would a lot of other people. How 'bout it Honestech?
© 2010, Mary Farace, All Rights Reserved
Windows 7 And You
While I struggle with the concept of mixing Apple's Snow Leopard OS and Windows 7 on my iMac, Windows-only users have it easier with Belkin's (www.belkin.com) Easy Transfer Cable for Windows 7 that integrates with Microsoft's Windows Easy Transfer utility to simplify the transfer of your data to the new OS with uninterrupted transfer and a post-migration report that provides comprehensive detail of what was transferred. For less than $40, the Easy Transfer Cable migrates music, photos, videos, documents, and other content in three easy steps: you install the software, connect the cable, and then follow the on-screen prompts. Even I should be able to set up the new OS in minutes, including moving my favorite settings from the existing computer and peripherals.