Use Your Website As A Marketing Tool; An Interview With Veteran Shooter Gil Smith
A 27-year photo veteran, Gil Smith (www.gilsmith.com) is an internationally-recognized advertising photographer specializing in high-action automotive and sports-industry images. Smith is currently one of Canon U.S.A., Inc.'s prestigious "Explorers of Light," a small group of professionals chosen to push the boundaries of existing film, digital, and printing techniques. Check out his website for work he has done for American, European, and Japanese auto manufacturers along with sports-oriented clients such as Pepsi, Oakley, and Michelin. We recently interviewed him to get his perspective on the importance of the web as a marketing tool.
All Photos © 2007, Gil Smith, All Rights Reserved
Shutterbug: You have three portfolios on your website--which one presents the greatest marketing challenges to you as a photographer?

Gil Smith: Of the three portfolios, the personal work is the most difficult to shape. With my automotive and lifestyle images, I have a certain goal and wealth of both clients and work to draw from. With the personal work, it is more difficult to define, shoot, and edit. Because it is part of my commercial studio website, I want it to convey a message that is consistent with my other portfolios but not necessarily carrying a commercial message. I do believe the old adage, "A picture is worth a thousand words." I do modify that by saying that only great photographs can carry that weight. I am always working to create great photographs. After I spend my time producing, shooting, and evaluating the images, I post personal images with the hopes that others will attach those 1000 words.
SB: When did you launch your website and how did you come to select liveBooks (www.liveBooks.com)?

GS: I launched my first website in 1995 as part of an artists group lead by Joe Spencer, a graphic designer and creative director with an Internet group called www.opticnerve.com. I soon went to Network Solutions to register www.gilsmith.com. I worked on several different designs on the web with various web consultants and experimented with what was then an emerging medium.
In 2003, I launched a site designed by graphic designer Michael Standlee of the www.standleegroup.com. We did this as part of his development for a new web design class at Orange Coast College (Costa Mesa, California). It was a beautiful site. We were written up in magazines and received many positive comments about its form and function. What it lacked was a way to edit and modify the message easily. The students who wrote the script became unavailable, so updating was also closed.

I saw the liveBooks promotions and met some of the principals from liveBooks at an APA Seminar in Los Angeles. They provided the missing link from my previous websites, the script for editing and updating. At that time liveBooks was in 4.0 and working on 5.0. We have now worked together for the past two years and I am looking forward to many more years of participation with them to market my work.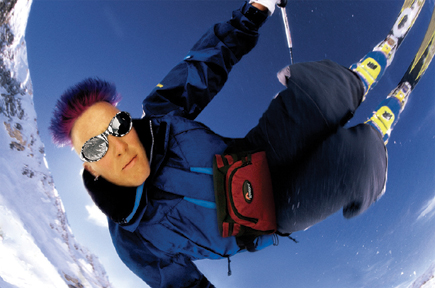 SB: How often do you update your website and how does it tie into any other marketing (ads, post cards)?

GS: I update every few weeks. I don't keep a strict timetable. I usually go there when I have several new collections of photographs. I will do this during quiet times without interruption. That way I can reload the site and play with it until I like the pacing. I am currently adding digital video pieces to my offered services and integrating them into my photography website.

The post cards and/or direct communications to specific clients is a constant drumbeat, with flourishes when my research has found an interesting client and/or project to propose and estimate. Due to my successful marketing, I am making proposals to clients directly for entire programs for marketing and advertising (unlike my earlier years as a new photographer in advertising).